Bat Mitzva
of a sweet young girl,
Meet Eva
Yosefa's grandniece, and a bout of cataract surgery in my right eye. Let us hope that this helps me see clearly, although as I look around me in our pathetic little country, it is not much fun to see too well. In the meantime, it is interesting to look at the origins of
Had Gadya
, whose purpose seems to be to keep the kids awake and aware until the end of the Seder. Afikoman and its associated instruction in theft and blackmail have the same effect.
HUMAN RIGHTS MONDIAL
As usual, before we focus on our God's Little Acre, we start with a world tour. I will spare you the Libyan mess and the massacres in Syria since they are well covered in the press and anyone who cares to know what is going on is certainly able to do so with little or no effort.
CHINA
Let me start with an outrage in China. I am quoting the entire Amnesty International call for action because of difficulties with passwords etc. Please act on this.
FAMOUS ARTIST HELD INCOMMUNICADO IN CHINA
Ai Weiwei, an internationally known Chinese artist and critic of the government; Wen Tao,his friend and assistant; Zhang Jingsong, his cousin and driver; Hu
Mingfen
, his accountant; and
Liu Zhenggang, a designer,
are all detained incommunicado in China at unknown locations. They are at risk of torture and other ill-treatment.
Ai Weiwei
was stopped by police at an airport in Beijing on his way to Hong Kong on 3 April. He has been held since then. His family has not received any formal notice about his detention, reasons why the authorities are holding him or information about his whereabouts. On 6 April, the Chinese authorities
issued a statement stating that
Ai Weiwei is being investigated for suspected economic crimes. His family believe the authorities are holding him because of his political activism.
On 3 April, the police also took in Ai Weiwei's wife
Lu Qing
and eight
employees and volunteers of his design firm
for questioning, but they were all released by the following day.
Wen Tao
, Ai Weiwei's friend and assistant, was detained separately in Beijing on 3 April. Wen Tao is a former
journalist
who was forced the resign from his job after he wrote an article about a protest against the demolition of the artists'
colony in Beijing in 2010. A
i Weiwei's
accountant
, Hu Mingfen, was taken away by police on 8 April. She
has not been heard from since and is believed to have been detained.
On 9 April, Liu Zhenggang, a designer working at Ai Weiwei's
design firm
was taken away by plain-clothed police. His wife has reported him missing. On 10 April,
the police detained
Ai Weiwei's
cousin and driver Zhang Jingsong (aka Xiao Pang) on 10 April
.
PLEASE WRITE IMMEDIATELY in English, Chinese or your own language:
n
Calling on the authorities to release
Ai Weiwei
,
Wen Tao
,
Hu Mingfen
,
Liu Zhenggang
and
Zhang Jingsong
immediately and unconditionally, unless the authorities can show reasonable grounds for suspecting them of having committed an internationally-recognizable criminal offence;
n
Urging the authorities to ensure they have immediate access to their families, legal representation of their choice, and any medical care they may require;
n
Calling on them to guarantee that
Ai Weiwei
,
Wen Tao
,
Hu Mingfen
,
Liu Zhenggang
and
Zhang Jingsong
will not be tortured or ill-treated while they remain in custody;
n
Urging the authorities to take effective measures to guarantee freedom of expression, association and peaceful assembly in line with China's Constitution and the International Covenant on Civil and Political Rights which China has signed and declared an intention to ratify.
PLEASE SEND APPEALS BEFORE 26 MAY 2011 TO:
Minister of Public Security
Gong'anbu, 14 Dongchang'anjie
Dongchengqu, Beijingshi 100741
People's Republic of China
Salutation: Your Excellency
Sifabu, 10 Chaoyangmen Nandajie
Chaoyangqu, Beijingshi 100020
People's Republic of China
Email: pfmaster@legalinfo.gov.cn
Salutation: Your Excellency
In the meantime he has "confessed" to whatever the regime wants.
LATIN AMERICA
I have a few cases from Latin America for your edification and action. We have a horrible case of murder of a human rights defender in Mexico, most probably by organized crime gangsters. Mexico has a new Attorney General,
Marisela Morales
, the first woman ever appointed to this position with a mandate from the President to fight the drug cartels and organized crime. Let us all call upon her to do her job right from the beginning. Please click on this link and write to her and the officials of the state of Guerrero and let them know that the world does not stand by idly when human rights are
trampled upon.
While we are dealing with human rights in Latin America, there is a severe danger that a human rights defender in Colombia will be killed unless steps are taken. Please act on
this case as well.
Thanks to the Belgian (Francophone) section of Amnesty International for their Web site on individuals at risk.
HOME SWEET HOME
HOW WE HATE ONE ANOTHER
Recently a group of artists, intellectuals and such like (I am not important enough to be invited to these events) met in Tel Aviv to express their support for the declaration of a Palestinian state and its recognition. A group of right wingers attacked the group and shouted the usual curses, with the addition of "they should have cut off both your legs" to Hannah Meron the actress who lost a leg in a Palestinian terrorist attack in Munich airport in 1970. The lack of tolerance and respect for opposing views that characterizes right wingers (vid. Limbaugh and the Tea Party in the US) saps at the basis of society and generates a polarization that can have disastrous results. The recent vandalism of the Reform Synagogue of Ra'anana is another example of the inability of certain types of people to live in peace with the fundamental values of liberal democracy. The ostracism faced by all who dare to break the mold continues to intensify. I wonder how the establishment of today and public opinion, controlled by fear and brain washing, would deal with Abie Nathan were he alive today. Let me quote what our President Shimon Peres said at Abie's graveside in 2008 "
he was the greatest freedom fighter."
and
"We were annoyed with him for not acting like everybody else, for crossing borders, breaking laws - why wasn't he obedient? But woe to us had he listened to us."
I bring this up now because it appears that we are heading towards an internal calamity unless we learn to understand that no one has a monopoly on Zionism or patriotism. Let me refer you to an appropriate post by
Bradely Burston
who says it much better than I could, although I fear that many of you do not follow the links, alas.
IN MEMORIAM JULIANO MER-KHAMIS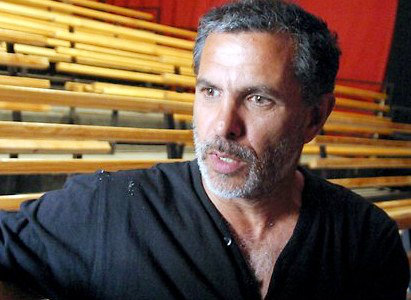 Our neighbors appear to be as adept at self hate as we are. The noted actor
was shot dead by militants
earlier this month in Jenin. He was active and instrumental in his striving for peaceful coexistence between our communities. He was the son of an Arab father and a Jewish mother and tried to bridge the gap and it cost him his life. Gideon Levy wrote the following
eulogy.
QUO VADIMUS?
Gideon Levy
asks this question most eloquently in his article on what Natanyahu should say in his forthcoming speech in the US Congress. The spin doctors have held sway for far too long. Frankly, as an Israeli, I am offended by his going to Washington to make his major policy speech in English. He should make it in the Knesset in Hebrew with straight talk to the Israeli public.
It is getting late and my new lens is getting tired. I will wind up with a Gene Weingarten report on what goes on in
Heaven
and the new book that he is going to write about it. Apparently there is a boom in books by parents whose dead children come back to tell them about Heaven and Gene sees no reason not to cash in on his own experience.