Titan, Pollyanna and YandA had a great Purim this week. Natan(seven year old grandchild) joined us at the Megilla reading and as usual, the good guys won. As Alan King summed up Jewish history, "they tried to kill us, we won, let's eat." Have a nice hamantasch:
As promised last time, Titan is pleased to introduce the Uranian satellite, Ariel.
Discovery: 1851 by William Lassell




Ariel has the youngest, as well as the brightest, surface of Uranus' five major moons. Large areas of the moon are seamed with a weird network of broad, flat-floored valleys. These valleys form a sharp contrast to an adjacent smooth hemisphere, pocked with small craters. No enormous craters were seen by Voyager 2, only small ones, indicating Ariel's youth.
Whereas most of the other moons of Uranus are named for characters in Shakespeare's
Midsummer Night's Dream
, Ariel is a sprite from
The Tempest
or, if you prefer, a sylph in Alexander Pope's
Rape of the Lock.
Next time you will meet Umbriel.
Ariel by Henry Fuseli, c. 1800-10. Oil on canvas, approx. 36.5 " x 28 ". The Folger Shakespeare Library, Washington, D.C.




Ariel's song:
Where the bee sucks, there suck I:
In a cowslip's bell I lie;
There I couch when owls do cry.
On the bat's back I do fly
After summer merrily.
Merrily, merrily shall I live now
Under the blossom that hangs on the bough.
SOMETHING FAVORABLE FOR ONCE
Titan is pleased to praise the European Court of Human Rights
for its ruling
that Italy and Libya had systematically violated the human rights of migrants seeking asylum in Italy. In the case, Hirsi Jamaa and Others v. Italy, the Court considered the plight of 24 people from Somalia and Eritrea who were among more than 200 people intercepted at sea by Italian authorities in 2009 and forced to return to Libya, their point of departure.
Italy and Libya forged an agreement to intercept and return migrants, in violation of human rights norms.


© UNHCR/F. Noy
The practice violated international obligations not to return individuals to countries where they could be at risk of human rights abuses. Amnesty International calls upon the new governments in both countries to adopt a more humane approach to sub-Saharan refugees who are fleeing ill treatment and abuse. We support this call wholeheartedly All over the world, refugees from persecution and war are treated badly.
IS WINNING THE ONLY THING?
The late
Vince Lombardi ,
the legendary coach of the NFL Green Bay Packers, is credited with the statement, "
winning is not the most important thing, it is the only thing."
In fact that is a misquotation and a monstrous one. Lombardi said two particular things about winning,
"Winning is not a sometime thing…it's an all the time thing. You don't win once in a while…you don't do the right thing once in a while…you do them right all the time. Winning is a habit."
and "
Winning is not everything – but making the effort to win is."
Indeed he regarded winning as important, but he did not call for and condone unethical behavior in order to achieve it.
Why is Titan bringing this up? Two reasons. one in football and the other in science: we have seen recently what the pressure to achieve and to win can bring about. One of them is the
bounty system
in football in which players were paid in cash for deliberately causing injuries to targeted opponents, in particular quarterbacks. The NFL has been making major efforts to improve player safety and levies fines for hits in the head and neck areas. It is being sued by former players because of concussions. The bounty system was administered by Gregg Williams and funded by the players of the New Orleans Saints and it has now become a major scandal. Let us hope that football can clean up its act.
The case of the speeding neutrinos may well be another facet of the win and be famous at all costs culture pervading our society. As Pollyanna reported last week, the entire affair appears to be an issue of a
loose cable connection
. What is most troubling is the allegation that the leaders of the international collaboration were warned of the problem but prevented investigation. From Science this week:
"A source familiar with the experiment says some researchers thought the measurement should have been rechecked before the neutrino velocity results were submitted to a journal in November, but OPERA's scientific management resisted carrying out such a check. (Autiero and collaboration spokesman Antonio Ereditato of the University of Bern in Switzerland were unavailable for comment before this story went to press.)"
In the same article we have this indication of why competent ethical physicists rushed to publish. We present two views given in the same paper: David Wark of Imperial College London, a physicist who works on the T2K neutrino experiment in Japan, says it was "reasonable" for OPERA to release its results when it did.
"If they sit on it for [too] long, inevitably it will come out on someone's blog, and they will have no control over that," he says. "Instead, they said to the scientific community, 'Look, we have something weird. Can you explain it?'"
But one OPERA scientist believes the error should have been caught.
"What's happened here is an accident, something unexpected, but identifying these things is part of the scientific procedure,"
the researcher says.
"In recent years, there has been too much pressure in science to be first. This has made us go faster than we should have done."
Win at all costs, succeed at all costs, publish first at all costs, be top dog no matter what. Has that attitude penetrated to all facets of our society? Maybe some introspection is in order.
CHINA/MONGOLIA THE HADA ATROCITY GOES ON
A Mongolian activist Hada served 15 years in prison for advocating the cultural and human rights of the native population of Inner Mongolia.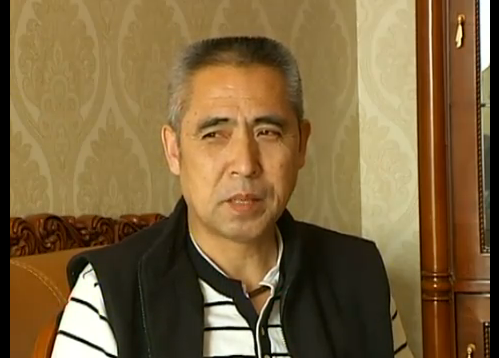 Mr. Hada still under extrajudicial custody after serving 15 years in jail. (SMHRIC photo)
Hada was charged with "separatism" in 1995. He was released in 2010 and immediately rearrested and has been held since then in a secret prison. His wife, aunt and son have been harassed continuously by the security forces and his health has deteriorated under the ill treatment in prison. Please
send an appeal
for his release.
INTERNATIONAL WOMEN'S DAY
This is the day
when everyone pays lip service to the beautiful idea of equality for women. It is of course, all bovine excrement since everywhere you look the
patriarchal society rules
. The only difference between the Muslim world and the West is the degree of hypocrisy. In Israel, we share the worst of both worlds. Merav Michaeli points this out in a strong
op-ed piece
in Haaretz. Our Knesset is about to
vote on a law
that would raise the age of marriage from 17 to 18. You can expect the Orthodox political slime to unite against it and probably shoot it down. So Happy Women's Day to all the conservative misogynists around the world. The brouhaha over the rants of Rush Limbaugh against a brave student
Sandra Fluke
shows how deep the hatred of women runs on the right. We are pleased to see that
some of his sponsors
are getting the message. He is getting his own message as pointed out by Tom Toles in the Washington Post.
According to one source (Andy Borowitz) his
most loyal sponsor
is leaving him, alas.
Too much even for me says Satan
SYRIA
The carnage does not cease for a moment and almost no one seems to be doing anything. We say almost because AVAAZ, the humanitarian organization has been playing a role in helping the bleeding people of Syria. Here is the text of an email that we received from Avaaz. At the end there is a link by which you can donate to help support the people of Syria. We also protest the fact that the US Army is dealing with the
supplier of arms to the Syrian army.


Powered by millions of online actions and donations from 75,000 of us, our community is playing a central role in supporting the Syrian people as they persist in peaceful protest against all odds. Together, we're empowering citizen journalism, smuggling in medical supplies and western journalists, and much more. We're making a difference, but the staggering bravery of the Syrian people is their gift to the rest of us. Read this email for the full story, or look at this recent media coverage of Avaaz's work on Syria: BBC, CNN, El Pais, TIME, The Guardian, Der Spiegel, AFP
Dear friends,
This morning, 4 western journalists are home safe with their families, the echoes of the horror and heroism of Baba Amr still ringing in their ears. Over 50 Syrian activists, supported by Avaaz, volunteered to rescue them and scores of wounded civilians from the Syrian army's killzone. Many of those incredible activists have not survived the week.
Abu Hanin is one of the heroes. He's 26, a poet, and when his community needed him, he took the lead in organizing the citizen journalists that Avaaz has supported to help the voices of Syrians reach the world. The last contact with Abu Hanin was on Thursday, as regime troops closed in on his location. He read his last will and testament to the Avaaz team in Beirut, and told us where he had buried the bodies of the two western journalists killed in the shelling. Since then, his neighborhood of Baba Amr has been a black hole, and we still don't know his fate.
It's easy to despair when seeing Syria today, but to honour the dead, we must carry forward the hope they died with. As Baba Amr went dark and fears of massacre spread, Syrians took to the streets -- yet again -- across the country, in a peaceful protest that showed staggering bravery.
Their bravery is our lesson, the gift of the Syrian people to the rest of us. Because in their spirit, in their courage to face the worst darkness our world has to offer, a new world is being born.
And in that new world, the Syrian people are not alone. Millions of us from every nation have stood with them time and time again, right from the beginning of their struggle. Nearly 75,000 of us have donated almost $3 million to fund people-powered movements and deliver high-tech communications equipment to help them tell their story, and enable the Avaaz team to help smuggle in over $2 million worth of medical supplies. We've taken millions of online actions to push for action from the Security Council and the Arab League and for sanctions from many countries, and delivered those online campaigns in dozens of stunts, media campaigns and high-level advocacy meetings with top world leaders. Together we've helped win many of these battles, including for unprecedented action by the Arab League, and oil sanctions from Europe.
Our team in Beirut has also provided a valuable communications hub for brave and skilled activists to coordinate complex smuggling operations and the rescue of the wounded and the journalists. Avaaz does not direct these activities, but we facilitate, support and advise. We have also established safe houses for activists, and supported the outreach and diplomatic engagement of the Syrian National Council -- the opposition movement's fledgling political representative body. Much of the world's major media have covered Avaaz's work to help the Syrian people, including features on BBC, CNN, El Pais, TIME, The Guardian, Der Spiegel, AFP and many more, citing our "central role" in the Syrian peaceful protest movement.
Today, a dozen more nightmares like that visited on the city of Homs are unfolding across Syria. The situation will get worse before it gets better. It will be bloody, and complicated, and as some protesters take up arms to defend themselves, the line between right and wrong will blur. But President Assad's brutal regime will fall, and there will be peace, and elections, and accountability. The Syrian people simply will not stop until that happens -- and it may happen sooner than we all think.
Every expert told us at the beginning that an uprising in Syria was unthinkable. But we sent in satellite communications equipment anyway. Because our community knows something that the experts and cynics don't -- that people power and a new spirit of citizenship are sweeping our world today, and they are fearless, and unstoppable, and will bring hope to the darkest places. Marie Colvin, an American journalist covering the violence in Homs, told Avaaz before she died, "I'm not leaving these people." And neither will we.
With hope, and admiration for the Syrian people and courageous citizens everywhere,
Ricken, Wissam, Stephanie, Alice, David, Antonia, Will, Sam, Emma, Wen-Hua, Veronique and the whole Avaaz team
P.S. If you want to do more, click here to help keep our lifeline of hope into Syria open:
https://secure.avaaz.org/en/smuggle_hope_into_syria_rb//?vl

UGANDA HOMOPHOBIA
The parliament in Uganda is again taking up the legislative initiative that would severely criminalize actions of GLBT people. We thought that the international outcry had scotched this idea, but it
appears to have backfired
and now we are told that our interference is neocolonialism. If international pressure works again, the homophobes are hoping for a Republican victory in the USA to help them out.
Michele Sibiloni/Associated Press
HOME SWEET HOME
GROSSMAN IN ENGLISH ON CRIMINAL NEGLIGENCE
Two weeks ago we promised you an English version
of the David Grossman op-ed that appeared on the front page of Haaretz about the Arab who was thrown on the roadside to die. It is indeed disgraceful that Haaretz failed to provide a translation of it for its online English edition. Embarrassed for the goyim? Indeed Grossman is a great writer and not easy to translate, but Judy, bless her,
has provided a translation
. There is also a translation by
Sol Salbe
circulating around the Web, but we prefer Judy's version. Thank you so much.
THE FOREIGN FILM OSCAR AND US
An Iranian film,
A Separation
, by Asghar Farhadi
Asghar Farhadi
Photo by: Reuters
won this year over the Israeli film
Footnote
. As mentioned above, we are celebrating
Purim
this week which marks a Persian plot of genocide against the Jews that ended with the Jews killing 75,000 Persians--hurray, serve up the Hamantaschen! Bradley Burston proposes a
toast to the people of Iran
who have no desire to go to war with us while their leaders and ours beat the drums of war and the American government seems to go along with it. The right wing lobby
AIPAC
that is
pushing for an attack
on Iran and actually claims to speak for the Jews of America is really an instrument of a small number of Jewish billionaires who have the resources to buy politicians in the US and in Israel. It is leading us down a path of doom. We are in full support of the Occupy AIPAC group who raised a voice for peace and rationality at the AIPAC meeting. The
silencing of dissenting voices
on campuses across North America is certainly not an acceptable tactic.
The attack on Iraq in 1981 did not really achieve its goal and
a rational analysis
shows that an attack on Iran would probably backfire. It is no accident that Israel shares bottom billing with Iran, North Korea and Pakistan as the most negatively viewed countries in the world. We have earned that rating honestly. The right wing coalition of ideologues and clerics who rule Israel will continue to be elected for the foreseeable future because
they are experts at arousing fear and anxiety.
We, as a nation of superstitious (55% believe in the Messiah) fools, deserve everything that happens to us.
THE POSTMAN AS CENSOR
Freedom of expression in Israel is severely restricted when it comes to Christians. The tour guides at Brigham Young University in Jerusalem are forbidden to explain their Mormon faith to us. The New Testament was burned a few years ago in a Lag B'Omer bonfire in Or Yehuda with the connivance of the municipal government (no one was prosecuted) and now we are told that postal employees in Ramat Gan are
refusing to deliver
copies of the New Testament on grounds that it is "missionary material for idolatry." It is akin to the refusal of health plans in the USA to provide contraception. In the USA there is an establishment clause in the Constitution, but here religion and religious coercion run wild. Let us hope, probably in vain, that the postal management will insist that people do their job and not take on authority that does not exist.
OUR CORRUPT AND INCOMPETENT GENERALS
Haaretz
calls our attention
to the degeneracy and lack of professionalism at the top levels of the army. The corruption coming to light in Israel in connection with the top military appointments should be a source of concern for all of us. Of course, nothing of that is new, the army has always been rotten to the core, run by Byzantine intrigues and sticky fingered crooks. One might wonder how we ever won a war. Norman Dixon in his
book
on the
Psychology of Military Incompetence
explains that victory goes to the side that has generals who are marginally less corrupt and incompetent. For how long can we rely on the decadence and incompetence of our adversaries?
A BLOG OF PROPAGANDA AND HALF-TRUTHS.
Avi Shlaim
the Oxford professor who has long been a major critic of the Israeli government, wrote an
article
in the
Independent i
n which he calls upon Obama to stand up to Natanyahu and not to be dragged into a war with Iran. The article makes many solid and valid points. It generated a
hysterical diatribe
from David Harris, Executive Director, American Jewish Committee (AJC)that attacked Shlaim personally and was full of half-truths and outright falsehoods straight from the Natanyahu/Liebermann party line.
A REVIEW OF A VERY STRANGE BOOK
Titan would like to call your attention to a reissued book by
Gregor von Rezzori
entitled
Memoirs of an Anti-Semite,
introduction by
Deborah Eisenberg
, translated by Joachim Neugroschel. It deals with the decline of an aristocratic family from the farther reaches of the defunct Austro-Hungarian Empire. In five psychologically fraught episodes, the narrator revisits his past, from adolescence to middle age, a period that coincides with the twentieth century's ugliest years. The narrator is not a Nazi, but his life is permeated by a perpetual Jewish question. The book is
reviewed in the Atlantic
by the recently deceased
Christopher Hitchens.
LISTEN TO SABA(GRANDPA)
Since becoming a grandfather almost 24 years ago, we have been accused of purveying nonsense to the wee bairns. Fair disclosure, such allegations date back to the 1950's when the parents of the kiddies were kiddies themselves. We grandpas of all nations have our honor to defend and Gene Weingarten and David Clark come to our aid:(click on strip to enlarge)
THIS HAS HAPPENED TO ALL OF US
(click to enlarge)