Rings of Saturn, Enceladus in front and Titan in the background: Cassini Imaging Team
Titan enjoyed the nice blog that sister Pollyanna put up last week, but now feels obliged to bring us all back to the real and very unPollyanna-like world in which we live. First, however, let us take a look at a picture in which Papa Kronos and his rings along with little brother Enceladus and our namesake feature. We also strongly recommend taking a look at the sky especially a short time after sunset. In the west, Venus is still blazing away and Jupiter is withdrawing. In the east, Saturn which is now in opposition is shining at us very nicely.
You might want to watch a tour of the April sky from PBS. We also invite you to look at the
Space Calendar for the past week
with interesting anniversaries mentioned.
SOMETHING POSITIVE
Even Titan is showing a bit of a smiley
over the good news
about the deal that saved a significant piece of real estate along the coastline of California.
HOLOCAUST MEMORIAL DAYS
On Thursday, April 19,
Holocaust Memorial Day was marked by ceremonies
in various places in Israel. The theme of this year's Holocaust Memorial Day in Israel is
I Am My Brother's Keeper
. We are somewhat unconvinced by the sincerity of the official marking of the day since, during the other 364 days of the year, as pointed out eloquently
by Deborah Garel in Haaretz
, out of the 250,000 Holocaust survivors living in Israel, more than a quarter live below the poverty line. This means that many of the people who survived the Nazis' atrocities, and sought shelter in Israel, do not have enough money to cover basic living costs, such as a home, food, medical treatment and clothes. Above all, this means that Jews who were hungry in the ghettos and in the death camps 70 years ago are still hungry today, in the Jewish state. To us, this bitter reality renders the official ceremonies and the speeches of politicians hollow and meaningless.
Our Holocaust is by no means unique. During WWI there was a genocide of the Armenian people by the Turks.
Armenian Memorial Day will be next Tuesday, April 24
. Thanks to
Ishai Menuchin
for calling this to our attention. The day will be marked on
Radio All For Peace
by a special program in Hebrew by Ishai, embedded in the link.
AN APOLOGY IS CALLED FOR
Maher Arar suffered torture as a result of the U.S. extraordinary rendition program. An apology is long overdue. His sad tale is as follows: Maher Arar, a Canadian citizen, was traveling home to Canada from visiting relatives in Tunisia in 2002. While changing planes at New York City's JFK airport, he was detained by U.S. authorities and then transferred secretly to Syria, where he was held for a year and tortured.
"It was so painful," Maher Arar said of the beatings he endured, "that I forgot every enjoyable moment in my life."
Released without charge and allowed to return home to Canada, Maher Arar received an apology and compensation from the Canadian government for its role in his treatment. But the U.S. government has failed to apologize or offer Maher Arar any form of redress - despite its obligation to do so under the UN Convention Against Torture and other human rights treaties. (
Read more details about Arar's case
.)
We might add that there is a great deal of Canadian guilt in this case, but the Canadian government paid a major compensation to Maher Arar, apologized to him and took disciplinary steps against the idiots in the Mounties who sent the raw and unverified allegations against Maher Arar to the Americans.
THAILAND AND ITS THIN-SKINNED KING: LESE -MAJESTE
In Thailand there is a law against offending or insulting his royal majesty, something truly medieval. We would like to call your attention to a case described in the following letter from the Clean Clothes Campaign, a human rights defense group:
On Wednesday, April 18, the trial of Somyot Prueksakasemsuk, well known editor and long time labour rights activist, resumed in Bangkok and will continue until 4 May. Somyot was arrested on 30 April 2011 following publication in his magazine of two articles which the authorities claim offended the country's ruling monarch. He was accused of lèse majesté, a crime that carries up to 30 years of imprisonment, and has been refused bail on eight separate occasions.

The Clean Clothes Campaign will send an observer to attend the trial during the last week of April. She has over 30 years experience working on Asia development and human rights issues and will join observers sent by the International Committee for Jurists (ICJ) and the EU mission.

The Global Union Federation ICEM (International Chemical, Engineering and Mining Workers) launched a public campaign to request Somyot's release.
Please take action today by
signing and sending a protest letter
to the Thai Prime Minister. In an open letter to the Thai authorities last February CCC, together with several other key groups, including FIDH (
Federation International de Droits de L'Homme
), Forum Asia and Protection International, reiterated its serious concerns about the ongoing use of the
lèse majesté
law, particularly against human rights defenders, and its deleterious effect on fundamental freedoms.
Please act on this: we find it offensive against all human decency that such a law can exist and be used against human rights defenders. In Israel there is a silly law, left over from colonial times, against insulting a public servant, but it is effectively a dead letter because the State Attorney has basically emasculated and refused to prosecute under it and more power to him.
INTERNET PRIVACY AND ABUSE OF WOMEN: AVAAZ
Avaaz has called our attention to a legislative initiative in the US that would effectively give the US government
carte blanche
to snoop on our Internet activities. Microsoft, Facebook and others to whom we have entrusted personal information are supporting this.
Please click and act
to let these companies know that you object to this intrusion into your privacy. Big Brother is watching!
Avaaz also wants to call our attention to the terrible abuse of women in Kazakhstan. Forced sterilization and hysterectomies are happening in a country that has huge amounts of US money flowing into it.
Borat
hardly exaggerated here.
Please tell Hilary Clinton to apply some leverage
.
BEWARE OF CHINESE HERBAL TEA
We are informed that not only do Chinese herbal teas marketed in the name of traditional medicine contain toxic materials, they also contain the DNA of endangered species. In particular, Australian customs authorities have found that medicines like Chinese herbal tea often contain the DNA of endangered Asiatic bears or Saiga antelopes. Both of these animals are perilously close to extinction. It is time to put a stop to this practice. Besides being dangerous to those who consume them, these medicines threaten the existence of endangered animals that could soon become extinct.
Titan asks you to add your names to this petition
.
MYANMAR SANCTIONS
Major powers including the USA and the EU are
on the verge of relaxing the international sanctions
against Myanmar/Burma on the grounds that the recent democratic reforms are sufficient and that the sanctions are no longer needed.
Western leaders have welcomed the reform process in Burma and promised reciprocal steps
Key advocates for Burmese political prisoners
are calling for the international community to keep economic and trade sanctions in place until Burma's government releases all political prisoners, including those detained in ethnic areas. United Nations agencies in Burma say an easing of sanctions is crucial to allow funds to support poverty alleviation programs in the country. Although the National League for Democracy drubbed the generals in the by-election, the Parliament is still dominated by the old regime and it is not clear where the future will lead.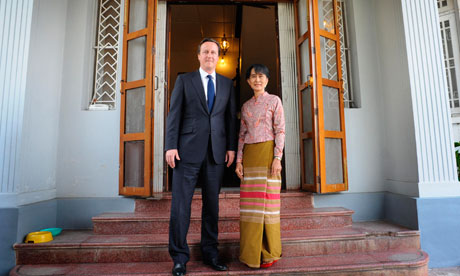 David Cameron meets pro-democracy leader Aung San Suu Kyi at her lakeside home in Rangoon, Burma, today. Photograph: Stefan Rouseau/
Certainly Aung Sa Suu Kyi will play a major role, but she cannot carry the burden alone. We must watch warily.
ON CLIMATE CHANGE
We have recently seen a resurgence of climate change skepticism, fueled mainly by the deep pockets of Exxon-Mobile and the other stakeholders of the
status quo
. A company that turns a profit of $40 billion in a year can well afford to bribe a few scientists and put up big media campaigns. Let us call your attention to the
statements of Dr. James Hanson
who has led the fight to control carbon emissions.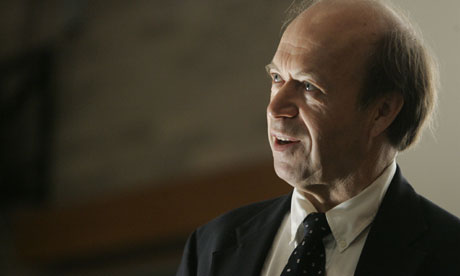 Prof Jim Hansen: 'We're handing future generations a climate system which is potentially out of their control'. Photograph: Melanie Patterson/AP
Indeed the Bush administration tried to muzzle him but failed. We heard him speak when he came to Israel to receive the
Dan David
prize for contributions to the future of humanity It was clear from his data that the tipping point beyond which the planet will undergo irreversible change is near. We also refer you to Dr.
Philip Duffy
whose
credentials
are most impressive and who lays it clearly on the line. We are getting fed up with stupid statements from people who should know better. Look at the data:
Temperature changes during a similar period and possibly responsible for causing the observed sea level rise.
The melting of the polar and Greenland ice caps will put coastal regions under water. Think ahead, please! This we are marking
Earth Day,
so please try to do your share to save the planet.
HOME SWEET HOME
THE SLUGGING COMMANDER
The main brouhaha in Israel has been the story of the officer who struck a Danish cyclist with his weapon and had the misfortune to have a camera aimed at him and his actions.
The Army has reacted
by relieving him of his command and suspending him
as a commander of troops for two years. He remains unrepentant and
only regrets the cameras
. He has, alas, support among our fascist public. We think that the Army let him off easy. In fact, the claim that he is a unique "bad apple" is nonsense. No Palestinian is surprised by this,
since it is routine for them
. The only difference is that he was on camera and the victim of his stupid cruelty happened to be a Danish activist, blond and blue-eyed, with a European country behind him. As we are told in
Irma la Douce
, "Don't get caught, 'cause that's a crime."
INDEPENDENCE AND MEMORIAL DAY COMING UP
This is the time of year in which our government and public put on a solemn face for 24 hours, have memorial ceremonies at military cemeteries to assure the bereaved that the sacrifice was worth their loss and then, with a flip of a switch, the wild joy of Independence Day begins. This year, the celebration will be muted because in the process of setting up for the generals marching around with the flags in monkey suits gig at Mt. Herzl,
a lighting rig collapsed
, killing a young woman officer and injuring several other people. It now turns out that the the whole thing was jerry-built, with no proper safety inspections or documentation and the usual Israeli way of doing things. It is a source of outrage that this young woman, Hila Betzaleli,died because of a combination of
incompetence, neglect and corruption
.
We have, for many years, ignored this blather and choose to participate in the alternate lighting ceremony held in Jerusalem by Yesh Gvul, the peace activism organization that we support fully. It will take place at Emil Gruenzweig Square opposite the Knesset at 1945 on Wednesday evening. Details are in the press. We also call your attention to an alternate memorial ceremony for Israeli and Palestinians conducted by
Combatants for Peace.
The
event will take place
at the "Hangar 11", Tel-Aviv port, on Tuesday, 24/4, 21:00.
DUCK SOUP A LA THE MARX BROTHERS
You will recall the famous Marx Brothers comedy
Duck Soup
in which the hapless country of Fredonia goes to war for no real reason. The film was banned by Mussolini at the time. Now Richard Silverstein in his
Tikkun Olam blog
invokes the image of Fredonia and its silly war in analogy to the Iran war hysteria that our government is trying to hard to whip up. Right on, Richard. A commenter thought that a Three Stooges film was a better analogy. Read and decide for yourself.
CHEERS FOR OUR CONSERVATIVE JEWISH FRIENDS IN ISRAEL
We are pleased to salute the Conservative Movement in Israel
for their decision to ignore sexual orientation in the ordination criteria for rabbis. The movement made that decision in the US years ago, but Israel and Latin America lagged behind and there was almost a rift in the movement.
A Conservative rabbi marries a same-sex couple in the U.S.
Photo by: Courtesy of Gregg Drinkwater / Forward
Our Reform movement passed this milestone of openness long ago.
BOOK REVIEW
We have long liked the writing of Stephen King, even his most fantasy-ridden dabbling with the supernatural. Last year, he wrote a book that made the
ten best books of the year list
of the New York Times:
11/22/63 By Stephen King 849 pp. Scribner. $35
We invite you to
read a review By ERROL MORRIS
Published: November 10, 2011 .
THE IGPULITZER PRIZE
as announced by Andy Borowitz is well deserved and speaks for itself.
POST SEDER WOES
Twas the Night after Seder
Twas the night after Seder, and all through the house
Nothing would fit me, not even a blouse.
The fish and the kugel, (oh my, what a taste)
After both of the seders, went straight to my waist.
When I got on the scale, I couldn't believe it!
The treadmill and bicycle wouldn't relieve it.
I remembered the marvelous meals I prepared;
The light airy matzah balls everyone shared.
The brisket, the turkey, the tzimmes so sweet;
Oy, let me recline and get off of my feet.
I know we made kiddish and recited each plague,
But right now I'm foggy, and my memory is vague.
So, don't give me matzoh, chopped liver or wine
I'll do my aerobics and never more dine.
I'm walking to temple, so what if it's far?
I'm not even thinking of taking the car.
With 10 lbs. to lose and 10 inches to shrink,
Eating a latka? Don't even think!
Macaroons when wrapped tightly, can so nicely freeze.
Pack the sponge cake and tayglakh away, if you please.
Out of sight, out of mind - by this oath I'll abide;
Bring me the boiled chicken with romaine on the side.
I'll keep on that program, to my diet adhere,
And let's all get together for Pesach next year!
On Behalf of Students Everywhere
We wind up with Wally in the Quantum World...