Sir Bernard Lovell at the Jodrell Bank Observatory, Cheshire, in 2003. Photograph: Phil Noble/PA, vid. In Memoriam below
Titan too is enjoying the Olympics despite all the garbage associated with such an event. Pollyanna pointed out last week that many of the young gymnasts look like abused children. We decided to check this out and
indeed there are reports of abuse
, but often brought by adults thirty years after the event. We also have a report from a woman who moved on and made a life. One of her complaints was not of sexual abuse, but of of mental abuse and low self image brought on by constant criticism and being driven to do more and better. It is encouraging to see that the
US Gymnastic organization is taking steps to provide better protection for the children,
but as pointed out by many, loopholes remain. A recent memoir by Dominique Moceanu who, at 14, was the youngest member of the Olympic gold-medal-winning 1996 U.S. women's gymnastics team in Atlanta digs deep into the dealing with a relentless father and the allegedly abusive coach Bela Karolyi.
The Daily Beast picks the best bits from Off Balance.
Certainly food for thought as we watch these children performing for our entertainment.
HUMAN RIGHTS BLOG
Titan would like to call your attention to our
Human Rights Action
blog. Please check it out and take the actions requested.
IN MEMORIAM
Sir Bernard Lovell OBE FRS Professor Emeritus of the University of Manchester UK died this week at the age of 98. Sir Bernard was the university's Emeritus Professor of Radioastronomy and the founder and first director of Jodrell Bank Observatory in Cheshire. In a statement, the university said his "legacy is immense" and added that he was "a great man, he will be sorely missed".
Jodrell Bank is dominated by the 250ft (76m) Lovell Telescope, conceived by Sir Bernard. He began working with engineer Sir Charles Husband to build the telescope in 1945 and it has since become a symbol of British science and engineering and a landmark in the Cheshire countryside.
A hugely ambitious project at the time, the telescope was by far the world's largest when it was completed in 1957 and within days tracked the rocket that carried Sputnik 1 into orbit, marking the dawn of the space age. We would like to think that the
discovery of pulsars
by graduate student
Jocyln Bell Burnell
for which her
advisor received the Nobel Prize in 1974
is a more memorable event than the tracking of Sputnik I.
Jodrell Bank is still the third largest steerable telescope in the world and a series of upgrades mean it is now more capable than ever, observing phenomena undreamed of when it was first conceived. People like Sir Bernard leave a legacy for all of us. Titan has posted an image of the telescope with Sir Bernard at the head of this blog in his memory. May he rest in peace.
We append an obituary from the Guardian.
MARVIN HAMLISCH the film composer died this week at age 68.
Marvin Hamlisch
He won many awards for his music including Oscars, Emmys and the like, including for
A Chorus Line
and
The Sting
. He made movie history in 1974 when he became the first individual ever to win three Academy Awards in one night in all three music categories. Broadway's bright glow went dim for a moment on Wednesday in his memory to pay homage to a more than four-decade-long career that spanned film, music, television and theater. Manhattan's 40 Broadway theaters turned down their lights at 8 p.m. ET for a total of 60 seconds in symbolic tribute to the man who composed acclaimed scores for the Pulitzer Prize-winning "A Chorus Line," as well as "They're Playing Our Song" and "The Goodbye Girl." We append an
obituary from the Los Angeles Times.
ANOTHER MASSACRE IN THE USA
Titan deplores the senseless killing of
six Sikh worshipers at a temple in Wisconsin.
Allen Fredrickson/Reuters
The shooting came about two weeks after a gunman killed 12 people and wounded nearly 60 in an attack at a movie theater in Aurora, Colo. It is shocking that a nation that calls itself the supreme democracy and gives human rights ratings to the rest of the world cannot provide its own citizens with basic protection by instituting gun control. This is total madness.
CLIMATE CHANGE
It should be obvious to every thinking person that climate change is here and that we are responsible for it. Nonetheless, we find people who should know better taking irrational contrary positions. Some of them, such as the oil barons, do so because any change in the way things are done would hit them in the pocket. We would like to quote Juan Cole on this subject, what he calls contrarians as differentiated from skeptics,
in Informed Comment:
"It is not proper to speak of "climate skeptics," since all scientists (including we social scientists) are skeptical of all data and theories every day, all the time, and are willing to change our position if enough information and analysis emerges to challenge the old paradigms. But beyond just skeptics, there are always in any debate "contrarians," people who challenge a theory with little more on their side than radical doubt and deep suspicion, and who unsystematically latch on to every little thing that the theory hasn't yet accounted for, or which seems to challenge it. Skeptics can be convinced by solid data and argument; contrarians are either harder to convince, or impossible to convince. Some contrarians, as with the billionaire Koch brothers who fund propaganda against climate science, are committed to their position because it is central to their business model.
"
We suggest reading his entire post.
What is encouraging is that a serious skeptic, Richard Muller, whose research was funded by the oil magnate Koch brothers, has turned completely away from his previous position and n
ow affirms that human activities are responsible for global warming
. Prof. Richard Muller of UC Berkeley
We salute Professor Muller.
NUNS STANDING UP TO THE POPE
We salute also the
American nuns who are refusing to submit to arbitrary repression by the Vatican
and have launched a
bus tour for decency and liberty across the US.
Their organization, the
Leadership Council of Women Religious
, is meeting to decide how to confront the scathing attack and the brutal takeover that they are experiencing from the Vatican. What is in essence a power struggle between the nuns and the church's hierarchy had been building for decades, church scholars say.
Sister Claudia Bronsing takes part in a vigil at St. Colman Church in Cleveland, Ohio, in support of Catholic nuns who were criticized by the Vatican. (photo: Michael McElroy/NYT)
At issue are questions of obedience and autonomy, what it means to be a faithful Catholic and different understandings of the Second Vatican Council. Sister Pat Farrell, the president of the Leadership Conference, said in an interview that the Vatican seems to regard questioning as defiance, while the sisters see it as a form of faithfulness. They enjoy backing from a large segment of American Catholics.
THE SOVIET UNION IS ALIVE AND WELL
We are aghast and outraged at the travesty of justice taking place in Russia.
Pussy Riot demonstrators (from left) Nadezhda Tolokonnikova, Yekaterina Samutsevich and Maria Aliokhina during their trial. (photo: Maxim Shipenkov/EPA
Three young women, punk singers,
are being tried and face serious jail sentences for the "crime" of having sung an anti-Putin song in a church.
Please take action via the
Amnesty web site and register your protest.
Please, also, make this go viral via every social network to which you have access. We note that many famous figures in the entertainment world, such as Sting, Madonna and others are taking up the cause of justice for the Pussy Riot girls. This lack of understanding of democracy and freedom of expression is, alas, shared by politicians of Russian extraction in Israel.
HOME SWEET HOME
Since we blogged last countless horrible things have happened here and we certainly cannot rant about all of them. The political scene keeps getting worse, the economy has tanked, the protest movement is fizzling (as we predicted long ago) and the right-religious coalition is taking over our lives. We had the Romney visit and survived it. He had a big fund raiser breakfast at the King David Hotel, explained that Jews are richer than Palestinians because they are culturally superior and moved on. He did not bother to take the short ride to Ramallah to talk to Abbas and Fayed and learn something of substance about what an occupation can do to an economy.
Thomas Friedman does a better job
than I could in discussing how Romney's campaign is a symptom of what is wrong with the relationship between Israel and the US. It all boils down to money, in this case dirty money from the likes of Sheldon Adelson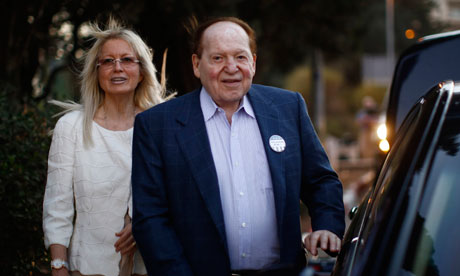 Sheldon Adelson and his wife Miriam. Photograph: Jason Reed/Reuters
(
whose Las Vegas company is under investigation
by the Feds) and other right wing American Jews who love Natanyahu and will fight to the last drop of blood of our sons and grandsons.
WAS THERE A PROTEST?
The old comedy group
Hagashash Hahiver
had a sketch in which someone comes after the 1967 war to reclaim his car that the army had commandeered. Each time he noted what was missing, the response was .."was there whatever?", climaxing in "was there an engine?" We feel that way about the protest movement that boomed last summer. Many people, such as the leaders of the Meretz party, the journalist Amira Haas and others called for the left to support it, but alas, it is fading out, just as the Occupy movement faded in the US. What was perceived as a strength, the lack of a formal leadership, was in fact the kiss of death. The refusal of the leaders to confront the main issue before the public, namely the occupation of the West Bank, meant that the protest movement could never translate its half million people in the street
Israel social protest 2011
to votes aimed at changing the political leadership and the social model under which the country is run. The leaders and initiators appear to suffer from political naivete.
Daphne Leef leading to nowhere?
We can only change the regime here via elections and that means political action, as distasteful as that may appear to some of the social protest leaders.
Zeev Sternhell provides an insightful analysis of the situation.
MORE HUMAN RIGHTS VIOLATIONS UNDER THE OCCUPATION
The most moral army in the world is planning t
o evict hundreds of people from their homes
in the South Hebron Mountain area. Both the
EU
and the
Palestinian Authority
have protested. The claim that the area is need for military training as a firing range is specious. There is plenty of room in Israel for army training. The idea is obviously to depopulate the area, where Arabs have lived for over a century in caves, to make room for more settlement building. We apologize for the difficulties with the Haaretz links. Haaretz has become greedy, alas. We are trying to find others whenever possible.
This link to the Fayyed protest should work
.
IS THERE A LEFT IN ISRAEL?
Recent surveys have shown that while a significant fraction of the Israeli public shares the world view and the political positions of the left, the left itself is held in very low esteem.
A new organization,
designed to revitalize the left and to restore it to its proper position on the political map has been established under the leadership of Dr. Avraham Burg, former speaker of the Knesset. It is regarded as a project for a decade. We wonder if we have a decade left to restore democracy in Israel in the face of the right-religious onslaught that is led by an unlikely coalition of the ultra-orthodox and atheist Putin supporters from Russia.
Burg has just published an op-ed in the New York Times
on the fading of democracy in Israel. Indeed it is true that the share of the electorate that support the parties of the left has plummeted by tens of percentage points in recent decades. It is not because of arrogance or lack of rapport with the working class. Meretz was the party that took up the cudgels on behalf of residents of towns in the periphery who were being deprived of their public housing rights by special interest groups. It got them appreciation and admiration, but not votes, because Likud voting is in their DNA. It may well be that by the time the public wakes up, the West Bank will have been annexed and we will have an
apartheid
state that will eventually give way to a binational state with an Arab majority in the Knesset. Zionism is in bad shape and we can only hope that the
optimism of Bradley Burston is right a
nd young Israelis stand up and say Yes we Can. Yossi Sarid points out in Haaretz(the link does not work because Haaretz wants your money) that marketing the truth is never easy. We cannot but recall that Jimmy Carter was a one-term president because he spoke the truth to the American people. Reagan was able to defeat him easily by selling fantasies.
BOOK REVIEW
We thank Richard for calling our attention to a book
EINSTEIN'S JEWISH SCIENCE
Physics at the Intersection of Politics and Religion
By Steven Gimbel
245 pp. The Johns Hopkins University Press. $24.95.
reviewed in the New York Times by GEORGE JOHNSON
Published: August 3, 2012.
Gimbel suggets that Einstein was able to come up with his theories of physics because of his Jewish mode of thinking. Of course, he dismisses the Jewish Physics canards of
Nazis such as Phillip Lenard
and others and does not attribute any Jewish religiosity to Einstein. What gives Einstein's work a Jewish flavor, Gimbel believes, is an approach to the universe that reminds him of the way a Talmudic scholar seeks to understand God's truth. It comes only in glimpses. "Thou shalt not steal" may seem clear enough. But is it stealing to keep a $100 bill you find on the ground? It depends. Did you see the person who might have dropped it? Was it found on a busy street or in a friend's backyard? In a hotel lobby with a lost and found? Without the luxury of a God's-eye view, we must reckon from different vantage points. (We have a friend who found a $10 bill on a California beach and reported it to the IRS. It must have cost the government $100 to process his tax return.)
"The heart of the Talmudic view is that there is an absolute truth, but this truth is not directly and completely available to us,"
Gimbel writes.
"It turns out that exactly the same style of thinking occurs in the relativity theory and in some of Einstein's other research."
This is an interesting idea and worthy of consideration
A LIGHTER VEIN TO END
Rejection it appears is not forever. A gem of a short story by F. Scott Fitzgerald that was rejected by the
New Yorker
in 1936 has been rediscovered and published in the magazine. We enjoyed it greatly and recommend it to you, very short and possibly Fitzgerald in decline (he died in 1940 and was deep into the bottle), but worth a read. The rejection memo from 1936 reads as follows:
We're afraid that this Fitzgerald story is altogether out of the question. It seems to us so curious and so unlike the kind of thing we associate with him, and really too fantastic. We would give a lot, of course, to have a Scott Fitzgerald story and I hope that you will send us something that seems more suitable. Thank you, anyhow, for letting us see this.
The discovery of the Higgs boson has caused many strange effects around the world. One of them seems to be in the brain of Gene Weingarten in his new incarnation as a cartoon writer.
WHAT IF?
Our friends at XKCD have instituted a
What If? column
in which they respond to readers' queries. We recommend reading it The link will take you to the latest one, but you can easily scroll back to previous weeks. They are all fun.
.
Finally we note that Saturday Morning Breakfast Cereal (we usually have lox, cream cheese and bagels on Saturday morning) has an insightful take on justice: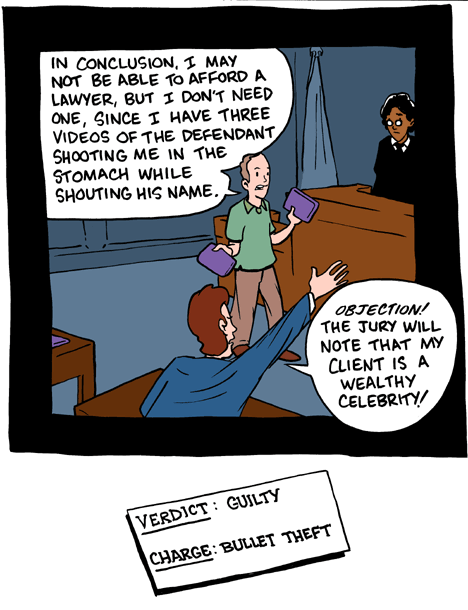 an on Grandpa: