Titan is the kid with the Torah, Pollyanna is the blond girl
Titan is making his way through Succot and wishes all a happy Simhat Torah which is coming up at us.
Before getting on to the Titan business of ranting about what is wrong with the world and calling for a fix, what we Jews call Tikkun Olam, we note that the
alter egos
of Titan and Pollyanna, i.e. YandA, seem to have a millionaire celebrity (of a sort) namesake. We wish Mr. Yanda
well in his career.
HUMAN RIGHTS BLOG
As usual, we call your attention to our
Human Rights Action blog
and ask you to pick up on the links and take action on behalf of people who are suffering persecution and discrimination around the world.
IN MEMORIAM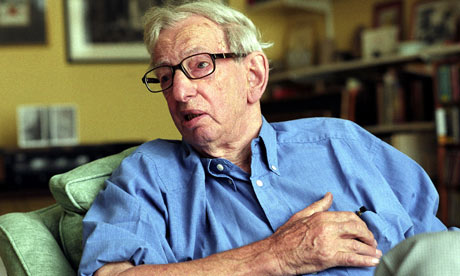 Eric Hobsbawm in 2003 Photograph: Workers' Photos/Rex Features
Eric Hobsbawm 1917-2012
We mark the passing of Eric Hobsbawm
, a lifelong socialist and one of Britain's most eminent scholars, who died this week at the age of 95. He was one of Britain's most distinguished historians, his works on the 20th century read by generations of students, despite an allegiance to the Communist Party that he retained long after many supporters left in shame and disgust. Hobsbawm is best known for three volumes, spanning the period from 1789 to 1914: "The Age of Revolution" (1962), "The Age of Capital" (1975) and "The Age of Empire" (1987). A later volume, "Age of Extremes," took the story forward from 1914 to 1991. His last book, "How to Change the World," published in 2011, was not a revolutionary tract but a collection of essays dating back to the 1960s on Marx and Marxism. We are a bit familiar with some of his writings, having read The Age of Revolution years ago and we can indeed say that his style was wonderful and the ideas fascinating, albeit controversial at times to us. We append a link to a
n appreciation of his life and work in the Guardian.
Eric John Ernest Hobsbawm was born June 9, 1917, in Alexandria, Egypt. His father was British, descended from artisans from Poland and Russia, and his mother's family were cultured, middle-class Viennese. The family moved to Vienna when he was two. Following the deaths of his father and then his mother, he moved to Berlin in 1931 to live with relatives, and joined the Socialist Schoolboys.
"In Germany there wasn't any alternative left," he said in an interview with Maya Jaggi published in The Guardian newspaper in 2002. "Liberalism was failing. If I'd been German and not a Jew, I could see I might have become a Nazi, a German nationalist. I could see how they'd become passionate about saving the nation. It was a time when you didn't believe there was a future unless the world was fundamentally transformed."
He once said he was "lucky — yes, lucky enough — to live in Berlin before Hitler came to power."
In our opinion, the fact that he remained in the Party after Hungary and Prague casts a shadow on his memory.
ARTHUR OCHS SULZBERGER, 1926-2012
He died on Sept. 29, 2012 at his home in Southampton, N.Y., at the age of 86.
Mr. Sulzberger's tenure as publisher of the newspaper and as chairman and chief executive of The New York Times Company, reached across 34 years, from the heyday of postwar America to the twilight of the 20th century, from the era of hot lead and Linotype machines to the birth of the digital world. The Times carried an
obituary editorial
and a large number of personal appreciations of Mr. Sulzburger. We append one of them by
Max Frankel, a long time employee and associate.
THE UPBEAT CORNER
DRUG LORD CAPTURED
Despite Titan's sourpuss nature, he does like to start out with some good news. It is indeed good to learn that a major kingpin of the Mexican drug trade,
Ivan Velazquez Caballero, known both as El Taliban and as Z-50,
who was a commander of the notorious Zetas cartel has been captured by the police. Let us hope that he gets his just deserts and does not manage to wangle out by bribery or violence. There is reason for concern-on Monday, 35 police officers were arrested in operations in the states of San Luis Potosi and Veracruz, accused of having links to the Zetas.
SATIRE AND ITS VICTIMS AND DUPES
We are sure that you are all familiar with the
ONION
, one of the funniest and sharpest of the satire blogs around on the Web and with
Andy Borowitz
, another great source of fake news, Andy now works for the New Yorker and presumably punches a clock every day. It is equally funny to see what happens when people pick up on these wild jokes and believe them. In general, there is a streak of paranoia and/or monomania that causes these things, quite often in the Arab world, but not only there. We have the case of the sharks at the Sharm el Sheikh resort on the south side of Sinai which the Egyptians attributed to the Mossad, presumably an attack on the tourist trade or possible fishy espionage. (Titan asks if the Mossad did not own the sharks, but borrowed them, are they loan sharks? This pun was created in a different context by Aaron Barnes, who should know better, but does not) . Then as we reported a few years ago a griffin vulture, an endangered species that nests in Israel and is studied by Tel Aviv University in the hope of tracking its migration pattern and helping it survive,
was "detained" in Saudi Arabia as a spy for Israel.
Alas, the poor bird was carrying a GPS with the logo of Tel Aviv University. Fears for its fate are well founded.
Griffon Vultures can soar at up to 11,000 metres (36,100 ft) above sea level. A perfect vantage point?
The official Saudi news agency also picked up an a
Borowitz "news" flash
that in return for a few votes in the house, President Obama would confess to being a Muslim, born somewhere in the mid-Atlantic. We now have, courtesy of the
Daily Beast,
a compilation of the
8 most embarrassing failures of media
that fell for the Onion's
faux
news. The Iranis and Saudis can take some comfort in the knowledge that they are in the good company of an ESPN broadcaster, a Louisiana congressman, and even the venerable Gray Lady herself, The New York Times.
Many of these are funny, but it can become dead serious when a garbage film on YouTube can be exploited and used to generate lethal violence. Indeed,
there are indications
that the US legation in Libya could have been better forewarned of the coming attack, but in general the backwardness of populations that can be manipulated thus is frightening. Movies such as
Wag the Dog
and
Canadian Bacon
are based on the premise that
any
population can be manipulated by its leaders for whatever reason.
The Gulf of Tonkin
manufactured incident that precipitated the expansion of the Vietnam War provides strong proof that such indeed is the case.
THE MUSLIM WORLD WAKES UP
The ongoing noise about insults to Islam has generated a great deal of smoke and flame, but not too much rational discourse. We would like to link you to two discussions, one from Newsweek magazine in which Husain Haqqani,(Pakistan's ambassador to Washington from 2008 to 2011, a professor of international relations at Boston University and a senior fellow at the Hudson Institute)
calls for the Muslim world to get its act together
and to stop blaming the West for its own failings. He drives home the point that the violence is about politics and not about religion. The other is by
Omid Safi,
Professor of religious studies at the University of North Carolina at Chapel Hill, and the author of several books on Islam, including
Memories of Muhammad
, a biography. Prof. Safi raises the question of how Muhammad himself would have reacted to the film. In his lifetime, he was subjected to much abuse and offense and alwaysnresponded gently. This essay was written on Sept. 12, 2012. Prof. Safi trie to introduce a voice of calm and indeed points out correctly that the killers and rioters do not represent the Libyan people. The latter got together and stormed the headquarters of the Islamist militia
Ansar al-Sharia
, whose members are suspected of carrying out the attack on the U.S. Consulate in Benghazi that resulted in the death of four Americans, including Ambassador Chris Stevens.
Anti militia demonstration in Benghazi
Note that it was the people of Libya and not their weak-kneed government that started the discrediting of these militias.
Now the government is being driven by popular demand to disband them.
We thank
Rabbi Waskow of the Shalom Center
for calling these writings to our attention. Thomas Friedman writing in the NY Times also notes that
other voices are being raised in the Arab world
and that some much needed self-criticism is starting to be heard. He quotes Imad al-Din Hussein, a columnist for Al Shorouk, Cairo's best daily newspaper who concludes a blast of an article with the words, "Therefore, supporting Islam and the prophet of the Muslims should be done through work, production, values, and culture, not by storming embassies and murdering diplomats." Tariq Ramadan of Oxford University writing in the NY Times is calling for
an Arab Spring of ideas
. As Friedman writes, "What matters is not what Arab Muslim political parties and groupings tell us they stand for. What matters is what they tell
themselves
, in their own languages, about what they stand for and what excesses
they
will not tolerate." This is important since there is a long history, e.g. Yasser Arafat, of saying one thing in English for Western ears and the opposite in Arabic for the home audience.
These voices are worthy of a positive response from all of us.
A NEW DAY DAWNS FOR MYANMAR
A few weeks ago in this blog we rejoiced in the visit of Daw Aung San Suu Kyi to the United States.
She is leading her country to a new world of democracy with the somewhat surprising aid of an old enemy, the President and part of the old regime, Thein Sein. Apparently, this odd combination is finding a
modus vivendi
, as described by
Bill Keller in the NY Times.
He has interviews with
both of them on his blog.
(While you are there, scroll down a bit and read something quite cogent about the phenomenon that Uri Avineri calls Romneyahu). The question as to the role of sanctions in turning things around in Myanmar is discussed, pro and con. Daw Aung San Suu Kyi comments in her interview that the generals, in the course of ruining the economy through mismanagement, came to believe their own propaganda and thus could lay their failures at the door of the sanctions. I recall once hearing the late
Yehoshaphat Harkavi
say that there is nothing as bad for you as believing your own propaganda. The generals in Myanmar who obviously were incompetent to run a country (probably an army as well) tried to hire technocrats to fill the gap. We met with a group of them who visited Israel in the 1990's. They were not an impressive lot. The mismanagement of an economy can indeed bring down a military regime
as we saw nearly thirty years ago in Brazil.
We recall that in her
2011 Reith Lecture
, Aung San Suu Kyi said that the difference between the streets of Tunis and Cairo and those of Yangoon lay in the unwillingness of the Tunisian and Egyptian soldiers to fire on their own people. Maybe the tide has turned in Myanmar.So good luck leaders of Myanmar with your transition and the much needed rehabilitation of the economy and of the country in general.
At the end of his op-ed Bill Keller quotes an academic, David Steinberg, a Myanmar scholar at Georgetown University and a sanctions skeptic, who said the campaign for a free Burma has always included a contingent enamored of its own righteousness. Earlier generations embraced the Spanish Civil War, and then the anti-apartheid movement, he said. "Burma was the last good cause." We take strong exception to this gratuitous insult to human rights defenders everywhere. People gave their lives for the Spanish Republic, human rights defenders in China have paid a terrible price, the struggle against apartheid levied its toll of suffering and blood. We ourselves, in our small way, have breathed our share of Israeli army tear gas and it was nothing to be enamored of. Professor Steinberg appears to be enamored of his own wisdom and arrogance, fighting the good fight in his nice office at Georgetown University. F@#* you Prof. Steinberg!
CHILD PORN ON FACEBOOK
Titan and Pollyanna are both outraged by the child pornography floating around the Web on Facebook. Please join the
petition to call upon Facebook
to put a stop to this abomination!
HOME SWEET HOME
This is the time of year in which we are called upon to make a heshbon nefesh, an accounting of our soul. This has been done beautifully by the New Israel Fund who circulated 100,000 copies of the magazine "Soul Searching" around Israel for the High Holidays. The magazine contains 10 essays by members of NIF's International Council on the theme of atonement and was distributed ahead of Yom Kippur as a supplement with Haaretz, as well as through the NIF family of organizations. Among the essays is that of NIF Board Member and International Council Co-Chair Talia Sasson, entitled "Jews of America, We Need You". She writes,
"The Jews in Israel must understand that for the majority of American Jews, like the majority of the entire American population, their support is based on the belief that the two nations share similar values. These are democratic values that include upholding basic human rights: liberty and freedom, minority rights and equality. The more Israel drifts away from its liberal and democratic image, so drift away her friends, until her brethren drift away, her own flesh and blood."
She continues,
"The Jews in Israel are obligated to return to the fundamental values of the country which we have turned our backs on. Readopting these values will re-instill hope and faith in our actions and Israel's legitimacy as the homeland of the Jewish people."
The other essays in the magazine are:
In
"We Have Sinned and Have Been Disloyal. What Now?
" Prof. David Harel of the Weizmann Institute and Dr. Baruch Ovadia discuss the challenges to Israeli democracy. In
"And Yet It Moves"
Nobel Prize
laureate Aaron Ciechanover discusses freedom of creation and scientific research, and in
"Why Hawks Tend to Win Arguments With Doves,"
Prof. Daniel Kahneman considers cognitive bias and its toll. Other essays include
"Tax is not a Burden, the Price of Civil Participation,"
by Ishak Saporta, and
"You Are Not a Master in This Matter – What Hannah can Teach us About Speaking Truth to Power,"
by Tova Hartman and Rabbi Charlie Bucholtz.
This week, instead of getting into details of this human rights violation and that, Titan asks all of you to hit the link to the
Hebrew
or
English
version in PDF and to read the various essays. This publication puts our major problems in perspective and points out the way to go. Shana tova to all.
We all know, as Zohar tells us, that superstition brings bad luck. Take note, Skinner must have been on to something. There is a danger in the assumption
post hoc propter hoc.