Titan is back with much to rant about. He does, however, wish to start by wishing all our Muslim readers Ramadan Kareem.
Titan thinks it would be nice and appropriate if Obama
would order the stoppage of force feeding at Guantanamo
during Ramadan.
For starters, let us refer you to the
Miriam Shlesinger Human Rights action blog
. As the weeks and months go by without Miriam, we continue to realize what we have lost. She got us into the human right struggle. Please act on behalf of people who are so much in need of support in their trials and tribulations at the hands of oppressive regimes and corporations.
Titan also wishes to congratulate our British readers on the restoration of the Empire with the victory of Andy Murray, the first Brit to win the men's singles at Wimbledon since the days of King Alfred (actually the short reign of Edward VIII).
Of course, there was a British victory during the years since 1936.
Virginia Wade won the ladies's singles
in 1977 the centennial year of the tournament.
We have looked up a table of the
history of men's singles at Wimbledon
and it is quite interesting. It was an amateur tournament until 1968. While no one claims that Andy Murray's victory was tainted, there is nonetheless a
shadow of a doping problem
cast over professional tennis.
CHARITY CORNER
A few weeks ago Titan unloaded a blast at the idiots who donate money to the fat, corrupt and overbudgeted Israeli army and think they are "supporting Israel." Of course, the brass of the army are quite happy to take the money, why not? In Israel the health services are grossly underfunded, patients sleep in hospital corridors and the package of medications provided by the National Health administration sorely lacks badly needed drugs, such as components of chemotherapy and other needs. There are other major social needs that go unmet not least because of the bloated military budget. Titan and Pollyanna got together in a cafe on one of their usual asteroid belt hangouts, this time on
Mathilde
, and discussed what they could do about it besides ranting. They concluded that they would have a charity corner in their blogs and each week call for donations for a different need. For people abroad, there exists a Web site called Yisrael Toremet or Israel Gives through which you can donate to any charity in Israel. If you know somebody who is donating to the wrong bodies such as the army or the JNF, give them a kick and point them in the direction of something worthy. Even if your donation is modest, recall that every little bit helps with
Tikkun Olam
=Fixing the World. We quote a great man, Abraham Joshua Heschel, who put it much better than we could:
"Remember that there is a meaning beyond absurdity. Be sure that every little deed counts, that every word has power. Never forget that you can still do your share to redeem the world in spite of all absurdities and frustrations and disappointments."
OUR FIRST CALL
Help little Lihi who is 5 1/2 years old and suffers from leukemia.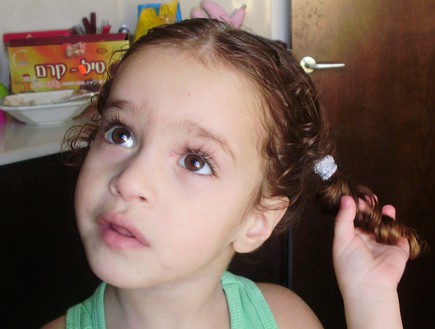 "הכי חשוב שליהי תהיה בריאה ותחזור לגן"
The drug that is helping her stay alive and begin to recover is not in the health service package and is very expensive. She requires a special diet which is also beyond the means of her parents. The society
"yachad betikva"
or "together in hope" has been helping them to bear this burden. Please donate either at the
Israel Gives site
mentioned above or in Israel via
this Web site
or by telephone 24/7 03-574-3220.
RANTS AROUND THE WORLD
BURMA
We are being told that the bad old days are over in Burma and that democracy is in the air. It appears that much of the joy and rapture has been very premature. Thein Sein has been embraced as a courageous reformer despite the fact that he was a senior member of the old military council for 14 years. We refer you to a
detailed description of the human rights violations under his regime
and give you this list:
• Hundreds of political prisoners are still in jail, and more continue to be arrested.
• Almost every repressive law is still in place.
• In early 2013 the UN documented numerous cases of torture still being used in Burma's jails.
• President Thein is blocking aid to ethnic minorities, in violation of international law.
• Reports of rape by Burmese army soldiers have increased since Thein Sein became President.
• President Thein Sein asked the UN for help in expelling all ethnic Rohingya from Burma.
• Since Thein Sein became President more than 250,000 people have fled their homes because of attacks and human rights abuses.
• Burma continues to break its agreement with the UN to stop using child soldiers.
• Human Rights Watch has said there is evidence of ethnic cleansing and crimes against humanity against the Rohingya.
• In 2012 the Economist Intelligence Unit ranked Burma as having one of the worst authoritarian regimes in the world.
AN EXPLOSIVE TRIANGLE INDIA, PAKISTAN, AFGHANISTAN
While we worry about Iran (whose main duty is to keep Natanyahu in office) real danger of an explosion lurks in the Indian subcontinent. The morass of Afghanistan has trapped the West and the three main players jockey for power and survival. The Pakistanis have an existential fear of India that is stronger even than the Israeli paranoia about the Arab world. We refer you to a
Brookings Institute analysis of the situation.
It has a potential for true disaster especially if nuclear weapons enter the equation.
BIG BROTHER SNOOPS AND LIES
The NSA snooping scandal in the US and indeed around the world refuses to go away. It is frightening that in a country that is supposed to be a constitutional democracy an intelligence agency can be unaccountable and free of oversight by the elected representatives of the people. It is precisely this lack of accountability that leads to the creation of bodies such as the infamous STASI. The fact that the head of national intelligence
lied to Congress about the activity requires a strong reaction.
Let us hope that it is forthcoming.
REDEMPTION OF SINNERS OR A SHORT PUBLIC MEMORY
We are seeing the return to the public sphere of politicians who were forced to resign because of sexual improprieties (in the US of course, in Israel they resign only when indicted for corruption). Both of the born again types are in New York (where else? said with an LA sneer).
Elliot Spitzer who resigned from the
governorship after revelations that he had been a too faithful client of some high priced hookers is running, yes take a deep breath, for the position of comptroller of New York City.
Elliot Spitzer is running for office. Again.
We also have
Anthony Weiner,
who resigned from the House of Representatives after his famous
sexting scandal, running for mayor
.
Former Congressman Weiner
He also has to take care of his kid which makes life a bit hard. His fall from grace was in our opinion a bagatelle that just showed poor taste, whereas Spitzer had the usual politico problem of loose fly, with less class than Bill Clinton. In any case, we cannot but be reminded of
Richard Nixon who was forced to resign the presidency
in 1974 because of Watergate and yet by the time of his death in 1994 had attained the status of elder statesman. I suppose we should learn something about the memory and attention span of the public. In Israel, a jailbird emeritus, Aryeh Deri, heads a religious party! In the past, both Yitzhak Rabin and Ariel Sharon returned from resignations in disgrace to become successful Prime Ministers of Israel . Of course, Andy Borowitz has the big news that
Sylvio Berlusconi is coming to New York
to run for office. Why not?
AN AFRICAN SAGA
As the mineral resources of the West are mined out, more and more corporations and countries are turning to Africa. We came across a story of an Israeli, Benny Steinmetz, who has apparently gotten his hands on the iron mines in Guinea (still undeveloped) and turned a $160 million investment into a $5 billion property without putting a spade into the ground
.
The story is interesting
as told in the New Yorker b
y Patrick Radden Keefe and helps us understand how elites are enriched while the masses starve in countries that are poor despite great resources. It is food for sad thought.
HOME SWEET HOME
WHAT CONSTITUTES JUDAISM?
Recently the religious warfare between our orthodox brethren and the rest of us has flared up. The Women of the Wall controversy which was settled by the court in a liberal fashion has aroused all the obscurantism of the religious establishment . Other issues are also at stake such as military service and recognition of Reform and Conservative rabbis. Elections for the Sephardi Chief Rabbi (do not ask us what this is all about, google it) are coming up and we have candidates from hell. One is a
true Judeonazi in the Leibowitz sense
and another, the son of a "great" former chief rabbi, is being investigated for corruption. Carlo Stenger in a recent blog posting
outlines how it is possible to find a way of implementing our Jewish heritage without extremism
. As members of a Reform congregaton, we applaud. We also must confess to a bit of
Schadenfreude
at the news that
orthodox Jews are fleeing the corrupt streets of Rio de Janeiro
because, take a deep breath, there are scantily clad women there.
Poor women in the streets of Rio
They fail to understand that the women are scantily clad because of poverty that prevents them from buying a complete article of clothing. We have noticed this on the beach as well. Poor girls cannot afford a complete bathing suit, alas. Seriously we would like to quote Stenger on the relation between modernity and the religious-state connection.
"Israel will have to choose at some point to which part of the world it wants to belong: to the West that has implemented separation of religion and state, or to the Islamic World that still has a long way to go until it realizes that politics and religion need to be separate."
We note in passing that a few years ago representatives of the Vatican and the World Lutheran Synod met in Geneva and canceled all the mutual excommunications dating from the Thirty Years War which ended in 1648. Patience is a cardinal virtue.
SUBVERSIVE AND DANGEROUS PUPPETS
Our kind Minister of Internal Security recently forbade the performance of a puppet show for children in East Jerusalem. His decision to shut down the puppet festival of the Hakawati Palestinian National Theatre in East Jerusalem was based on the claim that it was funded by the Palestinian Authority in violation of the Oslo Accords. He should have learned from Romney and Big Bird, but he did not and
there was a massive protest, including the puppeteers community.
Protesting the ban on the Palestinian puppet festival.
A puppet show intended for Israel children was canceled as a gesture of solidarity.
When will they ever learn...?
PRISONER Y
We recall the Ben Zyger story of a man held secretly in solitary confinement until he committed suicide. Now it appears that he is not the sole such prisoner.
Documents that came out in a court hearing indicate that there is another prisoner,
apparently already convicted, who has been held in similar conditions for years. We find this disturbing and we wonder how effective the judicial oversight of these cases really is.
SILLY TIME
What If?
asks what would happen if we drained the oceans into space. It is interesting and quite amusing.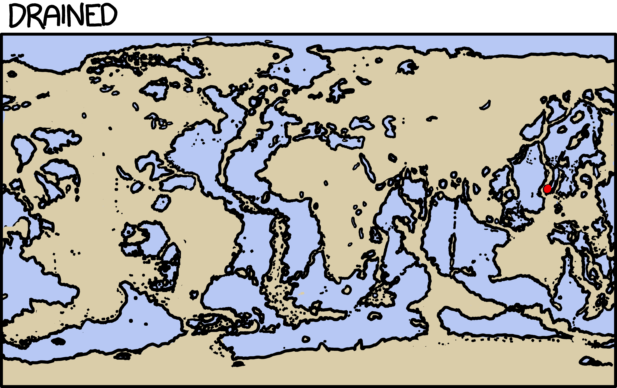 PUT ON HOLD
We all have been told that all the operators are busy etc. and are given music, or worse, promos to listen to while waiting for a reply from our service provider, bank, whatever. Our friend Adolfo in the US once wrote on a bill from Comcast-
"Your bill is important to us. All our checkbooks are busy with previous bills. Your bill will be paid in the order in which it was received. We appreciate your patience"
and sent it back. Needless to say, he received an immediate response. They sent him a shortcut phone number but asked him to keep it secret. He posted it on the bulletin board at the lab the next day.
Our friend Letitia generates much empathy as well.
In the Marx Brothers parody of Casablanca, there is a scene in which Harpo is leaning against a wall. Someone passes by and says "are you holding up the wall?' Harpo moves and the wall comes crashing down. We show you the Weingarten version: