Prometheus and Epithemeus
Titan is here again, full of venom to start the post-holiday season. He had to threaten Prometheus, Epithemeus and Enceladus with a gravitational disruption in order to get them to take the succa down.
Lazy buggers, too used to Saturn looking out for them.
For starters, let us refer you to the
Miriam Shlesinger Human Rights action blog
. As the weeks and months go by without Miriam, we continue to realize what we have lost. She got us into the human rights struggle. Please act on behalf of people who are so much in need of support in their trials and tribulations at the hands of oppressive regimes and corporations.
CHARITY CORNER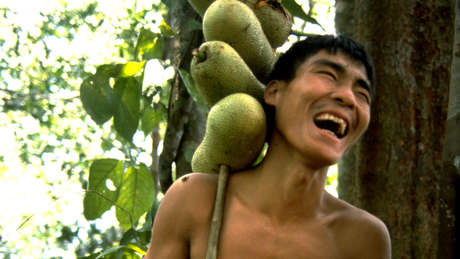 Penan, threatened by logging and oil palm industry
This week it is Titan's turn to promote a charity. His choice is
Survival International,
a worthy NGO that devotes its efforts to the protection of indigenous and uncontacted tribes around the world. Their homes and way of life are under steady attack by unscrupulous economic interests that are trying to get at resources in their territories. In another case, they are treated like safari animals. Mostly they lack any immunity to diseases common in the developed world and contact can be lethal for them. The link has a full menu of cases and you can donate to them via the site.
IN MEMORIAM
Vo Nguyen Giap, the Vietnamese military commander and national folk hero who organized the army that defeated the French and then the Americans in 30 years of Southeast Asian warfare, is dead. That war ended in 1975 when the last remaining U.S. military forces evacuated Saigon, leaving behind a war-torn and battle-scarred nation, united under Communist rule. He died Oct. 4 in a hospital in Hanoi, a government official told the Associated Press. He was 102. No cause of death was immediately reported.
Gen. Giap was the last survivor in a triumvirate of revolutionary leaders who fought France's colonial forces and then the United States to establish a Vietnam free of Western domination. With the Vietnamese Communist leader Ho Chi Minh, who died in 1969, and former prime minister Pham Van Dong, who died in 2000, Gen. Giap was venerated in his homeland as one of the founding fathers of his country. To military scholars around the world, he was one of the 20th century's leading practitioners of modern revolutionary guerrilla warfare. He started with 34 men and defeated both France and the United States to achieve the independence of his country.
The New York Times has a detailed obituary
as
does the Guardian.
CLIMATE CHANGE, TRUTH AND MURDOCH MEDIA
It is odd to put the words truth and Murdoch on the same line. His factory of prevarication is trying to convince us that climate change is a myth. He owns hundreds of major media outlets including ultra conservative Fox News and the Wall Street Journal, and he's using his media power to help his oil buddies stop governments acting to curb their profits. In the US alone, a shocking 80% of climate stories from Murdoch's select papers mislead readers about global warming! Now he's set his sights on
this groundbreaking report,
and his media empire will dominate the conversation unless people around the world stand together and drown him out.
Please join AVAAZ and countless people of good will
in standing up to him.
COSMETICS AND CRUELTY
The use of animals in tests of cosmetics is an outrage that cannot be tolerated.
Join the ForceChange
movement in protesting this terrible practice. Their site contains a few more causes that you might wish to support.
NORTH KOREA AND HUMAN RIGHTS
This country has long been known for its horrible treatment of its people who starve while the
military builds nuclear toys
. The United Nations experts investigating human rights conditions in North Korea said Tuesday that the "shocking" evidence they had collected from defectors and others suggested "large-scale" patterns of abuse that demanded an international response. You can read details in the
NYTimes,
the
WashPost
or if these sites fail to open properly, the
original interim report from the UN body.
The only action Titan requests is to rant about it on all your social media sites and to all your friends.
NEW YORK CITY OPERA: FAREWELL
.
The New York City Opera has filed for bankruptcy protection and has closed its doors
, with a last performance last Saturday night of
Anna Nicole.
The curtain call after Saturday's performance of 'Anna Nicole' at BAM, the company's last. Sarah Joy Miller, center, played the title character.
The opera company will be sadly missed and it is indeed sad that this organization that launched so many wonderful careers and brought affordable opera to the city for so many years is closing down. It will be
remembered by many as recorded in the NYTimes.
NORTH AMERICAN JEWRY QUO VADIS?
A new Pew study of the American Jewish community indicates that assimilation is proceeding apace and intermarriage rates are rising. The report is
summarized in detail by JTA
and can be found
in full here.
There will be much hand wringing about this by the Jewish establishment especially the Orthodox who will point a finger at the rest of us and claim that we deserve stoning. The dilemma of maintaining a particular Jewish identity in the Diaspora while enjoying the freedom of a liberal democracy is the crucial issue. Certainly our Orthodox brethren do not have an answer that most of us can accept and we in the liberal camp need to think about integrating the countless mixed families into our community. For many secular Israelis, being Jewish only means not being an Arab. Fair disclosure, Titan and Pollyanna along with an imaginary playmate are active members of the Reform congregation of Natanya. In Israel our problem is maintaining some kind of Jewish identity in a pluralistic manner. The High Court decision this week to deny the designation of Israeli nationality, divorced from religion and ethnicity, is a step backward. More on this below in the home section
HOME SWEET HOME
NATIONALITY?
The 21 people who petitioned the High Court to be registered as Israelis rather than as Jews in the Population Registry and in their ID cards were turned down this week. It has,
as noted by Aeyal Gross
in his analysis, profound implications for the state of democracy in our country.
The editorial in Haaretz
deplores the fact that sixty-five years after the state's establishment, its authorities still do not recognize an Israeli nationality independent of religious or ethnic affiliation. Sad indeed.
OVADIA YOSEF
This so-called great rabbi is now very old and very ill. He may soon pass to his reward and as he awaits it, we cannot but be reminded of a few quotes, the first from Shakespeare in Julius Caesar put in the mouth of Mark Anthony,
"the evil that men do lives after them, the good is oft interred with their bones."
The good that Yosef did in this world will take up little space in his coffin, but the evil is spread far and wide. The other quote is from Clarence Darrow,
"I have never killed a man, but I have read many obituaries with delight."
Yossi Sarid does an excellent job
of putting this man and his memory in place. Titan is not bothering to pray for him in line with the dictum of Ambrose Bierce in his definition of prayer in the Devil's Dictionary
:"PRAY, v. To ask that the laws of the universe be annulled in behalf of a single petitioner confessedly unworthy."
Rabbi Yosef is certainly unworthy of any tinkering with the laws of the universe.
A NATIONAL PARK FOR POLITICAL PURPOSES
Environmental Protection Minister Amir Peretz on Wednesday froze a plan to create a new national park on the slopes of Jerusalem's Mount Scopus, saying the area has no
"particularly sensitive natural value."
Bravo Mr. Peretz
.
The controversial plan is being pushed by both the Israel Nature and Parks Authority and the Jerusalem municipality. Left-wing groups and Palestinians charge that the real purpose is to block the development of two nearby Palestinian neighborhoods, Issawiyeh and A-Tur. As proof, they note that the area has no special natural or archaeological value. Titan agrees and points to the arguments made in an
editorial in Haaretz.
The continued dispossession of Arab residents of Jerusalem is another means used by the government to prevent any establishment of a viable Palestinian state.The government seems schizophrenic or just phony since
Justice Minister Zipi Livni went to the J Street Conference
in Washington and said:
"The only way to keep Israeli values as a democratic state is by adopting the idea of two states for two people,"
which contradicts her ministerial colleagues completely. We note that J Street after only five years is starting to look like a real competitor to AIPAC on the American-Israeli scene. It is not trivial that Joe Biden showed up to give the keynote speech.
J Street is reaching big time.
TOCHUS OFEN TISH
or Butt on the Table is a blog site that presumes to give us the straight Jewish dope.
The latest is a hot line
to inform on Jewish women who, heaven forbid, are dating non-Jewish, in particular Arab, men. It is reminiscent of the abortive campaign of the Jewish Agency to find American Jews in relationships with non-Jews and seduce them to come to Israel for reprogramming. Here the system
involves physical threats
against Arabs who are dating Jewish women.
IRAC is calling for letters to
Natanyahu to put an end to this racist activity.
WASTED ACADEMIC ENERGY
If you have devoted good years of your young life to obtaining an academic degree, you should know that there is an easier way. You may recall Madame Rosa in Gary's
Life Before Us
novel who had the most authentic forged papers in the neighborhood. We now call your attention to the most
authentic fake academic degrees on the planet.
Alas, those lost years in graduate school.
SILLY TIME
What If asks
if our Twitter timelines (tweets by the people we follow) actually extended off the screen in both directions, how tall would they be? Interesting question and answer.
THE ONION
raises the question of giving
Putin the Nobel Peace Prize
in what we think is not really the moronic action of the week, outside closing down the US government, if you recall who has received it in the past. This great source of news also draws our attention to the poor workers of the US government who are both deprived of pay and
declared non-essential.
MIRACLES NEEDED
As you all know the Pope is busy creating saints when not going shopping. A saint has to have at least two miracles in his/her CV to qualify. We present
a near-miracle
that might have helped an anonymous Irishman on his way to a picture in a stained glass window.
DUMB CRIMINAL OF THE WEEK
This week's wearer of the rotated ski mask is
one Lorenza Christian of Connecticut
. He was nailed by the cops after pawning a
rather unusual gold trinket stolen from his victim.
Hartford police have arrested Tyquan Turner (left) and Lorenza Christian (right) in connection with a July 13 murder on Flatbrush Avenue.
TIDDLYWINKS
You may not be aware of the fact that
Tiddlywinks
commands a large adult following around the world. We call your attention to the fact that there are
organizations devoted
to the game and its standards, on
both sides of the Atlantic.
It can also be played in creative ways.