Crossing Dingo Gap on Mars
Image Credit: NASA, JPL-Caltech, MSSS; Digital processing: Damia Bouic

Explanation: An important threshold on Mars has now been crossed. Landing in mid-2012, the Curiosity rover is searching for clues of whether life could ever have existed on the red planet. Recent findings of Curiosity include evidence for an ancient (but now dried) freshwater lake, and the non-detection of the biomarker methane in the Martian atmosphere. To continue its investigation, the car-sized rover is on an expedition to roll up Mt. Sharp, the central peak of the large crater in which it landed. Life might have shown preference for water that once ran down the Martian mountain. Two weeks ago, to avoid more dangerous and rocky terrain, Curiosity was directed to roll across a one-meter high sand dune that blocked a useful entrance to Mt. Sharp. Just after the short trip over Dingo Gap was successful, the robotic rover took the above image showing the now-traversed sand mound covered with its wheel tracks.
Titan is back with you again and has much to share with you, most of it rants, but also some positive things. Here are some wheel tracks left on a Mars sand dune by the Curiosity rover. A previous rover, Spirit, was rated for 90 days and worked for over 2200. It ran into a sand dune and failed to extricate itself, so now it is stuck. Randall thinks this is rover abuse: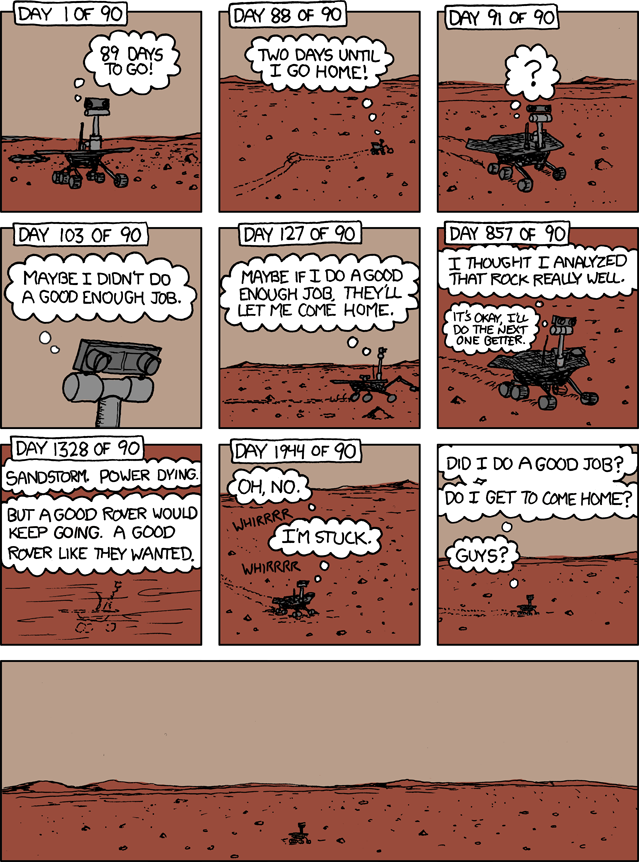 For starters, let us refer you to the
Miriam Shlesinger Human Rights action blog.
Over a year has gone by without Miriam and we continue to realize what we have lost. She got us into the human rights struggle. Please act on behalf of people who are so much in need of support in their trials and tribulations at the hands of oppressive regimes and corporations.
CHARITY CORNER
This week it is Titan's turn to promote a charity. His choice is
Nitzan, The Israeli Association for Children and Adults with Learning Disabilities
which treats children, youth and adults suffering from learning, adaptive and functional disabilities. The aim of Nitzan is to provide special education services for the learning-disabled, with the goal of enabling their integration into mainstream education and helping them develop the skills necessary to become contributing members of society.
One of Nitzan's greatest achievements is the change in perspective it has brought about in Israeli society toward people with learning disabilities. For many years' individuals with learning disabilities suffered both socially and professionally. However, by raising public awareness to this condition and enabling early treatment, Nitzan has significantly improved the quality of life of many children and adults, who were wrongly discriminated. Titan, Pollyanna and YandA recommend this organization for your support. Titan would also like to call your attention to the
stinginess of Israelis
who like to receive from abroad, but donate very little themselves. This is in contrast with the Diaspora tradition of charity.
THE RANTS
Titan is blowing his top this week over several major human rights issues.
Fati, an 11-year-old girl who was injured with deep machete wounds to her head and arm in an attack by anti-balaka militia in Boali (north of Bangui) on 17 January 2014. © Amnesty International
The first is the ethnic cleansing and massacres taking place before our eyes in the Central African Republic where
Christian anti-balaka
militias are killing and exiling the Muslim population.
We present a report
from Donatella Rivera (whom we remember from her days as Israel researcher) who is now the Amnesty International person on the ground in the CAR.
The second is the
UN Report
on the atrocities committed by the government of North Korea against its own people. It describes terrible crimes against humanity, bordering on genocide and rightly compares the regime of Kim Jung Un to the Nazi regime in Germany. If you wish to join the outcry against these crimes, there are links in the Miriam Shlesinger human rights blog above.
The third rant is
against the decision of the Spanish government
to extradite a Kazakh political dissident to Kazakhstan where he will be at great risk of torture.
Aleksandr Pavlov, a 37-year-old asylum seeker in Spain and Kazakhstani national, is currently in detention in the capital city of Madrid.


© Private
The fourth, while obviously not a lethal issue, is nonetheless important from a human rights standpoint. The law governing the identity registration of transgender people in Denmark is positively medieval and must be changed.
We link you to the sad story of an American transgender living in Denmark.
Finally,
Titan protests the beating
in Sochi of the Pussy Riot singers by Cossacks during their attempt to protest at the Olympics venue.
Pussy Riot band members Maria Alyokhina (left) and Nadezhda Tolokonnikova sit in a glass cage during their court hearing. (photo: Natalia Kolesnikova/AFP/Getty Images)
CAPITAL PUNISHMENT
The United States is one of the few
democracies that still executes its own people
. The various states are
now having trouble obtaining the necessary drugs.
Lethal injection has faced increasing scrutiny over the past decade. Major drug makers, many of them based in European states with longtime opposition to the death penalty, have stopped selling to prisons and corrections departments. The source of the drugs is moving to the forefront of the death penalty debate. Now compounding pharmacies that make drugs to order are moving to get out of the business of drugs for execution both because of lawsuits and the unfavorable publicity. It would be nice if a constitutional amendment would outlaw the death penalty, but given the character of the American people, that is not going to happen. Indeed six states have abolished capital punishment in recent years, but there is a long way to go
COMIC CENSORSHIP?
We have long obtained our comics for our
Silly Section
from ArcaMax who supply a large assortment of comics at the cost of stomping on the odd pop up ad. Now we have learned that they censor the comics which means we can no longer trust them. For example, we posted what we thought was the Dilbert for Feb. 8, which was funny unto itself, but was in fact a rerun of an old strip.The real Dilbert for that date dealt with the difficulty Asok, who is gay, would face if he wished to return to India. Apparently gay rights are too sensitive a subject for the ArcaMax people.
As a result, we are now going directly to the sites of our comic friends Barney and Clyde, Dilbert and the Wizard in order to be sure we are not being censored. Shame on ArcaMax.
DO NOT BELIEVE YOUR EYES
Galileo was perplexed to find Venus (left) looked bigger than Jupiter with the naked eye - but not through a telescope. Now researchers claim to have discovered why
Although Jupiter is much larger than Venus,
our vision tells us that Venus is larger
in the sky. Indeed, Venus is closer to Earth than Jupiter, but that is not enough to explain the discrepancy. We also see Jupiter as a full disk whereas we see a crescent of Venus. Galileo was the first to realise that this radiant crown was something to do with human perception, or, as he described it, an "impediment of our eyes" which the telescope eliminated, but he put it down to some kind of optical interference to the light from the planets as the light entered the human eye.However, scientists have now shown that the effect is caused by the way the light-sensitive cells at the back of the eye respond to images of different intensity set against a dark background.
HOME SWEET HOME
THE BOYCOTT LAW AND THE THOUGHT POLICE
This week the
Supreme Court heard arguments in a case
brought by human rights organizations against the legality of a law that prohibits calls to boycott Israel and the settlements in the West Bank. The law is draconian and we can only hope that the judges will take the proper steps. We are not in favor of boycott of Israel
per se
, but the settlements are both illegal and an obstacle to peace. In any case, the issue is freedom of expression which the government now claims is not an absolute right of Israeli citizens.
Uri Avneri puts
the case against the law very well. We note also that a photographer put up a Facebook status referring to Barkatt, the Mayor of Jerusalem,
as the mayor of the occupation. He was hauled in for questioning.
Why? Because he is an Arab.
Michael Omer-Man writing in +972
invites police to haul him in for writing the same thing, but since he is a Jew he will get away with it. Titan has written worse things about Israeli big shots and has not been hauled in for interrogation, possibly because of the obscurity of his blog written in English. The Israel thought police focuses on dangerous people who might have illicit thoughts about human rights for non members of our holy tribe. It is nice that our cops can do something besides taking
fat bribes from rabbis
or
screwing up investigations
to the point that criminals can win damages. In any case, those of us who favor the boycott of the settlements now have a new definition of ourselves,
classical anti-semites.
What is clear is that we, whether we admit it or not, are living in an apartheid state in which Jews have privileges and all other ethnic groups do not.
Avram Burg puts it much better
than we could in his excellent article in Haaretz in the wake of the flap over the speech in the Knesset by Martin Schultz, the President of the European Parliament. If we look at election results and the composition of the Knesset, it is clear that that
is what the people want. How to change things is a difficult question
. All we can do is to rant and demonstrate. The late and unlamented Meir Kahane, the epitome of Jewish fascism, would be pleased to see that
his evil ideology has become mainstream.
ONE SMALL VICTORY
Recently a Knesset member from a right wing party, David Rotem, went so far as to declare that Reform Jews are not really Jews and belong to another religion. We mentioned this in a previous blog. It was, therefore, a source of some satisfaction to
see him retracting
and apologizing. We forgive you Mr. Rotem for certainly you know not what you do, if we may paraphrase a reforming Jew from long ago.
MOOC IN ARABIC
Thomas Friedman, writing in the NYTimes
, calls our attention to something positive, for a change. On March 2, Prof. Hossam Haick will begin to teach the first ever massive open online course, or MOOC, on nanotechnology in Arabic. Prof. Haick is a professor at the Israel Institute of Technology or Technion in Haifa. What is interesting is the very large enrollment in the course from many Arab and Muslim countries. We regard this as a positive step and part of the move away from backwardness that is sweeping the Arab world. We see Arab intellectuals telling their people that the time has come to face modernity.
An article by Hashem Saleh,
an Arab intellectual of Syrian origin who currently resides in Morocco, calls for a cognitive revolution. As he points out, it took Christianity a long time to shape up and we note that there is still a great deal of obscurantism in the Orthodox Jewish world. Nonetheless, Saleh thinks that the Muslim world can undergo the transition much more rapidly. We certainly hope he is right.
In the West, a cartoon or joke about Judaism or Christianity, including caricaturing the Pope, Jesus, Moses or any religious functionary, does not generate a major reaction other than maybe a laugh. On the other hand, in countries controlled by Islam the so-called blasphemy laws can carry the death penalty. Frankly, we are tired of these Islamic fanatic and primitive attitudes and we are pleased to see that Muslim intellectuals are as well. It is time to quit blaming backwardness on colonialism and to stand up on their own feet and join the world.
SILLY TIME
What If?
Has humanity produced enough paint to cover the entire land area of the Earth?—Josh (Bolton, MA)
This gets Randall into Fermi estimation in which the order of magnitude is accurate enough. It is sometimes said that in astrophysics the order of magnitude of the logarithm is good enough, but that is just wild slandering or an approximation to it.
PONZI SCHEME
The Hadassah hospital in Jerusalem is in dire financial straits not least because its funding organization in the the US was taken for over $100 million via a
Ponzi scheme
by Bernie who Made Off with bundles of cash. Eventually he was caught and sent to be a long term guest of the Feds. Here is a variation on the Ponzi concept.