Titan is back with you again and has much to share with you, most of it rants, but also some positive things. We start with something tremendous,
the possible identification of gravitational waves and the evidence to support inflation theory.
Physicists have found a long-predicted twist in light from the big bang that represents the
first image of ripples in the universe called gravitational waves, researchers announced this week.
The finding is direct proof of the theory of inflation, the idea that the universe expanded extremely quickly in the first fraction of a nanosecond after it was born. What's more, the signal is coming through much more strongly than expected, ruling out a large class of inflation models and potentially pointing the way toward new theories of physics, experts say.
Proof of gravitational waves created by cosmic inflation is shown here in this image of the cosmic microwave background radiation collected by the BICEP2 experiment at the South Pole. The proof comes in the form of a signature called B-mode polarization, a curling of the orientation, or polarization, of the light, denoted by the black lines on the image. The color indicates small temperature fluctuations in the cosmic microwave background that correspond to density fluctuations in the early universe.
BICEP2 Collaboration
The observation was done by a telescope named BICEP2 located at the South Pole, a high and dry place well suited for observing the cosmos.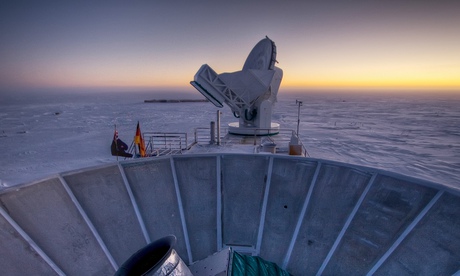 Bicep2 is a telescope whose name is short for Background Imaging of Cosmic Extragalactic Polarisation. Photograph: Steffen Richter/AP
We will try to explain this in more detail by means of this video.
The waves were predicted long ago by Prof. Andrei Linde. Here is how a young colleague told him about the discovery.
For starters, let us refer you to the
Miriam Shlesinger Human Rights action blog
. Over a year has gone by without Miriam and we continue to realize what we have lost. She got us into the human rights struggle. Please act on behalf of people who are so much in need of support in their trials and tribulations at the hands of oppressive regimes and corporations.
The charity for this week will be
Rainwater Catchments: A Solution to Water Scarcity.
GlobalGiving offers an opportunity to help subsistence farmers in Burkina Faso manage their often unreliable water supply. Small rainwater catchment basins provide an innovative solution to water scarcity in rural Burkina Faso. Properly constructed, catchment basins assure that water is available throughout the year, providing opportunities to increase agricultural production, improve villagers' health, and create local employment. The project Give Water Give Life (GWGL) can make a life or death difference to this population. Pitch in please.
Water is truly the most essential thing




IN MEMORIAM CAO SHUNLI 1961-2014
She was a Chinese human rights activist for whom we have called for help in the Miriam blog many times. Repeated requests by Cao's family for her to receive medical treatment for serious health problems were denied. Cao Shunli was a
prisoner of conscience
, who had been detained for solely as a result of her peaceful activism.
She died from organ failure at the 309 Hospital in Beijing on 14 March after five months in detention.
. She was transferred there from Chaoyang District Detention Centre on 16 February, where she had been prevented from receiving the medical treatment she needed for a number of serious health problems, including tuberculosis in both her lungs, uterine fibroids and cirrhosis of the liver. The authorities also denied her family's repeated appeals for her to be released on medical parole, and this was only offered once her condition had become critical.
Cao Shunli was one of the key advocates for enabling civil society to participate in the drafting of China's National Human Rights Action Plan and reports for the UN Human Rights Council's Universal Periodic Review (UPR). She was detained in September 2013 at Beijing airport as she was on her way to Geneva, Switzerland, to attend a training programme on UN human rights' mechanisms. Her detention was believed to be as a result of her role in organizing a sit-in protest along with other activists in front of China's Ministry of Foreign Affairs. In October, she was formally arrested for
"picking quarrels and making trouble",
a charge often used to supress human rights defenders and critics of the government.
She had previously been sent to
Re-education Through Labor
for one year in April 2010, and for one year and three months in April 2011 because of her peaceful activism and human rights work.
We thank all who took action on her behalf. Titan, Pollyanna and YandA call upon all our readers to think of Cao Shunli and the many victims of the cruelty of the Chinese regime as we perforce buy goods made in China.
"Cao Shunli's death exposes just how callous and calculating the Chinese authorities are prepared to be to silence critics. The authorities today have blood on their hands."
said Anu Kultalahti, China Researcher at Amnesty International.
"Cao Shunli was a courageous woman who paid the ultimate price for the fight for human rights in China. She should have never been detained in the first place; but to then deny her the medical treatment she desperately needed is a most barbaric act."
She had led attempts to allow activists to contribute to China's national human rights report, ahead of a review at the UN Human Rights Council.
More details are given in the Guardian.
The US State Department has issued a
statement of concern.
Rest in Peace Cao Shunli and let us all take inspiration from your example of defense of human rights.
A blog post in her memory i
s available on the Amnesty Live Wire site.
In recent months, other high profile activists, including Liu Xia, wife of jailed Nobel Peace Prize laureate Liu Xiaobo, have been denied medical treatment. Liu Xia, who is under illegal house arrest, was denied treatment for a serious heart condition. She was finally allowed to receive hospital treatment in late February.
"The denial of medical treatment for activists in detention is common in order to weaken or punish them. The Chinese authorities must immediately end this unlawful and inhumane practice,"
said Kultalahti.
THE RANTS
This week the rants focus on the environment. Titan is outraged that BP, the company that was responsible for one of the worst environmental disasters in history, the oil spill in the Gulf of
Mexico,
is being allowed, after four years of exclusion, to return to the Gulf
. They are making every effort to avoid full accountability. The April 2010 oil spill was so bad that the company primarily responsible, BP, has tried to limit its liability in court by pinning some of the blame on other corporations. Their lawyers also tried to convince Judge Carl Barbier that if the company is to be found guilty, it should amount to only "negligence" and not "gross negligence." Under the Clean Water Act, a "negligence" verdict would translate into fines of $1,100 for each barrel of oil spilled. But a "gross negligence" finding would result in a fine of $4,300 per barrel. If we bear in mind that the size of the spill is estimated at 4.9 million barrels, we note that this is a difference of $15.7 billion.
Experts who observed the recently concluded trial in New Orleans, which pitted BP against plaintiffs that included small businessowners and the federal government, said the oil giant may have succeeded in shifting some of the blame onto Transocean Ltd., which owned the oil rig that exploded, and Halliburton, which performed cement work on the undersea well. If successful with this legal strategy, BP could reduce its share of the penalty for fouling large sections of the Gulf coast and polluting the ocean. A decision from Barbier could come as early as July.
The explosion on the Deepwater Horizon oil rig killed 11 people, injured 17, and leaked 210 million gallons of oil over the course of 87 days, making it the largest offshore oil spill and worst environmental disaster in U.S. history. BP has, to date, spent $42 billion on clean-up operations and fines.
Titan says yuck. Imagine what would have happened if the spill had been caused by terrorist activity. Similarly, the pollution of drinking water, that affected 300,000 people in West Virginia, earlier this year, by negligence of a corporation did not lead to the kind of outrage one would expect. Tom Tomorrow puts the question very well in this cartoon.
In Israel we see what corporate impunity can do to a delicate environmental system. The Dead Sea has been exploited brutally by Israel Chemicals who were granted total exemption from all environmental constraints by the Rabin government of the 1990's. Now we have sinkholes, pollution and general environmental catastrophe in the region. The fact that Israel Chemicals continues to make methyl bromide although it has been outlawed around the world tells you what we are dealing with. Apart from being a toxic chemical fumigant,
methyl bromide contributes significantly
to the destruction of earth's stratospheric ozone layer, a protective shield that filters out harmful ultraviolet (UV) radiation from the sun. The bromine contained in methyl bromide is fifty times more destructive to ozone than the chlorine found in Chlorofluorocarbons(CFCs).
Nothing talks louder than money.
DARFUR STILL SUFFERS
Darfur has slipped off the front pages in recent years, replaced by newer, more exciting causes célèbres. This doesn't mean the situation has got any better. As fighting flares up yet again, it's worth remembering what is going wrong – and how it is affecting not just Darfur, but the whole region.
With so many other crises popping up and the well known length of the public attention span, Darfur has dropped off the radar screen for many. To his credit, George Clooney is still ranting and rightly so. The United Nations' peacekeeping chief Herve Ladsous told reporters this week that approximately 100,000 people have fled their homes in the region in the last six weeks, as fighting between government forces and armed rebel groups intensifies. This is in addition to the two million people already been forced from their homes by the conflict (400,000 in 2013 alone). "Their arrival is having an overwhelming impact on the already limited water, food and health care available in the camps. The increase in displacement is a worrying trend at a time when civilians were being encouraged to return to their villages of origin," said UN High Commissioner for Human Rights Navi Pillay, of the newly displaced. This catastrophe has been going on for 11 years and shows no signs of abating.



MYANMAR:DOCTORS THROWN OUT
Titan is outraged at the actions of the government of Myanmar. They have thrown Doctors Without Borders out of the country because they treated Rohingya Muslim patients in Rakhine province. Rakhine is one of Myanmar's poorest regions, and is home to 1 million Rohingya Muslims. Doctors Without Borders has been in Rakhine for nearly 20 years, providing maternal and child health services, and malaria and tuberculosis care for about 750,000 people, mostly Rohingya around Rakhine State.

Doctors Without Borders is the main provider of HIV drugs, supplying more than 30,000 patients with medication unavailable through the government. Rakhine now has no basic medical services. Titan wonders what happened to the voice of democracy known as Aung San Suu Kyi. She seems to have abandoned principles for political expediency.
HOME SWEET HOME
L'AFFAIRE HARPAZ
This is a stinking scandal of corruption at the highest levels of the military establishment in Israel. Harpaz is a former Lt. Col. who in 2010 circulated a document besmirching the general whom the then Minister of Defense, Barak, was grooming to become Chief of Staff after Gabi Ashkenazi. At long last the police have gotten around to arresting two of the dramatis personae, Erez Wiener and Avi Benayahu, former brass hats, while Ashkenazi himself, who is pushing for a political career, is to be interrogated. You can read about the sordid mess in the link. Titan, in the recent past, has compared Ashkenazi to Al Capone and Augusto Pinochet, arch murderers who were brought to justice on minor matters such as income tax. Ashkenazi's flunkies are being charged with
allegedly obstructing an investigation, destroying evidence, assisting in illegal surveillance of various officials and leaking highly classified documents as part of the Harpaz Affair. Titan would like to see them all indicted and on trial at The Hague for their crimes against humanity.



MINISTERIAL IDIOCY
Titan thinks that it is bad enough that we have Cabinet ministers who are racist, fascist and thirsting for a war. We also have people who satisfy these criteria and in addition are total idiots. One of them is the Minister of Defense, Moshe Ya'alon, a former Chief of Staff, a job for which idiocy has never been a bar. He has just shot his mouth off in an anti-American tirade (for the second time in a few months) for which he found himself again forced to apologize. He claims that the US is broadcasting a message of weakness round the world. Presumably he expects the US and NATO to invade Crimea and maybe precipitate WW III. He claims, of course, that Israel invented everything in sight and that the US needs Israel--"They get quality intelligence and technology. We invented [the] Iron Dome [anti-rocket system]. The wings of the F-35 stealth fighter – we invented. We invented the Arrow [anti-ballistic missile system]." He forgot to mention that we killed the Dead Sea as well (see above). The response from the USA was withering: "We were shocked by Moshe Ya'alon's comments, which seriously call into question his commitment to Israel's relationship with the United States," a senior administration official told The Jerusalem Post on Tuesday night. "Moreover, this is part of a disturbing pattern in which the defense minister disparages the US administration, and insults its most senior officials." Of course, you can argue that nations get the governments that they want and deserve and in a democracy that is certainly true.



COOL
Just to end on positive note, we are told that a new archeological center is to be built in Israel and part of it will be open to the public. The building will store and showcase the nation's rich collection of some two million ancient artifacts, including the world's largest collection of Dead Sea Scrolls. Titan likes the idea.

SILLY TIME

What If? How much CO2 is contained in the world's stock of bottled
fizzy drinks? How much soda would be needed to bring atmospheric
CO2 back to preindustrial levels? Brandon Seah
The answer is a monstrous burp...


Sirius is very bright indeed and practically in our back yard. Of course, there are closer stars, but they are dimmer. Here is a list of nearby stars if you are curious.

This must be fun: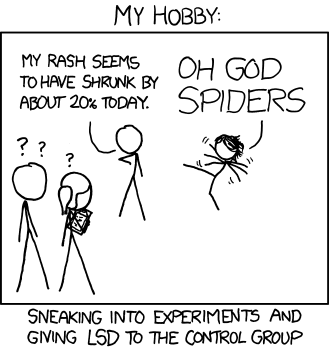 Be careful what stories you tell children: