Titan is back and wants to congratulate the
Rosetta team on the first ever orbit
around a comet. The spacecraft is now moving around the comet in a triangular orbit but will enter a bound orbit next month.
Comet on 3 August 2014 length about 4 km
It will deposit a lander named Philae on the surface next November.
Here is a link to ESA and the mission Web site
. There you will find much information on the mission, the trajectory and the instrumentation of the spacecraft. Enjoy!
For starters, let us refer you to the
Miriam Shlesinger Human Rights action blog
. Over a year has gone by without Miriam and we continue to realize what we have lost. She got us into the human rights struggle. Please act on behalf of people who are so much in need of support in their trials and tribulations at the hands of oppressive regimes and corporations.
CHARITY CORNER
This week Titan is sending you to the same charity that Pollyanna referred to last week, the
Emergency Fund for Ebola
run by GlobalGiving. The situation in Africa is terrible. The Ebola outbreak in West Africa has worsened over the past week. More than 1,600 people are reported to be infected with the virus and 887 have died from the disease, according to the latest figures released by the World Health Organization. Please help.
POSSIBLE GOOD NEWS
While it has always been thought that Ebola has no cure or treatment,
an untried treatment
, used as a last resort on two American doctors who contracted the disease while treating patients in Africa, seems to be effective. It was approved by the FDA under the "compassionate use" clause which is certainly OK.
The point has been made
that if Ebola were an epidemic in the UK, a cure would have been found much sooner. Now the question of access, side effects, availability to people in the Third World, is a matter of serious discussion. Titan hopes that the new treatment is safe and effective and
can be made available in Africa very quickly
. In Israel,
Prof. Leslie Lobel of Ben Gurion University
(a co-founder of the NALA Foundation) is working on the development of a vaccine for Ebola. It is too late for the present victims, but it offers hope for the fairly near future. Cheers to all the good and brave people who are fighting on this front.
Dr. Leslie Lobel (second from left) oversees the drawing of blood from an Ebola survivor in Uganda for his study. (Courtesy of Leslie Lobel)

RIGHT ON, RABBI SAPERSTEIN
Titan congratulates
Rabbi David Nathan Saperstein who has been nominated for the post of US ambassador at large for international religious freedom
at the State Department. The post was created in 1998 and until now has always been held by a Christian. We wish you all success Rabbi.
REFORM JEWS MAY BE COMING IN OUT OF THE COLD
The new President of Israel, Mr. Reuven Rivlin, has long been known for his hostility to the non-Orthodox Jewish denominations, Reform and Conservative. Now Rabbi Rick Jacobs, Head of the US Reform Movement,
informs us that the President is becoming more friendly.
We are pleased. Fair disclosure, Titan, Pollyanna and their amanuensis are members of the Natanya Reform Congregation.
THE RANTS: ON RELIGIOUS CLEANSING IN IRAQ
Surrounded by Sunni militant fighters, tens of thousands of Yazidis risk dying of thirst
The fanatical Muslim jihadists marching through Iraq are going in for religious cleansing.
Tens of thousands of members of one of Iraq's oldest minorities
have been stranded on a mountain in the country's north-west, facing slaughter at the hands of jihadists surrounding them below if they flee, or death by dehydration if they stay.
UN groups say at least 40,000 members of the
Yazidi sect
, many of them women and children, have taken refuge in nine locations on Mount Sinjar, a craggy, mile-high ridge identified in local legend as the final resting place of Noah's ark. They are now threatened by the ISIS jihadists with forced conversion to Islam. The world sits by while this is happening. The Kurds are trying to help, but lack the support resources . We are pleased to note that
President Obama has authorized
food drops to the besieged and air strikes against ISIS. He described the threats against stranded Yazidi refugees as holding the potential for "genocide". Titan salutes Mr. President.
A similar fate awaits the Christian community of Iraq
who are fleeing in droves
.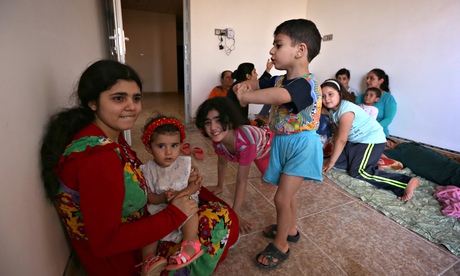 About 35,000 Iraqi Christians were forced to flee Mosul when Isis swept into the city. Photograph: Safin Hamed/AFP/Getty Images
France has offered asylum to those in Mosul, but the UK government is dragging its feet and the
Church of England is remonstrating
. Indeed, the UK and the USA, whose invasion in 2003 destabilized Iraq, bear a responsibility for the results of their actions. Of course, Iraq was not heaven on Earth under Saddam Hussein, but at least it existed and the people had a minimum degree of personal safety, albeit under a dictator. The US under Bush caused this set of calamities and now is evading the results. For a scathing analysis of the young Bush and the garbage he left us,
read Maureen Dowd in the NYTimes.
ANTISEMITIC THUGGERY IN AUSTRALIA
Titan is shocked and angered by the
report of antisemitic harassment
of Jewish school children in Sydney Australia. Teenagers boarded a school bus full of school children, aged between five and 12, coming from a Jewish school. The group then directed antisemitic abuse and threats at the children. It is not clear to us why the driver allowed them to board,unless he was in collusion with them. We expect the local police to do their job and bring
these hoodlums to justice.
HOME SWEET HOME
THE WAR
Yesterday (Wednesday) we thought the war was going to transform into hard bargaining negotiations. It turns out that we are back to square one and the rockets are flying again. It is to be expected that this will not go on indefinitely and it is indeed difficult to predict what will ensue. Certainly the choices before Netanyahu are tough ones. As
He (Natanyahu) can agree to a shortsighted and surely only temporary truce by partly giving in to Hamas's demands, as in previous deals. Or he can tackle the two core issues fueling the violence by demanding that Palestinian militants disarm once and for all — in exchange for lifting the economically crippling blockade."
We note that "once and for all" is a mantra going back to the days of Ariel Sharon if not earlier. We can be forgiven for being a bit cynical.
As the war winds down, it is both interesting and important to try to understand what happened, why and what the future implications will be.
An Israeli Merkava tank rolls back from the Gaza Strip to an army base at the Israeli-Gaza border as the sun sets on August 3, 2014.
Photo by AFP
For a good set of analyses Titan refers you to a
collection of links in Haaretz
in which these questions are addressed.
J.J. Goldberg writing in Forward
notes how Israel consistently refuses to absorb the lessons of failures past.
One casualty of the war is tolerance of opposing views. We are all supposed to march in lockstep to the cadence of the media drums whose message is dictated by the government. Gideon Levy who has long been one of the leading voices of dissent now needs bodyguards and fears to go out to a cafe.
As he told the Guardian
in an interview-
"What is different this time is the anti-democratic spirit. Zero tolerance of any kind of criticism, opposition to any kind of sympathy with the Palestinians,"
says Levy.
"You shouldn't be surprised that the 95% [are in favour of the war], you should be surprised at the 5%. This is almost a miracle. The media has an enormous role. Given the decades of demonization of the Palestinians, the incitement and hatred, don't be surprised the Israeli people are where they are."
Gideon's column on
the fake victory
that all the media are trumpeting puts matters into clear perspective.
Palestinians carrying items they found in the rubble of destroyed buildings on July 27, 2014, in Gaza City.
Photo by AFP
Another issue is the atrocities of which Israeli troops are accused and how the army and government will deal with the possibility of prosecutions in the International Criminal Court. Human Rights Watch is investigating an
alleged mass execution
reported in the Daily Beast. In another case, reported in the Guardian,
an Israeli army officer who repeatedly shot a 13-year-old Palestinian
girl in Gaza dismissed a warning from another soldier that she was a child by saying he would have killed her even if she was three years old. Then we have the use of the
"Hannibal protocol",
which is a dense fire procedure used in an effort to isolate a particular area to prevent removal of a prisoner. It caused the death of dozens of innocent civilians. Titan thinks it would certainly be preferable if these allegations were dealt with locally in an honest fashion. It is not clear, in the present climate of public opinion, that this is possible.
SILLY TIME
Randall is traveling this week, so there is no new What If?, but he does have some good advice for graduate students about to defend a thesis.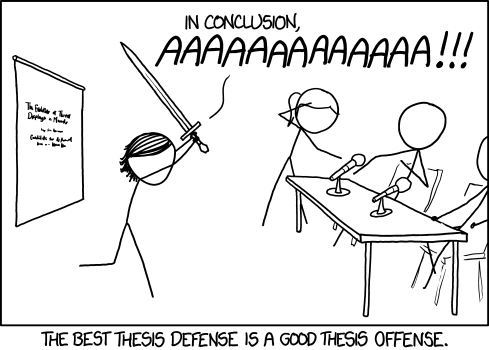 Ph.D. comics tells us what went into writing the thesis
Cynthia continues to submit to the New Yorker
and shows us how self-focused our children are.