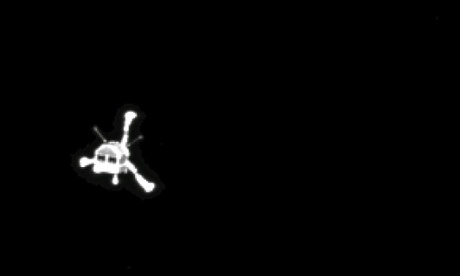 Photograph: AP
Titan is back and would like
congratulate the Rosetta spacecraft team
for the successful soft landing of the probe Philae on the surface of Comet 67P/Churyumov-Gerasimenko. This is the first such landing ever and our colleagues have every right to be proud of themselves despite the difficulties caused by the bounce and positioning of the probe.
Nonetheless most of the data have been obtained
despite the loss of power caused by the shading of the solar panels.
Randall of xkcd has given us an animation of the landing
. He even added a few whales since Philae was supposed to harpoon the comet.
For starters, let us refer you to the
Miriam Shlesinger Human Rights action blog
. Two years have gone by without Miriam and we continue to realize what we have lost. She got us into the human rights struggle. This week we visited her grave and felt how much she is missed.
Miriam, human rights defender, 1947-2012
Please act on behalf of people who are so much in need of support in their trials and tribulations at the hands of oppressive regimes and corporations.
CHARITY CORNER
This week Titan is referring you to the
Africare charity which has an A+ rating from Charity Watch.
This means that at least 75% of your donation goes to the operational side. In the case of Africare, it is 92%. Titan advises all in general to check out the performance of a charity before giving money and to reject telephone solicitations. Africare has a strong record in Africa in the area of health and sustainable agriculture. Their mission statement:
Our Mission

Africare works to improve the quality of life of the people in
Africa. Our Vision

Africare is a leading non-governmental organization (NGO) committed
to addressing African development and policy issues by working in
partnership with African people to build sustainable, healthy and
productive communities.
The History:: Founded by Africans and Americans amidst the Sahelian drought of the early 1970s, Africare has grown to become a leader in aid to Africa, pioneering various types of self-help development programs and noted for our close partnerships with the people and leaders of Africa.
Africare's philosophy has always been,
"There are no Africare programs, only African programs."
You can even get a free tee shirt!
THE RANTS
MEXICO
Titan is furious over the
terrible massacre of 43 students in Mexico
and is further enraged by the manner in which the government of Mexico is dealing with the case. It has long been known that the police and the government of Guererro state are in bed with the drug-dealing Mafia, but the government has chosen to look
the other way. Now the Attorney General has come out with a statement in which, as stated so well by Amnesty International:
"In the most comprehensive account to-date of the disappearance of the students, the Attorney General failed to recognize that this is a state crime and not an isolated incident. He also failed to mention the negligence and complicity of the state in investigating a series of allegations against the mayor of Iguala and the failure to hold to account the federal and local police involved in the killing and torture of other Ayotzinapa students in 2011. "

INDIA
Titan is also foaming at the mouth over
the medical crimes committed in India
where several women have died after having been
treated with tainted medications
at a so-called sterilization camp in in the central state of Chhattisgarh. Such "camps" are a part of attempts by the government of India to control the growth of its population. Obviously, in this event, something went horribly wrong. It was reported that the women were "herded like cattle" and given no post-surgery care.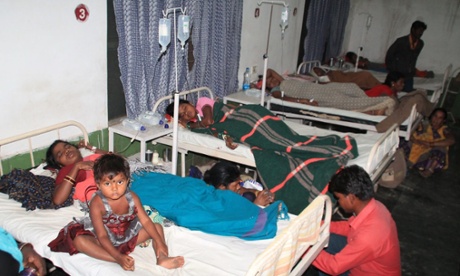 India would do much better if it controlled its birth rate by education rather than drastic medical means.
A FEW NICE THINGS
Lest you think that Titan is totally grumpy (as accused by an anonymous reader in New Hampshire), he has a few things to be glad about, as has, of course, his sweet sister Pollyanna. YandA are also pleased.
RATIONALITY RETURNS TO ITALY
The quake devastated the medieval town of L'Aquila five years ago
A court in Italy has voided the verdicts and sentences of geophysicists who had been convicted of failing to predict an earthquake. No one, alas, can predict an earthquake and it will be wonderful when the science of seismology, a branch of geophysics, is finally able to do so. It is not the same as meteorology, which is also difficult because of the complexity of the atmosphere, but still possible. In 17th century England, predicting the weather was punishable by death. We are pleased to report that meteorology is legal in Saudi Arabia. In the meantime, the setting aside of the ridiculous verdict of the lower court implies that Italy is in some ways ready for self-government.
POLLUTERS AGREE TO ACT
Titan and his entourage are also happy that the US and China
, the two greatest polluters in the world, have struck an agreement to take serious steps to limit the emission of greenhouse gases. Naturally there are skeptics and since this is a good thing, the Republicans in the US are against it.
OBAMA IN MYANMAR
While in the Far East, President Obama visited Myanmar, met with Daw Aung Sung Suu Kyi and made a pitch for democracy.
Cheers to the Italian courts and the leaders of the US and China.
HAPPY 80TH BIRTHDAY ELLIS MARSALIS
This famous jazz pianist
turns 80 on Friday November 14. Naturally
his son Wynton
is hosting a celebration for his Dad at Lincoln Center. His music is highly recommended for listeners of all experience levels, from those who have never set foot in a jazz club, to those who have been listening to Ellis for the last 60 years.
Give it a try!
LIFE WITH A VOLCANO
Titan shares the distress of the people in Hawaii.
who are under attack by a volcano
. Lava began flowing from a vent in Hawaii's active Kilauea volcano in June a towards the town of Pahoa. It has
already destroyed one home and is continuing to flow. People will be evacuated as needed. Nature can be very cruel.
STAND YOUR GROUND?
We all know of the "stand your ground" laws that can justify killing, as in Florida. In South Carolina, prosecutors are trying to argue that a woman's right to stand her ground in a domestic dispute is less than a man's right to stand his ground with some stranger he's gotten into a fight with. It is something to be concerned about. Abused women live in fear all the time.
Titan thinks this is totally wrong.
HOME SWEET HOME
COP INDICTED
A few months ago there was a demonstration in the West Bank town of Betunia in which an Arab teenager was killed. The police and army denied the use of live ammunition, but investigation has found that they lied, not only at the grunt level, but also at the command level. Titan is pleasantly surprised t
hat indictments have been put in place and people will stand trial.
THE SHELDON ADELSON NEWSPAPER FLAP
The super billionaire Adelson publishes a newspaper in Israel known as Yisrael Hayom or Israel Today that is distributed free all over the country. A law has started going through the Knesset that would require that it be sold for no less than half the price of its cheapest competitor. It is a matter of an unfair business practice and it should be understood that this is not an attempt to shut down the paper. Natanyahu compares it to North Korea which is nonsense.
Haaretz has published an analysis of the issue
which should make matters clear. In the meantime, Adelson and his buddy Haim Saban held a meeting in Washington that reads like a chapter of the Protocols of the Elders of Zion.
Rabbi Shafran tries to justify the Orthodox stanc
e and indeed opposes the nuttiest religious fanaticism, but Titan does not buy it. Judge for yourself.
TENSION IN JERUSALEM
An Israeli woman and a Palestinian woman gesture at one another during a protest against Jewish visitors to the compound known to Muslims as Noble Sanctuary and to Jews as Temple Mount.
Photo by AP
In recent weeks the Holy City has been the site of most unholy violence, much of it connected with the
place that Jews call the
Temple Mount and the Arabs call HarAm el Sharif
or the Noble Sanctuary. Since 1967 the religious authority on the hill has been the Moslem Waqf and Jews have been forbidden to pray there. Now it has become a major source of conflict and the flames are being fanned by irresponsible right wing politicians. Titan thinks it is a pity that human blood should be spilled over symbolic places, but history is full of such events. Of course, if truth be told, the places themselves are simply metaphors for struggles for power and territory.
The Dome of the Rock on the Temple Mount compound in Jerusalem's Old City, November 5, 2014.
Photo by Reuters
In the meantime,
we are heading straight for a third intifada
with the associated bloodletting and our leaders and the Palestinian leaders seem to have a suicide pact between them, with the international community as cheerleaders.
Jerusalem itself, with or without conflict and terror,
is a dysfunctional mess and offers little or no hope for the future of the young generation growing up there. What is needed is the political will on all sides, Jews and Arabs, secular and religious to get together to do something about the state of the city. Do not hold your breath says Titan.
Anti-racism rally in Jerusalem, July 2, 2014.
Photo by Yossi Zamir, Tag Meir
SILLY TIME
What If?
gets quite silly this week, not Randall but the question-Stopping rain from falling on something with an umbrella or a tent is boring. What if you tried to stop rain with a laser that targeted and vaporized each incoming droplet before it could come within ten feet of the ground?
Zach Wheeler
WUMO
are right on.
For the experienced parents among us:
We all at some time in our lives have met a language nerd: