Titan is back and would like congratulate the Rosetta spacecraft team
for the exciting data
returned by the probe Philae from the surface of Comet 67P/Churyumov–Gerasimenko. Indeed the probe did not land as it should have and is now dormant because of lack of solar charging of its battery, but already things are starting to look interesting. He also wishes his US readers a happy Thanksgiving holiday. Be grateful for the good things in your life.
For starters, let us refer you to the
Miriam Shlesinger Human Rights action blog
. Over two years have gone by without Miriam and we continue to realize what we have lost. She got us into the human rights struggle. Please act on behalf of people who are so much in need of support in their trials and tribulations at the hands of oppressive regimes and corporations.
CHARITY CORNER
This week Titan refers you to the
Cystic Fibrosis Foundation of Israel
. Cystic Fibrosis is a progressive, genetic, multi-system disease for which there is no cure. In Israel, there are some 350,000 CF carriers and 650 patients, half of whom are children. The CFFI is a nonprofit organization and is a registered charity in good standing with recognition from the Income Tax Authorities that provide Israeli donors with a tax credit. We are also beneficiaries of
PEF
Israel Endowment Funds Inc., a United States 501c3 organization, and receive tax deductible donations in the U.S. through
PEF
. Titan says please help out.
A dedicated team of caregivers at one of our CF clinics
IN MEMORIAM MIKE NICHOLS 1931-2014
REX USA/Moviestore Collection/Rex
Mike Nichols, celebrated as a director on both stage and screen,
died last week at the age of 83
. One of the few people to win Emmy, Grammy, Oscar and Tony Awards, Nichols's career spanned 50 years and included some of the best and most beloved plays and films of the 20th century. He was born Mikhail Igor Peschkowsky, the son of Jewish parents, in 1931 in Berlin. His father, a physician, was born in Vienna to Russian Jewish immigrants who had been a prominent Siberian family until the Russian Revolution compelled them to emigrate. His mother's parents were German Jews. Nichols was seven years old when he fled Germany and immigrated to the United States where they settled in New York City in 1939. His father, whose original Russian name was Pavel Nikolaevich Peschkowsky, changed his name to Paul Nichols, Nichols derived from his Russian patronymic, and set up a successful medical practice in Manhattan, enabling the family to live near Central Park.
Mike's career started almost by accident when, while studying in pre-med at the University of Chicago in the 1950's, he met the comedienne Elaine May, with whom he developed a popular sketch comedy act, "Nichols and May," that made both of them famous. In 1964, he directed his first Broadway show, "
Barefoot in the Park"
winning him his first Tony. He followed that with
"Woolf,"
commanding legendary performances from Elizabeth Taylor and Richard Burton and winning five Academy Awards. Next came,
"The Graduate"
which catapulted him into the stratosphere of Hollywood legend. Over the years, we have enjoyed many of his great films.
A detailed obituary
is available in the New York Times. May he rest in peace, his life work enriched all of us. Here is an example of his comedy with Elaine May. Thanks Yosefa.
THE RANTS
THE FASCIST NATION-STATE LAW
The Israeli cabinet has just approved a law
, that, if passed by the Knesset (a virtual certainty), will, as stated by Zahava Gal-On of the Meretz left wing party that Titan supports, constitute
"a crime against Israeli democracy, and will be responsible for one of the blackest stains on Israeli law."
The Attorney-General Weinstein also opposes it, saying that some aspects of the bill
"would make a real change to the basic principles of constitutional law as enshrined in the Declaration of Independence and the Basic Laws of the Knesset, and lead to deterioration of the democratic characteristic of the state."
The bill is an obscenity, designed to attack the court system whose rulings in favor of human rights and dignity are anathema to the fascists who serve in the government.
There seems to be no room in the country
anymore for liberal or progressive minded people. We are not wanted here--the people want their King Natanyahu and to hell with human rights, the rights of minorities and the independence of the judiciary. Yossi Sarid calls for the
removal of the fig leaf
. The idea that the left should boycott the vote makes sense to Titan. I
t is worthy of note
that both Reform and ultraֹ-Orthodox Jews oppose the bill, each for their own valid reasons.
Gideon Levy regards the law
as a step in the direction of the single state option with apartheid entrenched in the constitutional structure. He may well be right.
The New York Times in an editorial
described Israel's move away from democracy as heartbreaking.
Titan is also dismayed by the
decision of a grand jury
in Ferguson MO USA to refrain from indicting the white policeman who shot and killed an unarmed black teenager last August. The message is that it is OK to kill blacks, something like it is
OK to kill Arabs in Israel
or anyone you do not like in the IS. Welcome to the world of the 21st century.
DANGER TO EUROPE
Much noise is made about the threat of an Islamic takeover of Europe by immigration and intimidation. In fact, Europe's Muslims are mostly an impoverished minority and while they can cause riots and disturbances, they are not liable to bring down governments and the mainstream are mostly law-abiding people trying to make it in a strange environment. On the other hand, Europe seems to be complacent about the threat from Russia under Putin. Mikhail Gorbachev, speaking at the anniversary of the fall of the Berlin Wall, accused the West of "triumphalism" and degrading of Russia in 1989 and warns that a
new Cold War could be in the offing
.
George Soros, writing in the
NYRB
and in
the Guardian
, warns that Russia's expansionism poses an existential threat to the EU and calls for greater material support for Ukraine.
Petro Poroshenko and Vladimir Putin; drawing by James Ferguson
Ukraine may just be the first step in a reconquest of the components of the old USSR. First Dog on the Moon in the Guardian has a perspective of sorts: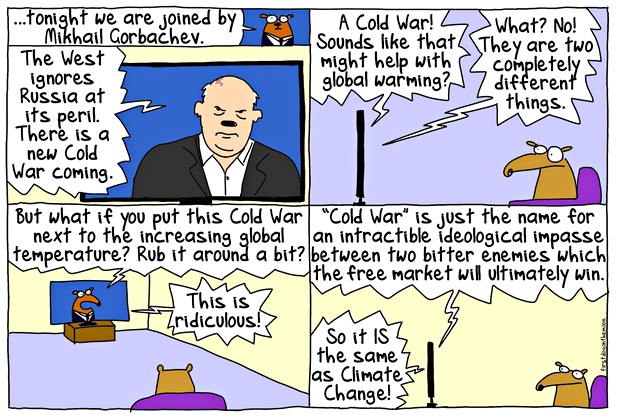 The Royal Society in the UK has come up with a
report on the dangers of climate change
and it is indeed frightening.
HOME SWEET HOME
Controversial: One of Theater J's disputed productions was 2011's 'Return to Haifa,' which critics claimed took an anti-Israel approach.

Censorship and muzzling of criticism of Israel and its policies have moved into the area of the arts. Theater J, a highly regarded Jewish theater based in Washington and affiliated with the District of Columbia Jewish Community Council
has been forced to cancel
a festival of different voices from the Middle East because of pressure from donors. This is not the first such incident. Apparently Jewish moneybags think that they can control all expression of ideas contrary to their rosy picture of Israel, perfect and immune to criticism. They have bought and paid for the US Congress lock, stock and barrel and now are using the force of their checkbooks to censor the arts. They also like to toss their money around in Israel and have corrupted politics here, since they can play with power with no accountability. A former PM has been sentenced to prison for, among other things, getting involved with them. Titan says Yankee go home and stay home!
MINISTER WITHOUT CULTURE
Our Culture Minister Limor Livnat who is one of the greatest enemies of democracy and freedom of expression has come up with the
idea of cutting funding for the Tel Aviv Cinematheque
because it is hosting a film festival dealing with the "Nakhba" which means calamity and is the term used by Arabs to describe the establishment of Israel. While we can celebrate Independence Day, for the Arab community this is indeed a day of mourning, for their world collapsed when Israel was established. We should have enough self confidence to allow our Arab citizens to mourn. We can live with Arab mourning and freedom of expression is more important than the feelings of chauvinists. Native people in the Western Hemisphere mark October 12, the day of landing of Columbus, as a day of mourning for what the arrival of Europeans has meant for them. No one objects. One might suspect that Ms Livnat, in her heart of hearts, has doubts about the justice of the means used to establish and maintain Israel. It could and should have been done differently, but that is water under the bridge. At least now we could be decent, but that is beyond her capabilities.
Haaretz puts this lady in her place
. The Cinematheque will go on without her funding, it has enough supporters.
ATTACK IRAN?
Off we go junior bird man...thanks Tom Lehrer
We have never been admirers of Nachman Shai, now a Labor MK and in the past an indefatigable propagandist for the military establishment. Nonetheless, we think he has it right when he essentially
ridicules the silly talk
that if the US
et al
make a deal with Iran that Israel does not like, Israel will attack Iran. It is sheer nonsense put out to please the idiots in the street who vote for the right and are rewarded with poverty. The way to Iran is through air space controlled by the US and it is not clear that passage would be allowed. In addition, it is not clear what such an attack would achieve. Right on Mr. Shai.
A FEW NICE THINGS
Lest you think that Titan is totally grumpy (as accused by an anonymous reader in New Hampshire), he has a few things to be glad about, as is, of course, his sweet sister Pollyanna. YandA also are pleased.
FASCIST GO HOME
A fascist singer named Amir Benayoun
has been kicked off the program
at an event to be held at the Presidential Residence to commemorate the expulsion and exile of Jews from Arab Lands and Iran this coming Sunday, November 30. He published a nasty racist anti-Arab song and President Rivlin wisely decided that Benayoun is not fit to appear at the event. Of course, Facebook is exploding with support for Benayoun from all the "patriotic" riffraff who make life so difficult in our country. He has something like 100,000 likes from people like himself. Cheers Mr. President.
A NEW SUPPORTED COLLEGE
The Ministry of Education has announced
the first ever establishment of funding for a college
in an Arab town. The college will be established in Nazareth under the academic wing of the University of Haifa, and will be based on an existing college that has been fighting for recognition for years. The official language of the college will be Hebrew, but courses in which the language of instruction is Arab and English are also planned. Titan approves and sees it as a step towards the cultural and economic integration of the Arab community. The use of Hebrew will aid this integration process.
HONOR FOR A RIGHTEOUS MAN
will be honored posthumously
by Yad Veshem as one of the Righteous of the Nations. The medal will be given to his daughter since he died in an accident in 2006. A plaque will also be put up in Lvov near the sewer entrance in memory of Leopold Socha. We participated in such a ceremony in France in honor of the people who hid Yosefa's late husband as a child. It is encouraging to think that during the blackest times of the Nazi rule of Europe, there were people whose conscience told them to do the right thing.
SILLY TIME
What If?
takes us to an excerpt of what if? items written in an alternative universe. You will recall that last week Pollyanna discussed the hypothesis of multiple universes as a means of ironing out the difficulties in quantum theory. Randall must have visited one of these.
IDIOT SPOTTING
There are quite a few sites around the Web that report on human idiocy. The
Darwin Awards
focus on people who find stupid ways to die and thus, usually we hope, eliminate themselves from the Homo Sapiens gene pool. There are other, less lethal, forms of idiocy, such as this report:
"I am a medical student currently doing a rotation in toxicology at the poison control center. Today, this woman called in very upset because she caught her little daughter eating ants. I quickly reassured her that the ants are not harmful and there would be no need to bring her daughter into the hospital. She calmed down and at the end of the conversation happened to mention that she gave her daughter some ant poison to eat in order to kill the ants. I told her that she better bring her daughter into the emergency room right away."
You can find more
here
or
here
.
ENCOURAGE YOUR KID TO READ AND EVEN SPEED READ...
MOSES TAKES A QUESTION SESSION
For those who know Hebrew, Titan recommends
a satire on Jewish history
now being broadcast on Israel TV. We show you what happened when Moses took questions: