Titan is back and would like to wish all his Western Christian readers a very (albeit belated) Merry Christmas and Happy New Year. Enjoy yourselves greatly
For starters, let us refer you to the
Miriam Shlesinger Human Rights action blog
. Over two years have gone by without Miriam and we continue to realize what we have lost. She got us into the human rights struggle. Please act on behalf of people who are so much in need of support in their trials and tribulations at the hands of oppressive regimes and corporations.
CHARITY CORNER
This week Titan refers you to the Family Unification Campaign of Amnesty International Australia. Around the world, mothers, fathers, sons and daughters are torn apart because they have bravely stood up for human rights. This holiday season, your donation can help reunite a family.
In particular, we ask for your help for the family of Reeba Kadeer who was imprisoned by the Chinese authorities for speaking out for human rights and released in 2005 after a worldwide outcry. Now the life of a brave human rights defender, her son Ablikim Abdiriyim, hangs in the balance.
Please support this effort.
HAPPY BIRTHDAY
Titan wishes to call your attention to the birthday of a great man whose life and works had an eternal effect on humanity. He refers, of course, to Sir Isaac Newton(1642-1727) who was born on Christmas day. Titan offers you a link to his biography.
FREEDOM FOR A "NON-HUMAN PERSON"
A court in Argentina has ruled that keeping an orangutang in a zoo is a deprivation of rights. The orangutang involved will be moved to a sanctuary in Brazil. This decision may have major influence on the question of incarceration of animals. It is certainly food for thought.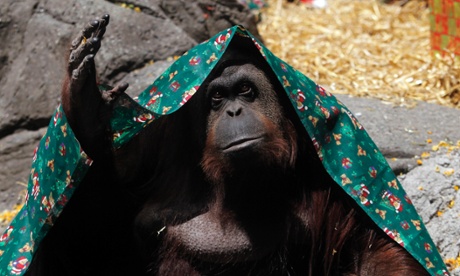 TSUNAMI TEN YEARS ON

On Boxing Day 2004 a 9.1 magnitude earthquake shook the seafloor of the Indian Ocean and generated a tsunami that in total killed 275,000 people. There was a worldwide response by both governments, NGO's and private

donors that totaled over US$6bn.

The Guardian gives us a look

at the most affected place, Aceh in Indonesia and a bit of perspective.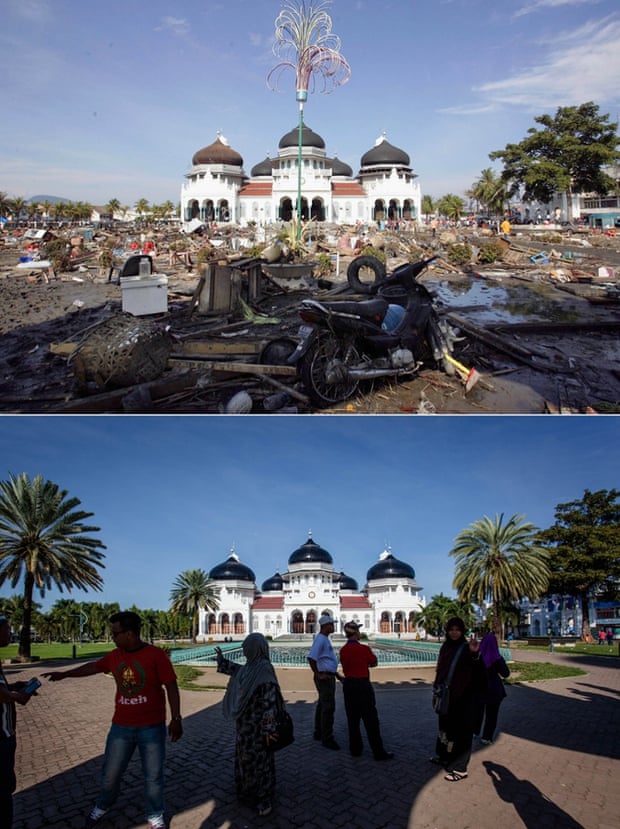 Photograph: Ulet Ifansasti/Getty Images
US-CUBA RECONCILIATION
Titan is pleased at the news that Pres. Obama has put an end to the decades of embargo and ostracism to which the US has subjected Cuba. Most people are pleased that this is happening, although there are a few discordant voices, including that of Israel. Titan suspects that the reason behind this is fear of offending Republican supporters in Congress. He thinks there is nothing to fear since their support is bought and paid for by big shot Jewish billionaires and AIPAC. An apparent side effect of this is that a unilateral, indefinite ceasefire has been declared by FARC – the Colombian rebel group, in whose negotiations with the Colombian government, Cuba has played a major role. Titan sincerely hopes that the civil war in Colombia that has been raging for over four decades will finally come to an end.
ARMS TRADE TREATY TAKES EFFECT
Everyone should be glad that the Arms Trade Treaty went into effect on Dec. 24 after achieving the required 50 ratifications. Over 130 countries have signed on and now 60 have ratified. The treaty
includes a number of robust rules to stop the flow of arms to countries when it is known they would be used for genocide, crimes against humanity, war crimes or serious violations of human rights law. Governments that are part of the ATT will now have to carry out objective assessments to avoid an overriding risk that an arms export would be used to commit those atrocities. North Korea, Iran and Syria were the only three states to vote against the treaty. Others have resisted signing and ratification so the work of the NGO's must go on.
THE RANT
This week the worldwide rant is about ISIS and all that it involves. We now have a report from a German journalist who was allowed to visit Mosul and return.
Juergen Todenhoefer says he was confronted with 'the most dangerous enemy I have ever seen in my life'
What Juergen Todenhoefer has to tell us is frightening, not only about women, but about the power of the Islamic State. He says it is almost impossible to defeat and that it has the power of a "of a nuclear bomb or a tsunami." The outrages perpetrated by ISIS are innumerable and in particular the fate of women who are captured by them is horrendous. The group has gone so far as to publish a pamphlet of instructions on the treatment of female slaves! On the plus side, in September, 120 senior Muslim scholars and imams from around the world, including Sheikh Shawqi Allam, the grand mufti of Egypt, wrote an 18-page, open letter to ISIS, calling its members un-Islamic and condemning the treatment of Yazidi women. "It is forbidden in Islam to ignore the reality of contemporary times when deriving legal rulings," they argued. The question is what can be done about this? It appears that the West has no stomach for a major land war and indeed it would be taken as a continuation of the Crusades and just make ISIS mainstream in the Arab world. As Juergen Todenhoefer writes, this is a problem that the Arabs will have to solve on their own, with at most Western materiel backing and air support.
Of course, when we in the West berate others for their treatment of women, we can create a picture of pots and kettles. Indeed, we do not enslave women, but rape impunity is still with us. As the cartoonist Dommelly notes, women need a certain checklist:


HOME SWEET HOME
CORRUPTION AND POLITICS
Israel has elections scheduled for March 17 and the turbulence has already begun. To spice things up we have two juicy corruption scandals to keep us from boredom. One of them
involves the Israel Beiteinu political party headed by Avigdor Lieberman, the Foreign Minister. The kingpin or queenpin if you will of this is Deputy
M
inister Faina Kirschenbaum who is tied to numerous bribes. Altogether more than two dozen suspects, including former minister Stas Misezhnikov, have been
remanded in court for charges including bribery, falsifying documents, and obtaining fraudulent benefits. The sordid details are given by YNET for your reading pleasure.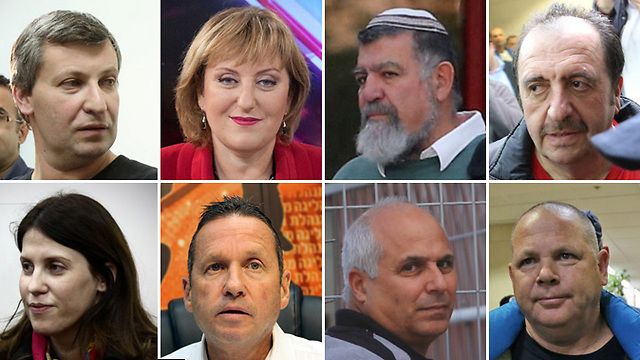 Top line, left to right: Misezhnikov, Kirschenbaum, Mesika, and Wiznitzer. Bottom line, left to right: Ranit Kirschenbaum, Kopple, Simchi, and Litvinoff. (Photo: Yaron Brener, Motti Kimchi, Oz Moalem, Atta Awisat, Avi Moalem)
Yossi Verter writing in Haaretz speculates how this scandal might redraw the political map as election day draws nigh. The Jerusalem Post bemoans the fact that the previous major corruption scandal that
brought about jail sentences for a former PM and his associates did not vanquish political corruption. Titan is somewhat amused by this naivete--recall Jim Curley who was reelected mayor of Boston while serving time in prison for a felony conviction.

The military is also having its problems. The other scandal involves sexual misconduct and other forms of corruption in the elite Givati infantry brigade. A battalion commander in the brigade has been relieved of his command over sexual misconduct. Despite this action, the brigade is not out of the woods yet. There is still a reasonable possibility that the suspicions of serious wrongdoing in the battalion – separate cases of sexual harassment and unbecoming relations, weapons theft, improper use of donations, cover-ups of road accidents, as well as suicides – will lead to a criminal indictment.
The charges of obstruction of justice against the brigade commander, Ofer Winter, have been dropped, but the fact that he chose to fire the whistleblower, the deputy battalion commander, on grounds of disloyalty to his immediate superior indicates that Mafia norms of omerta still prevail. Haaretz in an editorial calls upon the new Chief of Staff to clean the stables.
WATCH YOUR HAIR COLOR
Ni Nati, the woman who was evicted from a bus because of her dyed hair. (photo credit:FACEBOOK)
A woman who dyed her hair blue was kicked off a bus by the driver. This violation of privacy and human rights is an example of the conformity pressures that make up the fascist-like fabric of our society. We sincerely hope that the Kavim bus company fires this driver as sanction for his unacceptable behavior. He objected to the blue because "What a disgrace to the State of Israel! How do you take the color of the flag and put it on your head? You despicable person! You vile human being! Don't you have any parents that educated you? Did you grow up with gentiles? What a disgrace! Some shiksa thinks that they could do whatever you want here! Get out of here!"
Sue the bus company for its balls, Ms Nati.
SILLY TIME
Since there is no new What if? available, Titan searched Munro's archive for something equally silly or a stupid pun. The search was successful, but Titan disclaims any responsibility for this...
PERIOD

For the record 438 nanohertz...
The we have Dilbert the therapist...