Titan wishes a
Happy Lunar New Year
to those all across Asia who are celebrating it this week. Farewell Year of the Horse and welcome Year of the Ram. Of course, there are those who consider it the Year of the Sheep or of the Goat, but we, who were born in this year, think the Ram to be the most dignified.
It is the time of year when Chinese people return to their ancestral homes to be with their extended families. The result is a huge migration with hundreds of millions of people traveling. According to state media in China about three billion passenger trips will be made by plane, train and car over the 40-day period.
China's transport ministry has predicted that the travel rush will see 295 million railway trips
We have nice memories from celebrating the New Year in San Francisco with our ethnic Chinese friends. In particular, we recall a meal hosted by our old friend the l
ate Bob Lin
of UC Berkeley.
For starters, let us refer you to the
Miriam Shlesinger Human Rights action blog
. Over two years have gone by without Miriam and we continue to realize what we have lost. She got us into the human rights struggle. Please act on behalf of people who are so much in need of support in their trials and tribulations at the hands of oppressive regimes and corporations.
CHARITY CORNER
Cure Alzheimer's Fund
, a non-profit organization dedicated to funding research with the highest probability of preventing, slowing or reversing Alzheimer's disease through venture-based philanthropy. All donated funds go to research since the overhead is met by the founders (Henry McCance, Phyllis Rappaport and Jacqui and Jeff Morby), who were frustrated by the slow progress of the study of the disease. They used their economic and business experience to build a new venture-based fund designed to accelerate research dramatically, make bold bets and focus exclusively on finding a cure.
ALESSANDRO VOLTA
Born February 18 1745-died March 3, 1827. He invented the electric battery in 1799 and is honored by a birthday doodle from Google.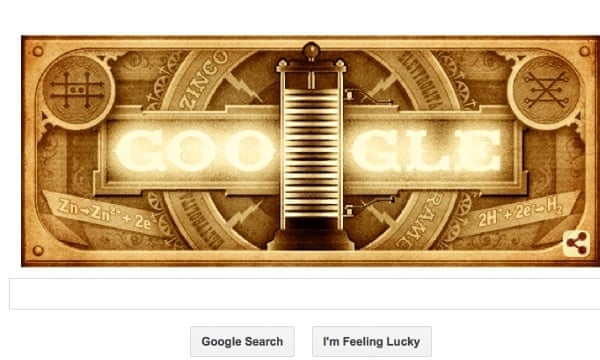 His life and work make a fascinating story, which is given to us in detail by
Charlotte Connelly writing in the Guardian
.
Mark Holmes made the doodle and also gave us a portrait version.
Thank you says Titan.
RANTS AND RAVES
Titan continues to be outraged by the wave of terror sweeping over the world. The shootings in Copenhagen and the slaughter of Copts in Libya are just the latest manifestations. There are some conclusions to be drawn from these events. President Obama
convened a conferen
ce on extremist terrorism, but did not point a finger explicitly at Islamic extremism. He mentioned that the West also has a few skeletons in its closet such as the Crusades, the Inquisition, slavery and more. This aroused a firestorm of criticism which, in Titan's humble opinion, is somewhat justified. As pointed out by
Deborah Lipstadt in the Forward
, the vast majority of terrorist attacks are driven by a strain of Islamic ideology that despises democracy, freedom, pluralism and all the other values that we in the West hold dear. Freedom of expression includes the right to satirize, ridicule and even blaspheme. If you are offended, go to court, but do not pick up your Kalashnikov.
We must, however, beware of tarring all Muslims with the terrorist brush. We note that 800 Norwegian Muslims have signed up to form a
"Ring of Friendship"
around the Oslo synagogue after Shabbat services. Titan's big rant is at the
"yes, but..."
people who justify murder in the name of the honor of the Prophet or the Israeli Occupation or the failure of European countries to integrate their Muslim immigrant populations or whatever. There is, Mr. President, a difference between Sandy Hook and on the one hand and Boko Haram, Charley Hebdo and the Copenhagen synagogue on the other. Adam Lanza was a crazed gunman, but his target was not Western democracy. Breivik who murdered in Oslo and on Utoya Island is an Islamophobe, the flip side of Islamic terror, but never does an atrocity justify another atrocity. The
"yes, but..."
people have to learn to understand this axiom. We do not see as much anti-terror actions from the leaders of the Muslim world, as should be forthcoming, possibly because there is a lack of enlightenment among their religious leaders. For example, a leading Saudi
cleric does not believe that the Earth rotates
around its axis nor revolves around the Sun, issues that were resolved in the 17th century. It is sad, because when Europe was going through its Dark Ages, the Arabs led the world in science. We note that the motivation for suicide bombing may be misplaced:
ARGENTINA
Titan is upset about the twenty years of coverup in Argentina of the culprits in the 1995 bombing of the Buenos Aires Jewish Center in which 85 people were killed. The prosecutor who was accusing the government of evading confrontation with Iran was found dead in suspicious circumstances last month. This week
there was a silent march
of tens of thousands in Buenos Aires calling for justice for Alfredo Nisman, the victim.
The affair has embarrassed the President and the government. Titan hopes that the truth will eventually come out and those responsible for the atrocity will face the bar of justice and those who engineered the coverup will pay their price as well.
ABUSE ON THE WEB
Four years ago, intimate photographs of Danish journalist Emma Holten were posted on the web. Thousands viewed them and she still receives online harassment. The issues of revenge porn and hacked photos are part of a larger problem with our relationship to consent, she argues. So Holten decided to pose for and release a new set of pictures of her body.
Here she explains why
.
WARNING: THIS VIDEO CONTAINS NUDITY
Here is the video and we salute Emma:
AN ALIEN INVASION
Our solar system was recently
invaded by a star t
hat went through the
Oort cloud
. It may have scattered a few comets out of their orbits, but otherwise did no real damage. It happened only 70,000 years ago and was not noted at the time, for some reason.
Artist's impression of Schulz's Star (Image: Michael Osadciw/University of Rochester)
HOME SWEET HOME
Titan will spare you our election campaign in order to preserve his own sanity. It is, to quote Wordsworth on England in 1802,
"a fen of stagnant waters"
and worse.
Here is an editorial
from Haaretz describing the level of the right wing campaign. Yuck says Titan.
REFUGEES
The treatment of refugees and asylum seekers in Israel is abysmal and immoral. Of a total of over 5,000 requests for refugee status,
only four have been granted
. The Israeli government has responded to just 1.42 percent of the requests for asylum submitted by Sudanese nationals living in the country, and has not granted refugee status to a single one. Israel has granted refugee status to just four of the 5,573 asylum seekers from Sudan and Eritrea combined, or 0.07 percent. Internationally, 84 percent of Eritreans and 56 percent of Sudanese asylum seekers either received refugee status or were granted extended protection in the first half of 2014, according to the United Nations refugee agency, the UN High Commissioner for Refugees.
African asylum seekers at the Holot detention facility protest the expulsion from Israel of others, February 17, 2014.
Photo by Eliyahu Hershkovitz
The High Court is now hearing a petition by human rights organizations against a new amendment to the law that enables the government to incarcerate asylum seekers. The situation is intolerable and the state has been c
astigated by an editorial in Haaretz.
NEW CHIEF OF STAFF
We now have a new Chief of Staff of the Army. Lt. Gen. Gadi Eisenkot has taken over from Benny Ganz. He is already shaking up the higher echelons with new appointments. Titan has no expectations that he will be in any different from his predecessor since they are all products of the military establishment.
From left: Defense Minster Moshe Ya'alon, incoming Chief of Staff Gadi Eisenkot, incoming Deputy Chief of Staff Yair Golan and outgoing Chief of Staff Benny Gantz.
Photo by IDF Spokesperson
Gideon Levy points out that the charming gentleman
Ganz will someday end up before a war crimes court
for the atrocities for which he is accountable. Titan agrees since, as
Levy has shown us, the Army and the Shin Bet
(security services) may accuse one another of this and that failing and crime, but both are a moral cesspool where falsehood and evil are the norms. What is worse is that every year a new cohort of 18 year olds is conscripted and subjected to years of brainwashing by these monsters. Some are strong enough to resist it and maintain their fundamental decency, but far too many are seduced to carry out acts of bestiality. Of course, they have full impunity. Consider the soldier who was ordered by his commander to shoot a handcuffed and blindfolded prisoner. He carried out the manifestly illegal order and neither of them was punished. The corruption and rot emanating from this source pollutes our entire society.
SNOW
We are getting snow galore this week, even in the southern mountain areas and at altitudes that seldom experience it. We have a deep depression in the Eastern Mediterranean and cold air above. It is not much compared to what is happening in more northern climes, but the breaking of the polar vortex and the excess energy available in the atmosphere are changing things around the world. Here
is a description
(Titan laughs at mere water snow, try methane snow for a change) and here is a photo:
Snow covers the Garden of Gethsemane at the foot of the Mount of Olives in Jerusalem February 20, 2015.
Photo by Reuters
SILLY TIME
What If?
has a very relevant question this week: I've long thought about putting a flamethrower on the front of a car to melt snow and ice before you drive across it. Now I've realized that a flamethrower is impractical, but what about a high-powered microwave emitter?
—Matt Van Opens
The answer might surprise you.
For our older readers, here is a walk down memory lane:
and a comment on climate change:
.