Titan wishes a Happy PURIM to all who celebrate it.
The holiday celebrates a victory of the good guys (us) over the bad guys (them) in ancient Persia. The story tells of a bad guy Haman who wanted to kill all the Jews in the kingdom, a good guy Mordechai who foiled him and a heroic Jewish woman Esther who just happened to be the Queen of Persia whose
sangfroid
and brains turned things around, so that the Jews took a heavy toll of their enemies and Haman and his ten sons were hanged. Kids dress up as characters in the story or whatever, we are commanded to get drunk for the occasion and a good time is had by all. The Book of Esther is read in the synagogue and the children are supposed to make a loud noise to boo Haman whenever his name is mentioned. Special triangular cakes are baked usually with poppy seed. They are known in Israel as Haman's ears and in the Ashkenazi Diaspora as Hamantaschen, i.e. pockets.
Cheers for the good guys.
Michael Kagan, blogging in the Times of Israel
, gives us a more serious view of the story in the context of long term history.
Titan also notes that March 8 is International Women's Day.
The theme
of this year's International Women's Day is the clarion call of UN Women's Beijing+20 campaign "Empowering Women, Empowering Humanity: Picture it!" -
There have been many achievements since Beijing 1995, but many gaps remain.
For starters, let us refer you to the
Miriam Shlesinger Human Rights
action blog. Over two years have gone by without Miriam and we continue to realize what we have lost. She got us into the human rights struggle. Please act on behalf of people who are so much in need of support in their trials and tribulations at the hands of oppressive regimes and corporations.
CHARITY CORNER
This week Titan refers you again to the
Malala Fund
for the providing of educational opportunities to girls worldwide. We salute Malala who survived a gunshot attack and has gone on to be an icon for girls throughout the Third World.
IN MEMORIAM
We have three deaths to mark, one natural, one by accident and one by murder
Boris Nemtsov 1959-2015
Nemtsov was a leader of the opposition movement in Russia.
He was murdered on a bridge
in Moscow very near the Kremlin. Suspicion falls on Putin and his government.
Thousands attended
his funeral.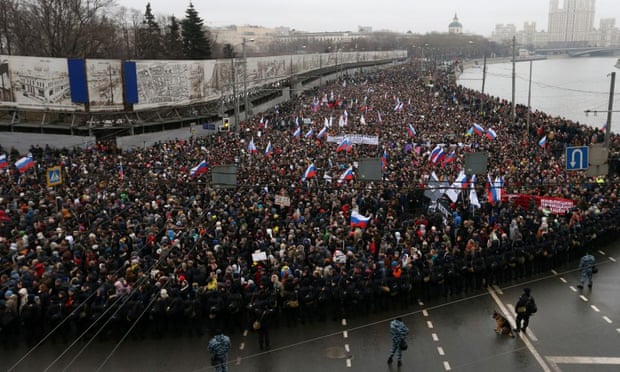 While few in the Russian elite came to Nemtsov's funeral, some European politicians who traveled to Russia to attend were banned from entering the country, apparently as part of reciprocal sanctions imposed in response to western bans on Russian officials over the Kremlin's actions in Ukraine. The speaker of the Polish senate, Bogdan Borusewicz , was refused entry, as was Latvian MEP Sandra Kalniete , the country's former foreign minister. Kalniete said she spent the night in the transit zone at Moscow's Sheremetevo airport. She was sent back to Brussels early on Tuesday morning.
Russia's foreign ministry confirmed the politician was banned, for her
"anti-Russian activities"
. A spokesman for the ministry said Latvian authorities had been warned of the ban, so her visit was a "
provocation"
.
Martin Schulz, president of the European parliament, said the bans were
"being applied without the slightest element of reasoning or any forewarning"
and were a
"high affront"
to Europe.
We may never know
who was behind the murder. In such cases it is useful to ask
cui bono?
An
obituary and evaluation
may be found in the Guardian.
Bob Simon 1941-2015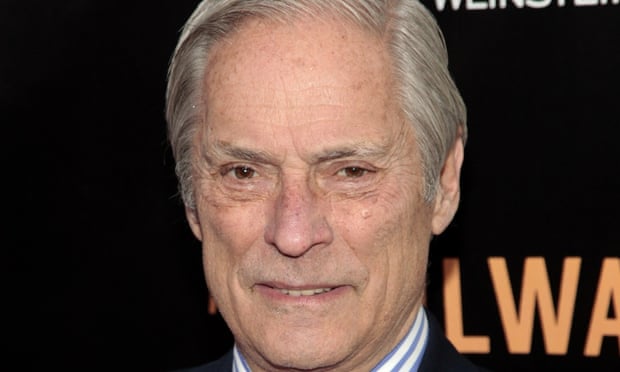 Bob Simon, the veteran CBS 60 Minutes correspondent, was killed in a New York car accident. Photograph: Andy Kropa/Invision/AP
The famous CBS news correspondent was killed in a traffic accident in New York. He had an illustrious career, including being a fixture on 60 Minutes, and served in many parts of the world, including Israel and the Occupied Territories. He was captured by the Iraqis in the first Gulf war and held by them along with his team for over a month.
In Iraq
An obituary is to be found in the NYTimes.
Leonard Nimoy 1932-2015
The famous actor,who made TV history as Mr. Spock,
the half-Vulcan on Star Trek, died of chronic obstructive pulmonary disease (COPD), a condition he attributed to a smoking habit he had given up approximately 30 years earlier.
Nimoy's greatest prominence came from his Spock role . It is considered one of the most popular alien characters ever portrayed on television.
Biographer Dennis Fischer
notes that television viewers admired Spock's
"coolness, his intelligence,"
and his ability to take on successfully any task. As a result, he adds, Nimoy's character
"took the public by storm,"
nearly eclipsing the star of the show, William Shatner's Captain Kirk. Nimoy and Shatner, who portrayed his commanding officer, became close friends during the years the show was on television, and were
"like brothers,"
said Shatner. Star Trek was broadcast from 1966 to 1969. Nimoy earned three Emmy Award nominations for his work on the program.
While he was best known for his portrayal of the green-tinted Spock, Nimoy more recently made his mark with art photography, focusing on plus-sized nude women in a volume called
"The Full Body Project"
and on nude women juxtaposed with Old Testament tales and quotes from Jewish thinkers in
"Shekhina."
From Shekhina
He also directed films, wrote poetry and acted on the stage.
An obituary
can be found in the Los Angeles Times.
DOWN THE GENERATIONS
Titan would like to share with you the story of a
young black German woman, Jennifer Teege
. She is coming to Israel soon for the launch of the Hebrew translation of her book about her grandfather Amon Goeth, a notorious Nazi war criminal, who was responsible for the deaths of thousands of Jews when he served as commander of a concentration camp at Plaszow in Poland,




Jennifer Teege-Amon Goeth


The story is complex and fascinating. Titan will not spoil it for you with any more details.
RANTS AND RAVES
There are, as usual, countless things to rant and rave about. This week, however, Titan will take up only two issues. The first is the publication of the
Annual Report on Human Rights in the World
from Amnesty International. This document contains a detailed report, country by country, of the devastating effects of conflict, oppression and prejudice. We quote Salil Shetty, the Secretary-General of Amnesty International:
"We must hope that, looking backward to 2014 in the years to come, what we lived through will be seen as an ultimate low point from which we rose up and created a better future."
The other issue is the document, linked above, put out by the UN in honor of International Women's Day in which the failure of all of us to provide equal human rights to women is made clear, along with some positive comments on progress. In this context, Titan, in contrast to his usual conduct, is asking you to sign a petition calling on the governments who have not done so
to criminalize marital rape.
NEW FERTILITY TREATMENT
About a month ago, Titan told you about the 3-parent baby technique just legalized in Britain. Mitochondria from a healthy woman are transplanted to the egg of a woman whose defective mitochondria prevent her from conceiving. Now a Canadian clinic is
offering a new technique
in which mitochondria from the same woman are transplanted to her ovum which is then fertilized i
n vitro
. The idea is that younger ova have better mitochondria than a mature ovum. It is likened to replacing batteries in a flashlight. In the linked site, the pros and cons are discussed in detail. The FDA has not yet approved it for the USA and it is quite expensive. It is, as you may conclude from reading the post from NPR, quite controversial and there certainly are ethical considerations involved.
BOOK REVIEW
For those who loved the fantasy world of Tolkien, the new novel by Kazuo Ishiguro,
The Buried Giant
, will be a delight. Ishiguro won the Mann Booker prize in 1989 for
The Remains of the Da
y. His latest, his first novel in ten years, ventures into a shadowy realm of the gap in the historical record, argued over by archaeologists and historians, about what happened in Britain after the Roman occupation.
The book appears tantalizing and Titan will read it when next an interplanetary postal service gets to his neighborhood. Terrans might do better. The book is
reviewed in the Guardian
by Tom Holland.
An interview and profile of the author
are given by Alex Clark, also in the Guardian.
HOME SWEET HOME
We in Israel have survived the Netanyahu speech in the US Congress and for the moment we are still here. Titan will spare you the speech, but will
share the Jon Stewart dismantling of it with you:
Mike Lukovich does a good job as well, with a reference to an
American soap opera:
In an editorial
Haaretz points out
how much the attention given to Iran, personal rivalries etc., are distracting attention from the real existential threat to Israel, the Occupation and all that it entails.
WOMEN IN ISRAEL
As Women's Day approaches, we take a look at a few instances showing the treatment of women in Israel.
Leaders of women's organizations who are setting up a conference on polygamy
have received threats
but vow to go on with the event, which focuses on the Bedouin in the south.
Bedouin women (illustrative).
Photo by Itzik Ben-Malchi
The conference is scheduled for early next week at Ben-Gurion University of the Negev in Be'er Sheva. Because of the run-up to the election, it has become a sensitive issue. The organizers do not deny that the timing is linked to the fact that two men on the Arab community's Joint List ticket are in polygamous marriages in violation of the law. Titan wishes the ladies luck and a safe conference.
A woman soldier reported having been raped in Tel Aviv. She did not return to her base when her sick leave concluded, claiming she was in distress, and was AWOL for five days.
For this she was tried and sentenced to 10 days
in military prison. The incident was reported on TV and once there was some negative publicity out about the
"most moral army in the world,"
the girl was released at once. Now there are calls from high places and the media to put her commanders on trial for their behavior. Do not hold your breath, the human garbage who chose military careers have gotten away with murder. This is small change.
SILLY TIME
What If?
asks:
I have had a particular problem for as long as I can remember. Any time I attempt to heat left over Chinese food in a microwave, it fails to heat completely through somewhere. Usually the center but not always and usually rice, but often it will be a small section of meat. It's baffling and has made me automatically adjust heating times to over 2 minutes. In most cases this tends to heat the bowl or plate more than the food. So I suppose the question is what is the optimal time to heat left over Chinese food in the microwave, how about an 800 watt microwave?

—James
The answer is interesting--
If any of you still believe in homeopathy, Randall has some advice: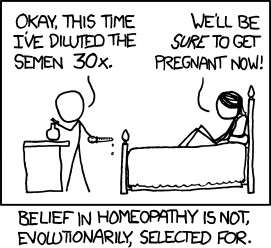 We feel a strong identification with beloved Grandpa and he is usually right:
WUMO present
an interesting logistical problem
. We give you the link only because of copyright threats.
We love our high-tech phones.