Titan marks the
vernal equinox
.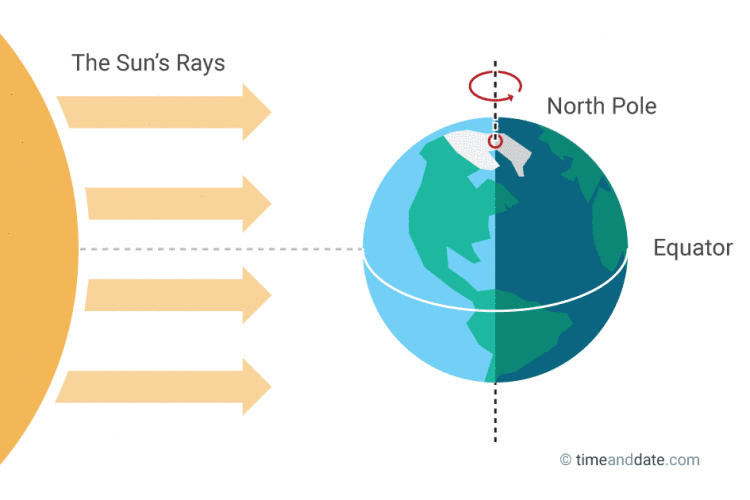 The Earth during the equinox. (Not to scale)
Titan, along with the rest of us, has gone through an election campaign. For those of us on the left-progressive side of the political spectrum, the results are an unmitigated catastrophe. The reelection of Netanyahu means that the public has turned its back on both the prospects of peace and any hope of social reform. To say that we are devastated is to put it mildly, but as
Stav Shafir tells us
(Hebrew, Facebook) , now is the time to dig in our heels and struggle.
Amos Oz told us clearly
before the election what would happen if there is no Palestinian state: there will also be no Jewish state and eventually there will be an Arab state here. The breakdown of the results by towns tells us that the people who are the main victims of our
"swinish capitalism"
are its biggest supporters.
They also support having a mini-war every few years as long as it is the neighbor's son who gets killed. Maybe the US and the EU will get their act together and start applying some pressure, such as through the UNSC. What is clear is that
relations with the US or at least with this administration
are damaged beyond repair.
Gideon Levy thinks that the nation has gone mad
--there is a statement attributed, dubiously, to the Roman philosopher Cicero, that one should not blame bad leaders, but the people who chose them. The spurious claim that in reality
Israel has shifted to the left
is, in Titan's humble opinion, nonsense. The mainstream consensus in Israel is against peace, against the Arab minority and an acceptance of the premises of the settlers and the lunatic right. The fact that now Netanyahu is trying
to retract his campaign promise
of
"no Palestinian state"
is worse than ludicrous. He is certainly exulting in his triumph, but he should have anticipated that the attack on the Arab voters would would hit a raw nerve in the US, especially with Obama, and the dove of peace will not be devoured easily.
For starters, let us refer you to the
Miriam Shlesinger Human Rights action blog
. Over two years have gone by without Miriam and we continue to realize what we have lost. She got us into the human rights struggle. Please act on behalf of people who are so much in need of support in their trials and tribulations at the hands of oppressive regimes and corporations.
CHARITY CORNER
This week Titan calls upon you to lend a hand to the people of the archipelago country of Vanuatu in the Pacific that wa
s struck badly by tropical cyclone storm Pam
. There are many dead and the infrastructure of the islands has been hit very heavily.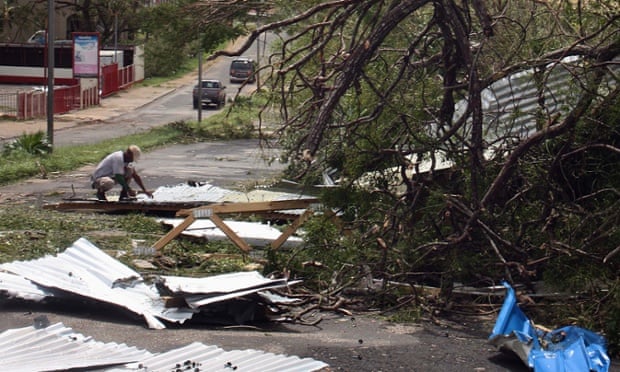 A local resident kneels near debris on a street near damaged homes in Port Vila. Photograph: Reuters
Titan recommends
Mercy Corps
as the most effective way of getting help to the victims of the disaster. He has sent in his donation by interplanetary courier and expects you Earthlings to step up to help.
RANTS AND RAVES

GOVERNMENT CRITICS BEHIND BARS IN AZERBAIJAN
The first rant is about the dire situation of human rights in Azerbaijan. Titan calls for all to take action here. President Ilham Aliyev claims that
"all the fundamental freedoms are provided"
in his country. In reality, scores of people who dared to criticize the government are in prison. Leyla and Arif Yunus, Rasul Jafarov (human rights defenders), Khadija Ismayilova (journalist), Intigam Aliyev (lawyer) and Ilgar Mammadov (political opponent) are behind bars, only for lawfully exercising their freedom of expression, association or peaceful assembly. They are jailed on trumped-up and politically motivated charges. New restrictive laws are used to make this easy.
This summer Azerbaijan is host to the first European Games. The country will be in the spotlight, and the government is keen on making a good impression. To silence critics, repression is only increasing. That is why you need to stand up now.
Call for the immediate and unconditional release of all prisoners of conscience
in Azerbaijan!
Amnesty International has
published a detailed document
on the persecution of dissidents in that country that is worthy of your perusal.
SPOUSAL ABUSE OK?
It is shocking that a
large fraction of women in countries around the world
think that in some circumstances spousal abuse is legitimate. In 29 countries around the world, one-third or more of men say it can be acceptable for a husband to "beat his wife." Perhaps more surprising: In 19 countries, one-third or more of women agree that a husband who beats his wife may be within his rights, at least some of the time.
The data come from polling performed from 2010 through 2014 for the World Values Survey — an extensive study of attitudes in almost 100 countries, conducted on an ongoing basis since 1981. The study is led by an international network of researchers based in Stockholm.
Blaming the victim is terrible, self-blaming by the victim is worse. Titan says that more effort has to be expended on consciousness raising, not only in the Third World, but in developed nations as well.
TERROR IN TUNIS
We had always regarded Tunisia as a bright light in the darkness of the Arab world. This week we had a rude awakening with
the attack on the tourists at the museum
in Tunis. Indeed, the government
has acted quickly
and suspects have been detained, but the fact that so many young Tunisians are choosing radical Islam and are going off to fight for the ISIS is depressing. ISIS has taken responsibility for the attacks which were aimed at foreigners from
"Crusader countries"
who are turning Tunisia into a
"hotbed of debauchery."
RELIGIOUS INTOLERANCE IN MYANMAR
It appears that religious intolerance and fanaticism are not confined to the Muslim world. Amnesty International
decries a jail sentence
against the owner and managers of a bar who posted an image of Buddha wearing headphones as a promotion for the bar. Tun Thurein and Htut Ko KoLwin from Myanmar and Philip Blackwood from New Zealand were today imprisoned for
"insulting religion".
The charges stem back to December 2014 when the Buddha image was used to promote their Yangon bar online. Amnesty described the court action as "ludicrous" and called for their immediate release. In Myanmar, religious intolerance is aimed at non-Buddhists and Muslims in particular, which is in some sense ironic.
SOMETHING POSITIVE: CONGRATULATIONS
Titan
congratulates the winners
of the Intel Science Talent Search. Over $1 million have been awarded by the Intel Corporation in the most prestigious pre-college competition carried out in the USA by the
Society for Science and the Public.
Titan salutes all the winners and in particular the top three who won awards of $150,000 each in the categories of
Basic Research, Innovation, and Global Good
.
Noah Golowich, Michael Hofman Winer and Andrew Jin have earned the distinction of being top winners at the 2015 Intel Science Talent Search, besting over 1,800 other geniuses from high schools around the United States.


(Photo : Chris Ayers/Intel)
BELOW THE BELTWAY
We have not checked in on Gene the writer for a while, so let us look at his take on the
Nature vs. Nurture
debate. He presents a dear friend of his who is a
unique type of urban planner.
Titan himself just whips around Saturn and is pleased that his pal
Cassini
shows up on time, as scheduled. Of course, Cassini really comes around for an orbit shift, but Titan likes him anyhow.
HOME SWEET HOME
The main rant about Israel is given above, but there are other things to note, not necessarily negative.
COMBATANTS FOR PEACE IN ROTTERDAM
We call your attention to a
Webinar conducted jointly
by
Combatants for Peace
and the Formaast Theater of Rotterdam in the Netherlands. It will take place on Sunday March 29 and will be livestreamed. Titan recommends watching it.
TOOLS USED VERY EARLY FOR DISMEMBERING ANIMAL CARCASSES
Ruth Schuster writing in Haaretz
reports on analysis of stone tools carried out by Prof. Ran Barkai of Tel Aviv University. The tools were found at Revadim, a site in Southern Israel and are the oldest tools showing residue of animal fat. They date from about half a million years ago. It is also reported that elephants were part of the menu for
homo erectus
in the Negev. Titan is impressed.
The biface (hand-axe) bearing signs of usage (small red dots) and residue of animal fat (blue dots).
Photo by Ran Barkai
SILLY TIME
What If?
asks:
So, you're falling from a height above the tallest building in your town, and you don't have a parachute. But wait! Partway down the side of that skyscraper there's a flagpole sticking out, sans flag! You angle your descent and grab the pole just long enough to swing around so that when you let go you're now heading back up toward the sky. As gravity slows you and brings you to a halt, you reach the top of the skyscraper, where you reach out and pull yourself to safety. What's the likelihood this could happen?

Rex Ungericht
The answer is no way, but the calculations are interesting.
GRANDPA IS AN ANGLOPHOBE?
THE SHORT, BUT HAPPY, CAREER OF WALLY THE VICE-PRESIDENT