Titan and Pollyanna like to think of themselves as retirees who are relaxing after years of hard labor and ranting. This week, however, too much has gone on and Titan and Pollyanna feel that they have to have their say as well. They have decided to call this joint effort the T-P blog (or wigwam if you wish) although they are putting it out on the Titan site. If you have forgotten what we look like, here we are:
For starters, they wish all their US friends and readers a very happy Thanksgiving holiday.
The Charity Corner has found a home on the
Miriam Shlesinger Human Rights Action
site. Titan and Pollyanna hope that you will visit there, take the actions and make the donations.
NOW FOR SOME NITTY GRITTY
This week's terrorist attacks in Paris and Beirut by ISIS
and in
Yola, Nigeria by Boko Haram
, have shocked the world. Not to be undone, a branch of El Qaeda carried out a
terrorist attack on a hotel in Mali
. Whether all these atrocities will shock the world into any sort of real and effective action against ISIS, El Qaeda and their affiliates remains to be seen.
Every pundit on the planet
seems to have published his/her take on this and we can probably add very little. The
Dalai Lama puts it very well:
"I am a Buddhist and I believe in praying. But humans have created this problem, and now we are asking God to solve it,"
the Nobel Peace Prize winner said.
"It is illogical. God would say, solve it yourself because you created it in the first place."
Titan and Pollyanna agree and feel very strongly that we must not allow ourselves to succumb to fear and hatred. Let us quote from the
well thought out article
by Paul Krugman in the NYTimes:
"The point is not to minimize the horror. It is, instead, to emphasize that the biggest danger terrorism poses to our society comes not from the direct harm inflicted, but from the wrong-headed responses it can inspire. And it's crucial to realize that there are multiple ways the response can go wrong."
It is possible to err on both the side of application of force and appeasement, neither of which will get us any positive results.
Gideon Levy, writing in Haaretz
, admonishes the Israeli right wing to stop rejoicing in its heart over the carnage. He makes a very valid point
" The correct lesson from what happened in Paris is that there are no longer any local wars. The world cannot continue to shut its eyes in the face of what is happening in Syria, and also not in the face of the Israeli occupation. When the world pulls itself together from the shock, maybe it will also free itself from the paralysis and understand that it must harness itself to find a solution to these conflicts, both in war-­torn Syria as well as in the occupied Palestinian territories. Then let's see the Israeli right."
It should be clear, that there is no connection between the legitimate struggle of the Palestinians against the Israeli occupation and the terrorism of ISIS and its branches in Europe, Africa and anywhere. Of course that legitimate struggle does not include random stabbings of civilians. Amnesty International
has strongly condemned these attacks
on Israeli civilians, which have engendered major loss of life and done nothing to advance the Palestinian cause.What is obvious is that greater cooperation and coordination in the struggle against radical Islamism must involve the sane part of the Muslim world along with the West. It is also clear that much must be done to
improve intelligence
functioning if these attacks are to be foiled. It is indeed very difficult to stay on top of terrorist organizations. The IRA put it thus after a failed attempt to kill Margaret Thatcher in 1984:
"Today we were unlucky," the IRA said, "but remember we only have to be lucky once. You will have to be lucky always."
Titan and Pollyanna are also
shocked and outraged
over the attitude of some American and European leaders to the multitudes of refugees from the conflict in Syria and Iraq. They are fleeing war and death and it is totally unconscionable to refuse them just because a Syrian passport was found on the body of a terrorist in Paris. The passport may well have been planted to generate the backlash.
Cheers Mr. Kristof.
Mike Lukovich puts it well:

CHARLIE HEBDO
Pollyanna and Titan would like to share with you the
reaction of the cartoonists at Charlie Hebdo
to the attacks in Paris. It puts things into perspective very well.
BURUNDI
Burundi has been
shaken by months of violence
, which began when President Pierre Nkurunziza decided in April to run for an unconstitutional third term. He won a disputed and widely boycotted election in July. Last week, the UN Security Council asked Ban Ki-moon, the secretary-general, to report within 15 days on options for boosting the UN presence in Burundi amid growing concern that the violence could spiral into an ethnic conflict. There have been warnings of
an impending genocide
.
Photo: Dai Kurokawa/EPA
Others have
discounted this idea
and point out that the fuel to ignite an ethnic genocide is no longer in place. Let us all hope for the best and for a political resolution to the conflict.
HOME SWEET HOME
The Israeli government has decided
in its great wisdom to outlaw
the Northern Branch of the Islamic Movement in Israel. This has made many right wingers happy but has also generated much criticism, both
internal
and abroad. The human rights organization Amnesty International said the decision to outlaw the Islamic Movement raises concerns over freedom of speech and association in Israel, noting in particular the raids, preventive arrests and property confiscations as causes for concern.
"Especially worrying is the fact the decision was made by the Israeli cabinet, without a fair process which gives the movement the chance to defend itself in legal proceedings,"
said a statement released by Amnesty.
Tamar Zandberg MK of the Meretz party
posted an excellent critique of the decision in Facebook (Hebrew).
Titan and Pollyanna regard the outlawing of the Islamic organization as the sort of gesture that governments do when they really have no idea how to cope with a given situation, but wish to create the delusion that they are doing something of substance, Daniel Sokatch of the New Israel Fund provides
a good description of the response
of the Israeli government:
"And from too many in positions of leadership and power, there is evasion, incitement, and distraction. Instead of an attempt to address the roots of the current violence, we hear cynical claims that almost fifty years of occupation and settlement enterprise are irrelevant to the current nightmare, that the Palestinians hate us and have always hated us, that they were responsible for the Holocaust, that there's no difference between Palestinian activists and ISIS murderers.... And instead of looking for a way out of the terrible, seemingly endless conflict between Israelis and Palestinians, high ranking ministers have introduced new anti-democratic bills that would hamstring human rights organizations and ban entry to Israel of people who believe that supporting the settlement enterprise is bad for Israel and Zionism."
Nonetheless, we stand with the thousands of Israeli Jews and Arabs who refuse to be enemies.
LABELING OF WEST BANK PRODUCTS
The EU has issued
guidelines for the labeling of products
made in West Bank or Golan settlements. The Israeli government is screaming foul, but Titan and Pollyanna think that the consumer in Europe is entitled to know what s/he is buying and if s/he disapproves of the patently illegal settlements in the Occupied Territories then certainly the right to boycott exists. We who live here in Israel make every effort to avoid buying such products and regard the EU action as overdue.
SOME MORE INTERESTING STUFF
Judy (newly minted Ph.D. in Physics) informs us that
quantum entanglement,
although it may seem spooky
, has been verified experimentally
. Thank you Judy, this is exciting, at least to some of us. As described in a paper posted online and submitted to Physical Review Letters (PRL),* researchers from the US National Institute of Standards (NIST) in Boulder, CO and several other institutions created pairs of identical light particles, or photons, and sent them to two different locations to be measured. Researchers showed the measured results not only were correlated, but also—by eliminating all other known options—that these correlations cannot be caused by the locally controlled, "realistic" universe Einstein thought we lived in. This implies a different explanation such as entanglement. Titan and Pollyanna say cheers!
VIDEO GAMES AS A SPIRITUAL LIFE
Millions are addicted to video games and the question of how they affect people and their lives is the subject of two recent books. One is:
Gamelife A Memoir by Michael W. Clune, Farrar, Straus and Giroux
and the other
God in the Machine: Video Games as Spiritual Pursuit (Acculturated) Paperback – May 26, 2015 by Liel Leibovitz.
A screenshot from Might and Magic II: Gates to Another World (1988), one of the computer games Michael Clune writes about in Gamelife: A Memoir

They are reviewed in depth by
Gabriel Winslow-Yost in the New York Review of Books
and there is much food for thought.
The Clune book is also reviewed
in the NYTimes, which might be more accessible. Many of us tend to dismiss video games as trivial, but in fact, they are becoming a defining medium of our times. We spend more time and money on video games than on books, television, or film, and any serious thinker of our age should be concerned with these games, what they are saying about us, and what we are learning from them. We might wonder what negative effects this addiction might have. Adam Lanza the Newtown killer, was totally hung up on games, especially a game called
Dance Dance Revolution
.
teve McCurry/Magnum Photos A man playing a Dance Dance Revolution game, similar to the one Adam Lanza played, Tokyo, 2008
There is certainly no consensus in the scientific community about the psychological influence of gaming. In 2005, and again this August, the American Psychological Association declared that
"violent video game play is linked to increased aggression in players,"
though not yet
"to criminal violence or delinquency."
Some two hundred scientists and professors signed an open letter objecting to the APA's report as
"misleading and alarmist"
(Leibovitz, for his part, calls the connection between real and video game violence a
"thoroughly refuted canard")
. We wonder about this as we see our grandchildren playing incessantly, but are certainly not qualified to judge. We often are uncomfortable when confronted with the back of a hand held device instead of the countenance of a person,
CHEERS FOR THE NIH
The National Institutes of Health is
shuttering its chimpanzee research program
after decades of experimentation and research that has put animal rights activists and scientists at odds. It is welcome news to all who care about animals.
FILM REVIEW
The Korean film The Tenor-Lirico Spinto ( directed by Kim Sang-man) is a 2014 biopic chronicling the life of world-famous South Korean tenor Bae Jae-chul who performed in numerous European operas, but lost his voice at the peak of his career due to thyroid cancer.
The film is reviewed
by William Schwartz.
SILLY TIME
What If? seems to have discontinued in mid-September, so we shall just call on Randall for a lesson in chemistry.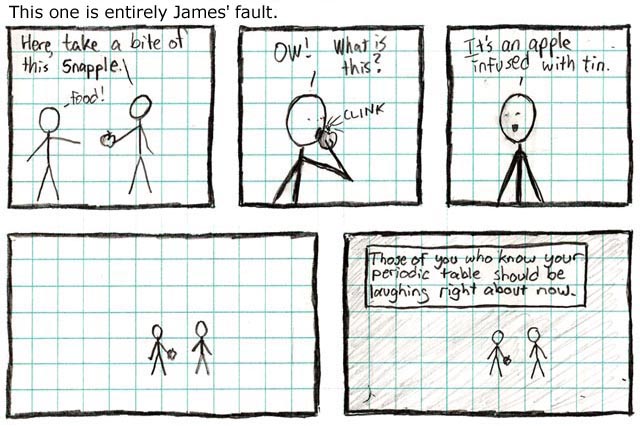 This is reminiscent of an oral literature exam of someone in our family:
SMBC has some news for young people dreaming of going to medical school: