Titan
and Pollyanna
like to think of themselves as retirees who are relaxing after years of hard labor and ranting. They have, in their joint persona of T_P decided that it is not fair to their countless fans and readers to deprive them of the wisdom they can dispense. Yes, Virginia, we have a sense of the absurd. We also think that age is not a big deal; Pollyanna at over 100 and Titan at 4.5 billion hold out hope for all of us to say nothing of Biblical figures.
They will try to alleviate the effects of climate change through which we are all laboring. If you can find a denier, try to keep him/her away from air conditioning--they are not worthy of it.
T_P have noted that things have not become better since they retired from active ranting. They have decided, therefore, to come back to a schedule, with Pollyanna at mid month and Titan at the end of the month. Their recent move with their amanuenses YandA
to a place full of retired people has renewed their energy and desire to bug people. As usual, Titan will rant mightily while Pollyanna will try to be glad, but will allow herself rants about women and girls or blatant human rights violations.
Titan, Pollyanna and YandA wish all their Jewish
readers a Shana Tova, a blessed and happy New Year. Rosh Hashana, the new year holiday will be on October 3 and 4 this year.
The Charity Corner has found a home on the
Miriam Shlesinger Human Rights Action site.
Titan and Pollyanna hope that you will visit there, take the actions and make the donations.
IN MEMORIAM SHIMON PERES 1923-2016
Former president and prime minister Shimon Peres. credit Sebastian Scheiner, AP
Israel's former president Shimon Peres
passed away Wednesday morning
at the age of
93. Peres twice served as prime minister of Israel and later as the country's ninth president. He had been seriously ill and on a respirator in an Israeli hospital near Tel Aviv and died after his condition deteriorated sharply.
Many regard his defining achievement as being one of the key architects of the Oslo peace accords, for which he was jointly awarded the Nobel peace prize with the then Israeli prime minister, Yitzhak Rabin, and Yasser Arafat, the chairman of the Palestine Liberation Organization.
To some he was a hero of the peace movement, to others a war monger. His, arguably, most important security task, to which he was entrusted by Ben Gurion, was developing in secret - and over US opposition - Israel's nuclear weapons programme through the 1950s and '60s. To that end, he recruited the assistance of France, Britain and Norway. He was also involved in a failed attempt to
sell nuclear warheads
to the apartheid regime in South Africa.
He was never popular as an active politician and lost five elections as head of the Labor Party. In later life, as President, he was indeed loved by the people, his Holy Grail. His death marks the passing of the first and founding generation of Israel. Obituaries can be found in
Haaretz
and the
Guardian.
For those who read Hebrew, there is a castigating summary of the
dirty parts of his career
in the Yossi Gurevitch blog. Haggai Mattar
writing in +972
discusses in English the darker side of Peres' legacy. One of his greatest calamities was a devastating military campaign in Lebanon, "Operation Grapes of Wrath," which killed 113 Lebanese civilians (along with three Israeli soldiers, and 21 combatants from Hezbollah and the Syrian army). Most of the dead were killed in the "Qana massacre," when Israel shelled a UN compound where hundreds of civilians had taken cover. Certainly responsibility for the Qana massacre rests on Peres's shoulders.
In summary, Titan regards the career of Shimon Peres as a mixed bag with more minus signs than plus signs. When he asked a convention of his party if he was a "loser," the overwhelming response was a resounding "yes." It has been said that he was involved in every bad decision made by Israel during his career. On the other hand, he must be given credit for saving the economy from the devastating inflation created by Likud incompetence in the 1980's. In general, Titan thinks that the truth lies somewhere between Gurevich and Mattar on one hand and the mass of accolades now filling the public sphere. Titan quotes Ecclesiastes:
כי אדם אין צדיק בארץ אשר יעשה
טוב, ולא יחטא קהלת ז' כ
For there is not a righteous man upon
earth, that doeth good, and sinneth not. E
cclesiastes, VII, 20
Gideon Levy who knew Peres well
does not regard him as a true man of peace. Titan thinks that the struggle for peace by Israel is best described by a Dosh cartoon.
GOOD NEWS
Titan, Pollyanna and YandA are delighted to learn that the
conflict in Colombia
is coming to an end. In their 52-year fight against the Colombian state, FARC rebels used assault rifles, shrapnel-filled gas canisters, homemade landmines and mortar shells. Colombia's half-century of conflict has finally led to a historic peace deal.
Those weapons are now set to be silenced forever as part of a peace deal with the government, to be signed on Monday. Once the demobilization of the Revolutionary Armed Forces of Colombia is complete, their arsenal will be melted down into three monuments that will mark the end of Latin America's longest-running conflict – and decades of armed uprisings in the region.
This effectively marks the end of the wave of uprisings sparked by the success of the Cuban revolution. Many revolutionary leaders went on to win high elective office, including Dilma Rousseff, a member of a clandestine Marxist group who was arrested and tortured after a gun was found in her handbag who eventually became president of Brazil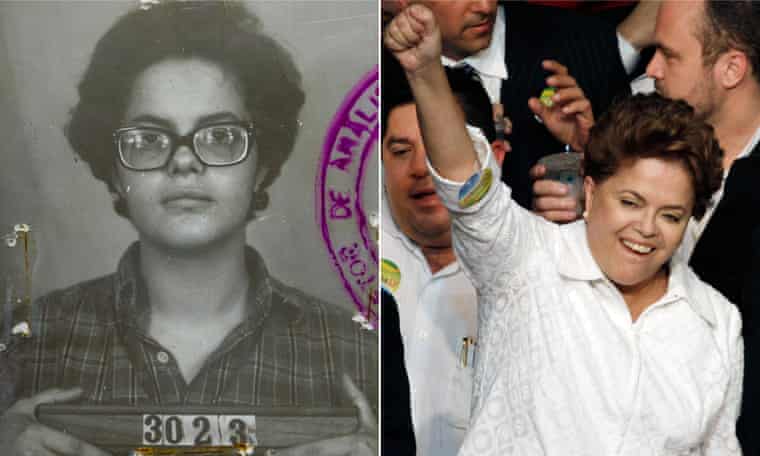 Dilma Rousseff in her urban guerrilla days is seen in a 1970 police photo and while running for president of Brazil in 2010. Composite: AP & Reuters
and José 'Pepe' Mujica, a Tupamaro who was shot and imprisoned in the 1970s, who became president of Uruguay. Dozens of other former guerrillas became senators and congressmen. We say cheers for the end of bloodshed.
NOW THE BAD NEWS AND THE RANTS
Titan is outraged over the terrible cost in human life and suffering in Aleppo.
The siege of the Syrian city
has intensified after the end of the week-long cease-fire, and now nearly 2 million are without water. The lack of access to clean water is certain to bring on an epidemic of water-borne disease, especially among children. Titan is disgusted at the impotence and apathy of the so-called great powers and their lack of will or ability to put a stop to this bloodbath. The US secretary of state, John Kerry, said he had made
"a little progress"
on halting the violence in talks with the Russian foreign minister, Sergei Lavrov. But the Russians said there was little to suggest any forward movement, so Aleppo's misery looks set to continue. Last spring the
NYTimes compiled
a detailed description and accounting of the toll of lives taken by terrorist activity around the world. Between individual terror and state terror such as we see in Syria, it is clear that the world is in a very sorry state.
NYTIMES ENDORSEMENT
Titan is pleased that th
e NYTimes has endorsed Hilary Clinton
for the Presidency. It would have been a major shock if they had done anything else.
"Mrs. Clinton has shown herself to be a realist who believes America cannot simply withdraw behind oceans and walls, but must engage confidently in the world to protect its interests and be true to its values," the newspaper said.
It is a disgraceful that the Republicans are running a clown like Trump. It will be a calamity if he is elected because of fools voting third party. There are precedents, such as Nader in 2000 putting Bush in the White House. Mike Lukovich has an ever worse precedent in mind.
WELLS FARGO BANK FRAUD
Thanks to Elizabeth Warren's Consumer Financial Protection Bureau, Wells Fargo Fined for Fraud-$185,000,000, the largest fine ever levied.
An internal review by Wells Fargo revealed
that there were more than 1.5 million deposit accounts
"that may not have been authorized,"
possibly funded
"transferring funds from consumers' existing accounts
without their knowledge or consent." The bank earned some $2 million in fees from 85,000 of those accounts since 2011.
If that isn't shocking enough, according to the CFPB,
"employees submitted applications for 565,443 credit-card accounts that may not have been authorized by using consumers' information without their knowledge or consent."
Some 14,000 of those accounts brought in $400,000 in fees. It is amazing that over 5,000 low-level employees were fired while the top brass walked free.
Wells Fargo's (WFC) CEO apologized Tuesday for the bank's opening of more than 2 million accounts without customers' permission but insisted that it was not part of an
"orchestrated"
scheme and turned away calls for a clawback of executive compensation, including his own.
CEO John Stumpf told the Senate Banking Committee that Wells Fargo has implemented measures to overhaul its sales culture, but he didn't budge when it came to lawmakers' calls for senior executives to relinquish pay for their role in the scandal.
"I am deeply sorry that we failed to fulfill our responsibility to our customers, to our team members, and to the American public,"
Stumpf said.
"I have been with Wells Fargo through many challenges — none that pains me more than the one we will discuss this morning."
This is a major scandal and we can be sure that the Republicans would love to get rid of the CFPB to prevent the exposure of such skullduggery in future.
A NEW ACOLYTE OF HITLER
Rodrigo Duterte, t
he Philippines president, appears to have compared himself to Hitle
r, saying he would be
"happy to slaughter"
millions of drug addicts in his bloody war on crime.
During a press conference in his home city of Davao, the former prosecutor told reporters that he had been compared to a
"cousin of Hitler"
by his critics. Duterte has spent his first three months in office running a campaign to kill all involved in the rampant drugs trade, including alleged addicts, causing outrage from rights groups and foreign governments.
More than 3,500 alleged drug dealers and addicts have been killed, about a third of them in police operations but the majority by armed vigilante militias. Duterte has publicly encouraged civilians to kill addicts and said he will not prosecute police for extrajudicial executions. Titan hopes to see him in the International Criminal Court soon.

PERSECUTION OF CHINESE JEWS
The ancient community of Kaifeng
a now faded imperial city near the banks of the Yellow River where Jews first settled more than 1,000 years ago, is becoming the scene of a new wave of government persecution. In recent decades interest in this relic of Jewish traders along the silk road has increased. A few hundred residents had staged a lively, sometimes contentious rebirth of Kaifeng's Jewish heritage in recent decades, with classes, services and proposals to rebuild the lost synagogue as a museum. Some residents even migrated to Israel. For years, the city government tolerated their activities, seeing the Jewish link as a magnet for tourism and investment.
But since last year, the authorities have come down hard on the revival, in an example of how even the smallest spiritual groups can fall under the pall of the Communist Party's suspicion. The government has shut down organizations that helped foster Jewish rediscovery, prohibited residents from gathering to worship for Passover and other holidays, and removed signs and relics of the city's Jewish past from public places. Titan hopes that this wave of persecution will pass and that the Israeli government will raise the issue with the Chinese government.
A visitor to Kaifeng describes a Shabbat meal: "One Friday evening, two couples invited me to join their Shabbat service, for which they had been studying a Torah reading."
"You don't recognize me as a Jew,"
the host said,
"but I recognize myself as a Jew, and that's what is most important."
He broke bread with his brawny hands, and after ceremoniously drinking homemade wine, his guests shared shots of baijiu, a potent Chinese liquor.
"Judaism,"
the host said,
"is all about endurance."
HOME SWEET HOME
TERR0R AND TERROR
It depends who is the attacker and who is the victim.
Usually the home of a Palestinian terrorist is destroyed as a form of deterrence/punishment. In the case of Yosef Haim Ben David, who was the ringleader of a group that beat and burned alive a Palestinian teenager in a grisly 2014 revenge killing, things are different. Ben Haim was sentenced to life plus 20 years, but the family of the victim demanded the death sentence, which does not exist in Israel. The family then petitioned the High Court to order the demolition of the home of the perpetrator.
The response of the State
was racist, stupid and embarrassing for rational people. It is clear that some lives matter more than others.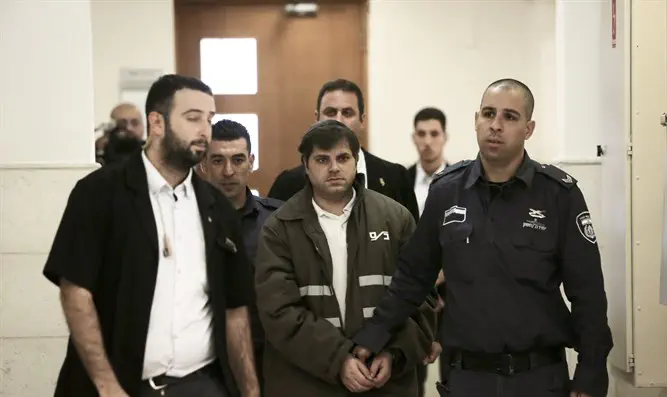 Yosef Chaim Ben David in courtצילום: יונתן סינדל, פלאש
It is worthy of note that a few years ago
Rabbi Daniel Landes called
for applying stringent
punishments, including home demolition against Jewish terrorists and the young thugs who run around claiming to collect the "price tag" (Hebrew: מדיניות תג מחיר), also known as
"Mutual Responsibility" (Arvut Hadadit).This is the name originally given to acts of vandalism by Jewish fundamentalist settler youths,aimed at the Palestinian population, Christians, left-wing Israeli
Jews, Arab–Israelis, and the Israeli security forces.) with full impunity.
MERCHANTS OF DEATH
The commercial side of the Israeli Military Industry (IMI) is the marketing of weapons and ammunition abroad. There appears to be no control over these sales
although gun possession in Israel
is controlled.. We are now told that sales of ammunition on the private market in the US have increased by a factor of ten in the past year. The company says they have been expanding their activity in the market designed for civilian gun owners in the United States. The new deals include sales of 5.56mm bullets which are suitable for weapons like the M-16; 7.62mm bullets used with certain machine guns, sniper files and various types of handguns; and 9mm bullets, primarily for handguns. The IMI-made ammunition can be found on the open market in America, including at some of the big chain stores. It would be nice if some element of shame would creep into the thinking of the military industry.
read more:
A PERSPECTIVE AND A CALL TO REBELLION
In a wide-ranging interview,
former Mossad chief Efraim Halevy
paints a worrying picture of the leadership abilities of PM Netanyahu and his suspicious relationship with Putin, as well as of the future of the Jewish state – but refuses to be pessimistic. Halevy tells Dalia Karpel about the vicissitudes of his long career and does not spare the government the lash of his tongue-
"We are experiencing the greatest crisis since the state came into being. I don't recall a period in which we were so bereft of meaningful leadership backbone. When I look at the political landscape in Israel, let's say at 15 [senior] people, some in government and some in the opposition – I don't see a reservoir of individuals who are sustaining the state."
Former Mossad chief Efraim Halevy. Yanai Yechiel


In quite blunt terms he expresses his hope that the people of Israel whose fate is in the hands of incompetents. His basis for optimism-
"Actually, I'm optimistic. I hope that the public will revolt. There are already signs of this. "
Titan recommends reading the full article and devoting some thought to its implications. He recalls however the initial shock over
The Gatekeepers film
in which six former heads of Shabak (security service) spoke in similar terms and the shock dissipated quickly.
FOOTBALL AND OCCUPATION
Israel is taking diplomatic steps
to avoid having to exclude six soccer teams from league competition and to avoid the
risk of being expelled from FIFA.
The participation of teams from occupied territory is forbidden by FIFA rules and the
Palestinian federation is complaining
to FIFA leadership. Titan thinks that a disqualification from FIFA would resonate more strongly than any other form of international pressure.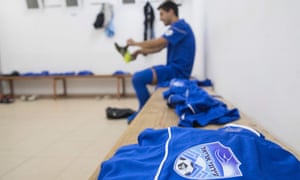 A player from the Aroni Ariel football club prepares in the locker room for training session at their stadium in the Israeli West Bank settlement of Ariel. Photograph: Jack Guez/AFP/Getty Images
YANKEE GO HOME
In a recent op-ed piece in Haaretz, Rogel Alpher
takes a crack at AIPAC
, the cabal of American Jewish tycoons who dictate, by means of good old cash, the policy of the US in Israel and in effect make decisions for Israeli politics. No one elected them and the war that their actions will bring about will not be fought and bled by them and their grandsons, but by Israelis. Titan agrees with him totally. American Jews who support liberal policies at home
have betrayed democracy
and liberal values in Israel.
FASCISM ANYONE?
Right-wing extremists interrupting the performance by the Armenian Church Choir in Jerusalem, September 22, 2016.Amnon Ramon
Right-wing extremists rioted
during a performance by a Christian choir at a contemporary arts event in Jerusalem on Thursday. The police arrested two members of theanti-assimilationist Lehava organization, including its leader, Bentzi Gopstein. It is indeed time that this band of thugs be dealt with firmly by the law. Titan wonders how the public in Israel would react if the KKK interfered with a Jewish group participating in a cultural event in the USA.
SCIENCE GOODIES
Rosetta's last image
The Rosetta mission has come to an end
with the controlled impact onto the comet it had been investigating for more than two years. Rosetta was launched on 2 March 2004 by an Ariane-5 G+ from Europe's spaceport in Kourou, French Guiana. To place it on the required orbit to rendezvous with Comet 67P/Churyumov-Gerasimenko it received four gravity assist maneuvers: 3 from Earth (4 March 2005, 13 November 2007 and 13 November 2009) and 1 from Mars (25 February 2007). Rosetta also passed by and imaged two asteroids: 2867 Steins on 5 September 2008 and 21 Lutetia on 10 July 2010.
The spacecraft entered deep space hibernation in June 2011 and was woken up in January 2014, before rendezvousing with Comet 67P/Churyumov-Gerasimenko in May 2014. It followed the comet around the Sun and as it began its motion out towards the orbit of Jupiter, it was decided to crash it into the comet.
The lander, Philae, was delivered to the comet's surface in November 2014. It landed in a bad spot unfortunately, but some data were obtained. When it went down Philae's two harpoons, which were
supposed to anchor the lander, did not fire and Philae bounced across the surface of the comet. The lander finally came to rest near a cliff, but the shady location meant that, except for a brief interlude in mid-2015, its solar panels were unable to catch the sun's rays.
Despite the bumpy ride, the lander was able to send back valuable data before its batteries ran out, offering insights into the comet's make-up and properties of its surface. Finally Rosetta located Philae on its own fall to the comet.
Of course, xkcd shows a different perspective

BOOK AND FILM REVIEW
The Sorcerer of Jazz
Adam Shatz New York Review of Books September 29, 2016 Issue
Miles Ahead
a film directed by Don Cheadle
Bitches Brew
by George Grella Jr. Bloomsbury, 144 pp., $14.95
(paper)
The New York Review of Books presents us in the Sept. 29, issue a
review by Adam Shatz
of a film and a book about the life and career of Miles Davis. The review creates three desires, to see the film, to read the book and to hear the album Bitches Brew. The album was released in 1970, sold a half million copies and sent the jazz world into a state of confusion: Was this the end of jazz, or a new
beginning? to quote Shatz:
"Bitches Brew was a more ungainly work than its predecessor, the shimmering tone poem In a Silent Way, but its sprawl was a measure of Davis's audacity, his hunger for new forms. It featured an unusual ensemble of thirteen musicians, including three electric keyboardists, two drummers, and two bass players. Perhaps the most distinctive ingredient is Bennie Maupin's bass clarinet. For much of the album, Maupin plays almost entirely in the lower register of his horn, making guttural noises, short, agitated phrases that add an incantatory undercurrent to the "brew." Every musician, even Davis himself, contributes at one point or another to that roiling brew, to which the soloists respond and over which they occasionally collide."
SILLY TIME
A
What If
from the archive-How many fireflies would it take to match the brightness of the Sun?
Luke Doty
The answer is of proper Randall quality and Titan and Pollyanna both love it.
For romantic moongazers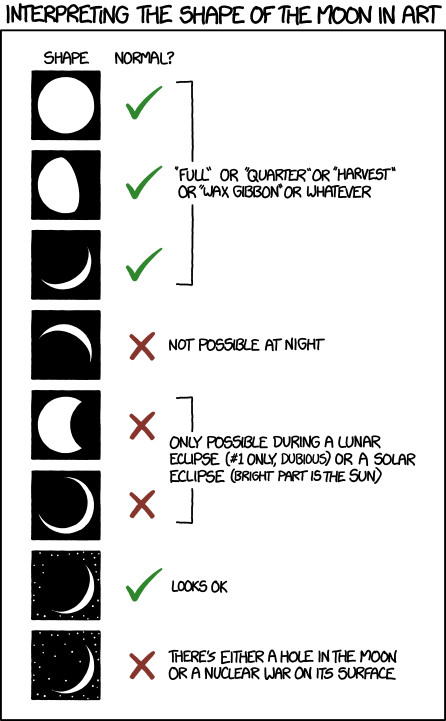 We meet such drivers on the road all the time and Mabel, the lady in the Mobile Eye and the GPS, squeals, poor soul.