We grieve with you
Titan and Pollyanna like to think of themselves as retirees who are relaxing after years of hard labor and ranting. They have, in their joint persona of T_P decided that it is not fair to their countless fans and readers to deprive them of the wisdom they can dispense. Yes, Virginia, we have a sense of the absurd. We also think that age is not a big deal; Pollyanna at over 100 and Titan at 4.5 billion hold out hope for all of us to say nothing of Biblical figures.
Pollyanna on her part never complains and is always glad to be with you.
July is a month marked by three national days which are probablyobserved by many of our readers. It starts with Canada Day on July 1
We have an
amusing tale of two isolated towns
on the Canada-US border who combine the two festivals into a long alcohol-soaked binge. Then on the 14th
our Gallic friends celebrate Bastille Day marking their great revolution. As we wrote this, we learned of the
Bastille Day attack in Nice
-a known criminal drove a truck into a crowd and killed 84 people.
The terrorist was a 31-year-old Franco-Tunisian born in Tunisia, a police source close to the investigation has told Reuters news agency.
The man was not on the watchlist of French intelligence services but was known to police in connection with common law crimes such as theft and violence, the source said. The French prime minister, Manuel Valls announced three days of national mourning starting on Saturday. Speaking in Paris before heading to Nice, Valls said:
"Terrorism is a threat that is weighing heavily on France."
"
According to a BBC translation, he said:
"We are facing a war that terrorism has started against us. The objective of the terrorists is to instill fear and panic. France will not allow itself to be destabilized."
He added:
"Times have changed and we should learn to live with terrorism. We have to show solidarity and collective calm. France has been hit in its soul on 14 July, our national day. They wanted to attack the unity of the French nation. The only dignified response is that France will remain loyal to the spirit of 14 July and its values."
. All join the grief and outrage.
The Charity Corner
has found a home on
the Miriam
Shlesinger Human Rights Action site. Titan and Pollyanna hope that you will visit there, take the actions and make the donations.
IN MEMORIAM ELIE WIESEL 1928-2016
Holocaust survivor, Nobel Peace Prize
laureate, prolific author and outspoken activist Elie Wiesel
died this month at the age of 87. Wiesel was perhaps best known for his major role in promoting Holocaust education,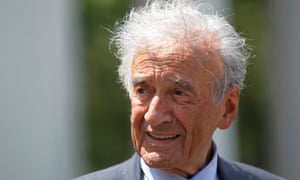 Elie Wiesel outside the White House, Washington, in 2010 after a private lunch with President Barack Obama. Photograph: Jason Reed/Reuters
and for perpetuating the memory of the Holocaust in the post-World War II era with his memoir "Night," based on his experience as a teenager in the Auschwitz concentration camp. He devoted his life to preventing the Holocaust from being forgotten for which he received well-deserved honors and praise. He also,
as pointed out by Peter Beinart,
was totally blind to crimes committed by Israel and served as an unabashed apologist for many evil actions. Detailed obituaries can be found in
Forward
and the
NYTimes.
RANTS OF THE DAY
There are many to choose from, ranging from the misguided Brexit to which we shall return, to the idiocy of American politics. T_P think, however, that the wave of terror sweeping the globe must be the prime issue before the nations of the world.
The NYTimes has prepared
a compilation:In total, more than 1,200 people outside of Iraq and Syria have been killed in attacks inspired or coordinated by the Islamic State, according to this analysis which shows the distribution of attacks and we can see that no one is safe or immune.
Even if ISIS is defeated on the battlefields of Syria and Iraq, it will continue to fester underground throughout the world. It is not obvious how the enlightened nations of the world can fight this monster successfully without severely impinging on the civil rights of the population.
The reaction of the US to 9/11, the so-called Patriot Act,
has been subject to severe criticism and it is not clear that it has been effective. We refer you to a detailed analysis of the issue. We would welcome your opinion of this necessary trade-off.
Titan and Pollyanna (and YandA) are extremely upset about the sniper killing of police in Dallas. This does not decrease by an iota their anger and dismay at the indiscriminate killing of black persons by trigger-happy police. `In Israel we are aware of this issue and the worse phenomenon that the army, police and most of the public do not think that there is a problem in shooting to kill at a fleeing suspect. The question of shooting at a suspect or prisoner who is running away was resolved historically by the so-called common law, which held that police could use any amount of force, including deadly force, to "seize"a fleeing felon. This dates back to the time when almost all crimes were felonies to be punished by execution. The practice was laid to rest in the USA in the Supreme Court's 1985 opinion in
Tennessee v. Garner.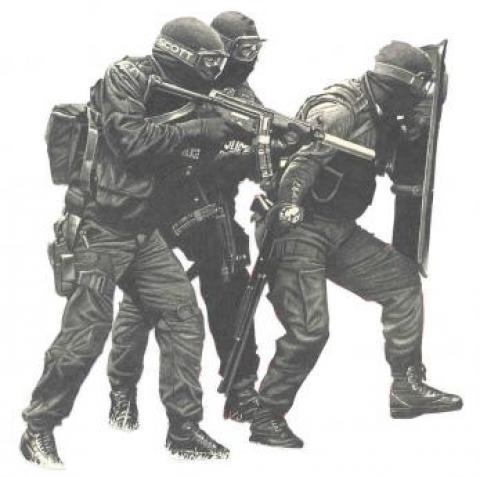 A detailed analysis of the verdict
and it implications is given in an article by Chad Flanders and Joseph C. Welling in the Saint Louis University Law Journal. The fact that police impunity for killing still exists shows that the decision is not honored as it should be. The article is long, but Titan and Pollyanna think it worth your time and effort. Of course police misconduct and racial harassment occur often without lethal results and are often hidden from the public eye, as in
the sorry case of the police of Chicago
.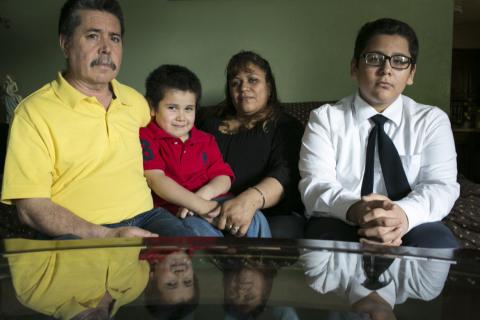 Alfonso and Patricia Cavada at their home in Archer Heights with their sons Alfonso Jr., 14, and Michael, 5. In April 2011, the Cavadas were injured when a dozen Chicago police officers stormed their home in the middle of the night.
BAN A DANGEROUS CHEMICAL
California red-legged frog
It's Time to Ban Atrazine Now
A new analysis
from the Environmental Protection Agency paints a grim picture for wildlife in the United States. The country's second-most commonly used pesticide, atrazine, is likely harming most species of mammals, birds, amphibians and reptiles, especially in the Midwest where its use is highest.
Sadly the findings aren't all that shocking -- we've known about this for decades. The European Union banned atrazine a dozen years ago for exactly this reason.
Around 70 million pounds of atrazine are used every year in the United States on crops, lawns, schools, playgrounds and athletic fields. And it's not just harming wildlife -- atrazine exposure has been linked to birth defects and cancer in humans.
BREXIT
We along with countless others think that the exit of Britain from the EU is a most misguided step that will come back to haunt them in years to come. On the other
John Harris, writing in the Guardian
, sees it as a sign of class warfare and a result of the economic bargain that made the rich richer and the poor poorer. In the words of a woman in a rundown suburb of Manchester,
"If you've got money, you vote in,"
she said, with a bracing certainty.
"If you haven't got money, you vote out."
It also showed how much the political class is Britain is divorced from the reality of the lives of ordinary people. The furies have been building up for a long time, but the people on top never noticed them.
Harris:
"What defines these furies is often clear enough: a terrible shortage of homes, an impossibly precarious job market, a too-often overlooked sense that men (and men are particularly relevant here) who would once have been certain in their identity as miners, or
steelworkers, now feel demeaned and ignored. The attempts of mainstream politics to still the anger have probably only made it worse: oily tributes to "hardworking families", or the fingers-down-a-blackboard trope of "social mobility", with its suggestion that the only thing Westminster can offer working-class people is a specious chance of not being working class anymore."
What will probably happen is a turn to the right, a super-Thatcherism that will make things even worse for the working class, an evaporation of jobs and economic opportunity. It is
similar to what happened to the workers who voted Reagan into office in 1980 and then the Bushes with their Wall Street cronies.
"It's the same the whole world over, it's the poor what gets the blame..."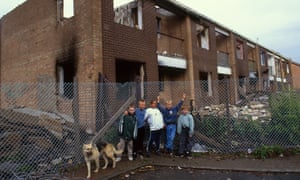 Children near derelict houses on an estate in Collyhurst, Manchester. Photograph: Photofusion/Rex Shutterstock
The rich will continue to live in clover..
HOME SWEET HOME
RELIGIOUS STRIFE
As members of a Reform congregation, we have a major stake in the struggle going on in Israel. Most recently the government reneged on a compromise that would have allowed us and our Conservative brethren to worship unsegregated by gender at the Wall in Jerusalem. Most recently,
our leadership wrote to the PM
that unless the incitement and violence cease, there will be bloodshed. Indeed it is the time for the alternative movements in Judaism to take off the gloves in dealing with Orthodox violence and arrogance.
Ultra-Orthodox protesters seek to disrupt egalitarian prayers held by Reform and Conservative worshipers at the Western Wall on June 16, 2016.

Emil Salman
A new chapter in that sorry tale of arrogance is the appointment of a
new Chief Chaplain of the Army.
Rabbi Col. Eyal Karim was nominated for the top religious position in the army by Chief of Staff Lt. Gen. Gadi Eisenkot on Monday. His appointment now requires the approval of Defense Minister Avigdor Lieberman. In the past he has gone on record saying that rape of enemy women is allowed, that women should not serve in combat roles nor be allowed to testify in court cases. He has also said that it is permitted to kill wounded suicide bombers and that gay people should be treated as people "sick or disabled."
The Chief of Staff is standing behind the appointment and Karim has backtracked away from his most radical statements. Nonetheless, MK Ofer Shelah best pinpointed what is wrong with this appointment, beyond chauvinism...According to Shelah, the problems are Karim's objection to women's military service and his ruling that an order that contravenes Jewish law should be ignored. Indeed, the latter is a major threat to operational discipline in the army and is most dangerous.
NGO LAW
The Knesset has passed a law
that mandates special reporting requirements for nongovernmental organizations that get most of their funding from foreign governments, and, according to critics, disproportionately targets human rights organizations. Of the 27 NGO's impacted, 25 are human rights organizations. The law has drawn fierce criticism from
the US government
and from
the European Union
. Some of the worst features were removed such as requiring representatives of human rights organizations to wear badges inside the Knesset building. The organizations planned to wear yellow tags as well, which may have deterred some of the right-wingers In any case, human rights activities will go on.
"Human rights organizations are completely transparent,"
argued MK Dov Khenin (Joint List), one of the bill's most vocal opponents.
"All their contributions are reported, and therefore, there's no real reason for the government's NGO bill except to divert the discussion and incite the public."
"Where is transparency really needed? In extreme right-wing organizations,"
he added, noting that these organizations receive millions of shekels from private overseas donors, "
but there, the government has chosen to impose secrecy and obscure the money trail."
BOOK REVIEW
We have long admired Orson Welles, character flaws and all. He is a figure larger than life and looms, together with Hitchcock and a very few others above the rank and file of film artists.
Orson Welles on the set of Chimes at Midnight, 1964 Nicolas Tikhomiroff/Magnum Photos
A few months ago Michael Wood gave us a
review of new writing about Welle
s in the New York Review of Books and we strongly recommend the read. He deals with:
Young Orson: The Years of Luck and Genius on the Path to Citizen
Kane by Patrick McGilligan Harper, 820 pp., $40.00
Orson Welles: One-Man Band by Simon Callow Viking, 624 pp., $40.00
(to be published in April)
Broadcast Hysteria: Orson Welles's War of the Worlds and the Art of
Fake News by A. Brad Schwartz Hill and Wang, 337 pp., $35.00
Orson Welles's Last Movie: The Making of The Other Side of the Wind
by Josh Karp St. Martin's, 336 pp., $26.99
Chimes at Midnight a film directed by Orson Welles
Callow has reached the third volume of his projected four volume biography of Welles. As Wood remarks
"There is a special risk in writing about Orson Welles. The dimensions may get a little out of hand, as if they had to mime the physical size and imaginative
reach of the subject. Patrick McGilligan's excellent biography of Alfred Hitchcock takes 750 pages to cover the director's life and his fifty films. By page 706 of Young Orson, Welles is about to start shooting Citizen Kane, his first full-length movie: he is twenty-five years old, and he lived till he was seventy. There is a thirty-nine-page postlude about the day and night of Welles's death."
The Road to Xanadu,
part one of Simon Callow's two-volume biography of Welles, appeared in 1996;
Hello Americans,
part two of the now three-volume biography, appeared in 2006; and
One-Man Band
, part three of the (maybe) four-volume work, appeared last fall in the UK and appeared in the US in April. Perhaps the most touching expression of this condition is the wistful remark that McGilligan makes about Welles in 1944 on page 726 of his work:
"An entire book could be written about that single year, with much left out."
PLANET IX?
The question of the existence of a ninth planet in the Solar System has us fascinated. We are referring you to a
blog on the subject
by Michael E. Brown and Konstantin Batygin from CalTech who are actively engaged in this search. Evidence for the existence of Planet Nine is scant, based on apparent alignments among the orbits of the six most distant denizens of the Kuiper belt Their oval orbits all point in roughly the same direction and lie in about the same plane, suggesting that a hidden planet, about five to 20 times as massive as Earth, has herded them onto similar trajectories. The topic is well worth your time.
The whole point of Planet Nine was to explain the orbital alignment of these six objects. The number of other phenomena that Planet Nine also explains -- essentially by accident -- is astonishing.
It can be touted in various ways:
SILLY TIME
This is a very old question:
Then we have the Wizard's take on the question:
DNA testing has become the rage:

Murphy thinks this is hilarious and he has a point.