Titan and Pollyanna like to think of themselves as retirees who are relaxing after years of hard labor and ranting. They have, in their joint persona of T_P decided that it is not fair to their countless fans and readers to deprive them of the wisdom they can dispense. Yes, Virginia, we have a sense of the absurd.So relax in our teepee dear friends and have some matzah and wine.
HAPPY PESACH
Titan, Pollyanna and YandA wish all their MOT readers a happy Pesach holiday. Y will be with her brood in Kiryat Ono, A with his family in Atlit and T_P will celebrate as usual on the shore of a methane sea. Then YandA fly to Winnipeg to see our Canadian branch.
We all rejoice in the deliverance of our people from slavery in Egypt
and of course must relish the appreciation given to it by
John Kasich who told the Hasidic Jews of Brooklyn
about the blood on the doorposts. We would like to share with you the
story of a Seder
held by Jewish soldiers in the American Civil War. Joseph A. Joel, a Jewish private in the Ohio 23rd Regiment, told the story first – and best.
The Charity Corner has found a home on the
Miriam Shlesinger Human Rights Action
site. Titan and Pollyanna hope that you will visit there, take the actions and make the donations.
IN MEMORIAM
JOHAN CRUYFF 1947-2016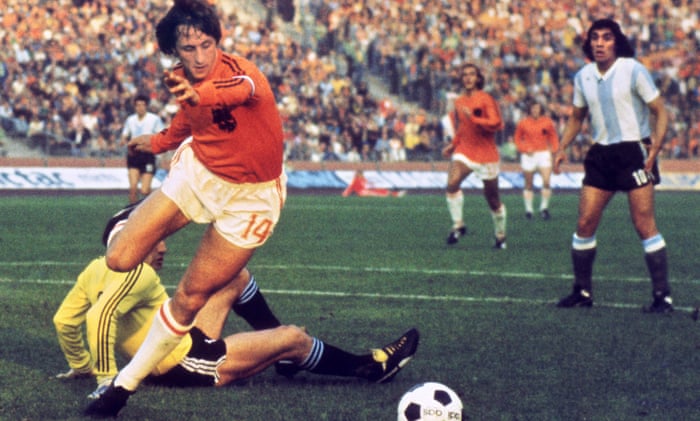 The great Dutch footballer died this month of cancer in Barcelona. He helped develop a style that
revolutionized the way the game is played, becoming the Netherlands' greatest player and later a scolding conscience of the sport. He was 68. Widely acclaimed as one of the best players in history, Cruyff (pronounced CROYF) teamed with the famed coach Rinus Michels in the 1970s to perfect a style called
Total Football
, a shape-shifting system in which players switch positions effortlessly.
A wiry and deceptively quick forward, Cruyff was the personification of the style, bursting forward to attack or drifting back to defend, but always ready to deliver an incisive pass or to appear in the perfect position when an opportunity to score arose.
The Guardian devotes a page to Cruyffiana
and the
NYTimes provides a detailed obituary
WILLIAM SHAKESPEARE 1564-1616.
The great playwright died on April 23, just 400 years ago.
Stephen Greenblatt writing
in the New York Review of Books discussed how Shakespeare, at a distance of four centuries is still relevant and resonant in our time. His contemporary Ben Jonson for the first time evoked a larger landscape in which to understand the significance of Shakespeare's career, one that would make it appropriate for a nobleman to acknowledge a connection to a middle-class writer of popular plays. Jonson wrote,
"And though thou hadst small Latin and less Greek,"
"I would not seek/For names; but call forth thund'ring
Aeschylus,/Euripides, and Sophocles to us."
These immortals could worthily bear witness to the greatness of Shakespeare as a tragic playwright; as for his comedies, Jonson added, these surpass everything
"that insolent Greece or haughty Rome/sent forth."
Jonson made Shakespeare into a global artist. Not in the sense that he imagined his work was or would ever become famous outside of England, but that he insisted it could bear comparison with the best that the world of letters had ever brought forth. Even if nothing in Shakespeare's personal circumstances—his birthplace, parentage, education, affiliations, and the like—bore recording, he was nonetheless a national treasure.
"Triumph, my Britain,"
Jonson proclaimed,
"thou hast one to show,/To whom all scenes of Europe
homage owe."
To this proud boast he added the famous line:
"He was not of an age, but for all time!"
The Folger Shakespeare Library provides a biography.
MIGUEL CERVANTES 1547-1616.
Many think that they died on the same day, April 23, but in fact they used different calendars. We mark the 400th anniversary of the death of
Miguel de Cervantes Saavedra
. Cervantes is widely regarded as the greatest writer in the Spanish language and the world's pre-eminent novelist.
His major work, Don Quixote, considered to be the first modern European novel, is a classic of Western literature, and is regarded among the best works of fiction ever written. His influence on the Spanish language has been so great that the language is often called
la lengua de Cervantes
("the language of Cervantes"). He has also been dubbed
El Príncipe de los Ingenios
("The Prince of Wits"). His biography includes military action, slavery as a POW and a struggle to survive as a government bureaucrat. He died just 400 years ago and was buried in an unmarked grave. Since his passing, his work has inspired countless other authors, including Gustave Flaubert, Henry Fielding and Fyodor Dostoyevsky. The story of Don Quixote has been retold in many ways,including in the popular musical The Man of La Mancha and in an artwork by Pablo Picasso.
RANT AROUND A ROSIE, A POCKET FULL OF...
ANNIVERSARY OF AN ATROCITY
Two years ago over 200 schoolgirls were kidnapped by Boko Haram in the town of Chibok, Nigeria. Most of them are still prisoners. A worldwide outcry had no effect. A
recent visit to Chibok
by a NYTimes writer (called to our attention by Yosefa) tells the sad tale of this pathetically neglected region of Nigeria. It is most shocking to read and consider.
EVEN KILLERS HAVE HUMAN RIGHTS
Norwegian mass murderer Anders Behring Breivik
has won part of a human rights case
against the
Norwegian state. He convinced the court that his solitary confinement was beyond the scope of his punishment and that actions taken against him were in violation of the European Convention of
Human Rights. We have long maintained that you must protect the rights of bad people in order to protect those of the good.
MIGRATION IN EUROPE
The issue of the flow of refugees from the war zones of the Middle East has become central to European reality. We firmly believe that turning away asylum seekers is criminal, but of course political reality has a morality of its own. We refer you to
a detailed set of discussions
provided by CritCom entitled
FramingMigration: Rhetoric and Reality in Europe
. Much food for thought.
In the meantime
500 asylum seekers drowned
when a ship sank in the Mediterranean en route from Libya to Italy. More blood on the hands of the politicians of Europe.
BRAZIL COMING UNDONE
The lower house of the Brazilian parliament
has voted to impeach President Dilma Rousseff
. The case now moves on to the Senate. Ms Rousseff has vowed to
fight the impeachment tooth and nail.
The details of the unraveling of what was one of the great success stories of the developing world are discussed in analysis in the Washington Post. It may come to pass that while the Olympic games are taking place in Rio next summer, the public will be regaled by the trial of a President.
Sic transit gloria mundi.
PANAMA PAPERS
T
he world is still reeling from the huge leak of criminal banking activities
by Mossack Fonseca.It seems that hiding money offshore is one of the major activities of the rich, famous and infamous.Cheers to those who exposed the scandal. Mike Lukovich gives it straight...
HOME SWEET HOME
KILLER CONVICTED
The main suspect in the murder of Palestinian teenager Mohammed Abu Khdeir
was convicted of murder
Tuesday, after a Jerusalem court rejected the defendant's insanity plea. It certainly took the court a very long time to convict Yosef Chaim Ben-David on charges of murder, kidnapping for the purpose of murder and battery causing bodily harm. Let us hope that he is given a stiff sentence. What is really tragic is that the murder could have been prevented. The day before the same gang tried to kidnap an Arab child who was saved by his mother and neighbors. The police were called but did not respond. We have to understand that Arab lives matter.
KILLER INDICTED
An Israeli soldier who shot a wounded Palestinian assailant to death in Hebron on March 24 was
charged with manslaughter
on Monday. During the hearing, the military court in Jaffa cleared the soldier's identity for publication. He was named as Elor Azaria, 19, a resident of Ramle.
According to the indictment, Azaria opened fire in
"violation of he rules of engagement, and without operational justification, while [Abdel Fattah] al-Sharif lay wounded on the ground ... and did not pose immediate and real threat to the defendant, civilians or soldiers in the area."
This is most important since many of the public especially the right have rushed to the defense of the soldier. There was even a small rally in his support in Tel Aviv and our great PM phoned the parents in sympathy. After all, if you have raised a killer, you should be appreciated...
In fact, a
s Gideon Levy points out in Haaretz
, the trial is a farce and the soldier will certainly get off with at most a slap on the wrist. It is no surprise since the Army has a long history of covering up killings of Arabs and extra-judicial executions are part of its daily repertoire.
SETTLEMENT PRODUCTS
Many of us try to avoid purchasing products made in the illegal settlements beyond the Green Line. It is illegal to call for a boycott on such products and one can be sued with no proof of damage. We make it clear here that we are by no means advocating a boycott and in fact
the list
that we are linking to may serve as a guide to supporters of settlements who wish to buy their products. In any case, we link you to a detailed article by Gush Shalom. There is also an
old blog in Hebrew
that
"warns"
against boycotting the settlements and gives a list of products that good patriots should buy.
CLOAK AND DAGGER AND A NAZI HIT MAN
The story has finally come out
about the killing of the chief German rocket scientist who worked in the 1960's to develop a missile capability for Egypt. It makes for fascinating reading, we will not spoil if for you.
BOOK REVIEW
Buried Ideas: Legends of Abdication and Ideal Government in Early Chinese Bamboo-Slip Manuscripts (SUNY Series in Chinese Philosophy and Culture (Hardcover))

Hardcover

– November, 2015

by
Bibliothèque Nationale de France/RMN-Grand Palais/Art ResourceAn eighteenth-century painting showing Emperor Qin Shi Huang of the Qin dynasty 'burning all the books and throwing scholars into a ravine' in order to stamp out ideological nonconformity after the unification of China in 221 BCE. 'For over two millennia,' Ian Johnson writes, 'all our knowledge of China's great philosophical schools was limited to texts revised after the Qin unification.' Now a trove of recently discovered ancient documents, written on strips of bamboo, 'is helping to reshape our understanding of China's contentious past.' Illustration from Henri Bertin's album The History of the Lives of the Chinese Emperors.
in Asia Times.
SILLY TIME
What If?
This is serious now-
My boyfriend recently took a flight on a plane with wifi, and while he was up there, wistfully asked if I could send him a pizza. I jokingly sent him a photo of a parrot holding a pizza slice in its beak. Obviously, my boyfriend had to go without pizza until he landed at JFK. But this raised the question: could a bird deliver a standard 20" New York-style cheese pizza in a box? And if so, what kind of bird would it take?
—Tina Nguyen Maybe the hostess will serve a pizza...
Indeed, the singularity will do great things for us...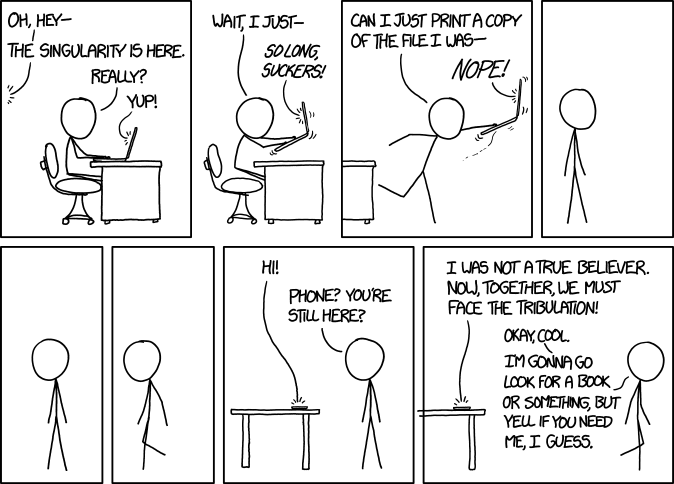 The creative process is explained by SMBC: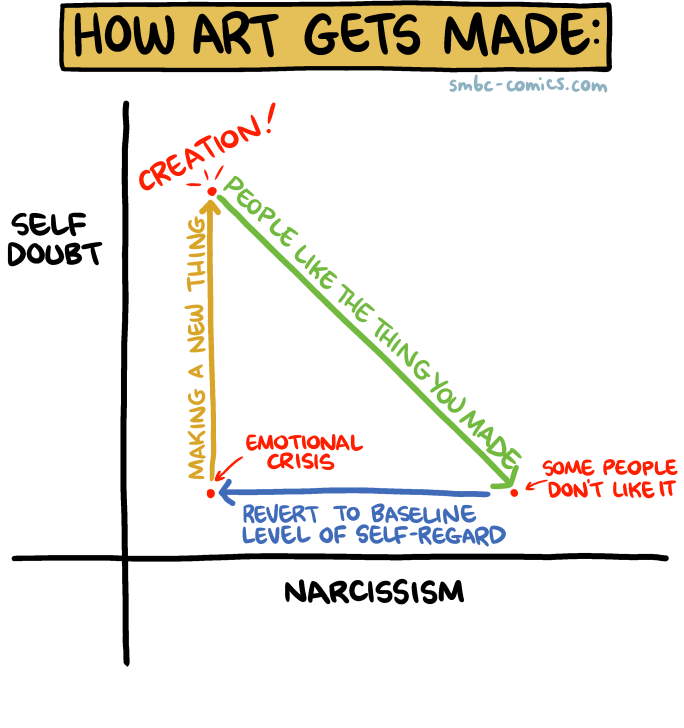 Note the importance of self-doubt. It is something totally lacking to people on the right and to stupid people in general. The need for self-doubt and the spirit of enquiry was expressed beautifully by the late Israeli poet, Yehuda Amichai. We present his poem both in original and English translation.
The Place Where We Are Right

by Yehuda Amichai

From the place where we are right
Flowers will never grow
In the spring.

The place where we are right
Is hard and trampled
Like a yard.

But doubts and loves
Dig up the world
Like a mole, a plow.
And a whisper will be heard in the place
Where the ruined
House once stood.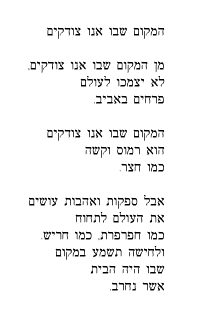 SMBC does to Jesus what it would never dare to do to Mohammed. Blasphemy in a free society comes under the heading of protected free speech. Alas, people often forget this fundamental truth: